Top 6 Easy Ingredients to Cook On a Budget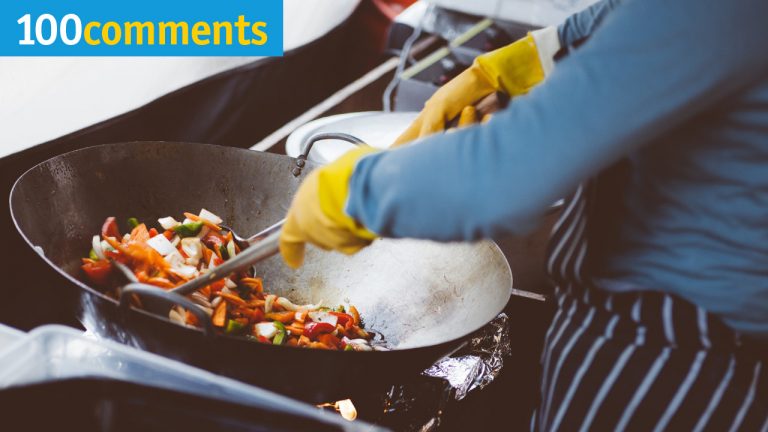 Whether you're a college student moving out of home for the first time or an experienced housewife trying to balance the family budget, putting food on the table can seem almost overwhelming at times. Eating out too often will chew through your weekly budget, yet nobody enjoys spending hours slaving over a stove. We've put together a list of the top 6 easy ingredients that you can use to create filling, nutritious meals for the whole family.
Prego Traditional Pasta Sauce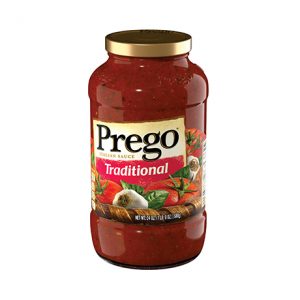 You can never go wrong with pasta! Quick and easy to cook, Prego Traditional Pasta Sauce can serve as the base to many satisfyingly filling dishes. A true classic, Prego Traditional Pasta Sauce is made from vine ripened tomatoes which provide the base for the perfect balance of sweet tomato taste and savory Italian seasonings.
The thick consistency of Prego Traditional Pasta Sauce clings well to pasta. It works well as both a pour over and an ingredient for many menu items. The easy to handle containers also enable quick and easy preparation – simply open and pour on or mix into pasta.
The key thing about pasta sauce is that it's immensely flexible. On a tight budget? Just use onions and a bit of meat. Need something a little more filling? Throw in root vegetables like carrots, mushrooms, or sweet potato to make a hearty meal. Feeling a little indulgent? Try adding in some grated cheese or chili powder to get that extra kick. Once you're done, simply keep any leftovers in the fridge or freezer and you'll have meals for many days to come.
Adabi Chicken and Meat Curry Powder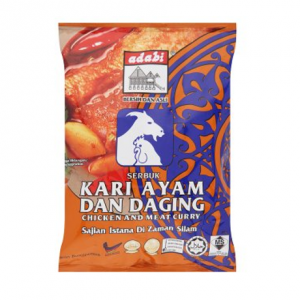 Adabi Chicken and Meat Curry Powder is a top of the line product that allows you to create deliciously fragrant curries. Whether you're using chicken, mutton, lamb, or beef, this curry powder mix is sure to come in handy. Adabi Chicken and Meat Curry Powder is great if you want to prepare a simple yet filling meal without spending hours slaving over a stove. Curries are an excellent meal for those on a budget because you can make big pots of it in one go and keep it in the freezer until you need it.
Adabi has become a household brand in every Malaysian home. In a span of two decades, the company is able to make the Malaysian consumers fall in love with their products. As a growing household name, the Adabi brand is on a continuous challenge to provide and consistently deliver the highest quality products to the Malaysian consumers. Despite its established brand, the company is still continuously trying to grow its market share. They apply the latest technological advancements in order to produce the best kind of food products and continue to ride a moving train towards local and global success.
Adabi Kampung Fried Rice Powder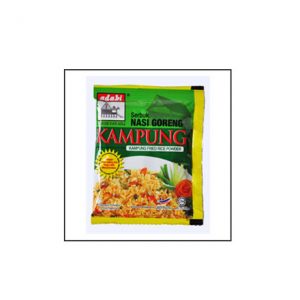 Another great product from Adabi, the Adabi Kampung Fried Rice Powder is a great tool for those who want to prepare delicious tasting fried rice quickly and without too much fuss. This seasoning mix contains real prawn powder to provide that authentic taste. Simply add it to your rice while you're frying to get a great tasting dish. Add in vegetables, meat, prawns… the possibilities are endless!
AYAMAS Crispy Nuggets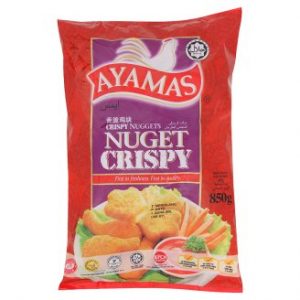 The Ayamas Crispy Nuggets are a great way to satisfy your stomach when hunger strikes! Convenient and easy to prepare, this snack has no Trans Fat, Preservatives or MSG, meaning that it fills you up without having to compromise on your health.
There's no need to worry about complicated preparations or cooking times – simply fry these nuggets in hot oil to create a quick and tasty snack. You can enjoy the nuggets by themselves, dip them into tomato or chili sauce, or even add them to other dishes for a crispy and delicious add on to an ordinary meal. Even if you don't cook them too often, your kids are sure to love some fresh, home-cooked nuggets.
Ayam Brand Sardines in Tomato Sauce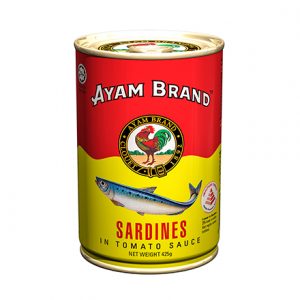 A great way to get seafood on a budget, Ayam Brand Sardines are from cold seas. Living in the extreme cold condition makes them fattier, juicier and richer in Omega 3.
The sardine oil may appear on the surface of the sauce in the form of white particles, depending of the storage temperature. It dissolves once heated. It is natural and it is a sign of high quality sardine fish. The rich tomato sauce provides lycopene, the strongest antioxidant that helps cell against ageing and help to control blood pressure.
100g of Sardines provides you with more than 2000mg of Omega 3, your weekly needs. It's more Omega 3 than most supplement pills. Calcium and essential nutrients: Sardines contain two times more calcium than milk and also provide your body with Iron, Magnesium, Zinc, Phosphorus, Copper, Manganese, Lycopene and Vitamin B.
These sardines are quick and easy to prepare – worst come to worst, simply cook them with onions and serve with rice to enjoy a pretty decent meal. Providing a cheap yet healthy source of protein, Ayam Brand Sardines are an excellent way to bulk up and add more fish to your family's diet without having to break the bank. This ingredient can also last for a long time, making it perfect as an emergency meal if you're running low on cash.
AYAMAS Premium Chicken Frankfurter – Garlic

For those yearning for a nice garlic twang, Ayamas Premium Chicken Frankfurter with garlic flavour will not disappoint! A zesty Frankfurter dish that can be easily enjoyed by the whole family, the Ayamas Premium Chicken Frankfurter is a great addition to any meal.
In fact, sausages in general are an excellent way to add meat to your meals without having to break the bank on expensive cuts. Simply chop up the sausages and add them to your dish while cooking. Whether it's pasta, salad, fried rice, instant noodles, or nearly anything else you can imagine, adding sausages can make it better.
And if you don't like garlic, don't worry! Ayamas Premium Chicken Frankfurter also comes in Black Pepper, Cheese, Italian, Mushroom, and normal Chicken Frankfurter version. You can find them as well as plenty more sausage brands at your local supermarket.
Need More?
You can find these and many other ingredients right here on 100comments.com.