Keep Your Baby's Skin Dry with the Top 10 Best Diapers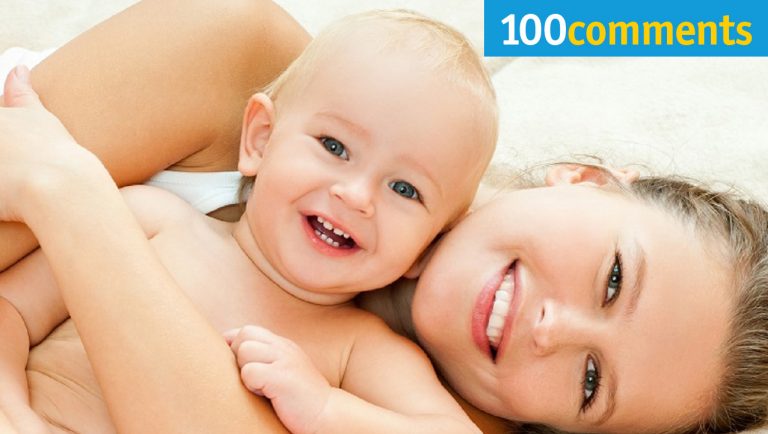 As all parents know, having a stock of clean diapers on hand is essential when you're taking care of a new baby. During their first year, babies can go through between 2, 500 to 3, 000 diapers. That's a lot of diapers!
If you're going to be buying that many diapers, you obviously want to ensure that you get the best bang for your buck. It may be tempting to just grab the nearest bag, but a leaky, itchy diaper will lead to an upset baby and stressed out parents. Below is a list of the top 10 best diapers that you can buy for your little one.
Drypers WeeWee Dry Disposable Diaper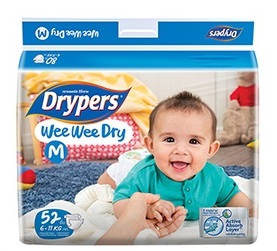 The Drypers WeeWee Dry Disposable Diaper is designed for the comfort of your little ones. Each diaper has an Active Absorb Layer™ which distributes and absorbs urine more effectively, ensuring that they can stay dry and move around comfortably.
Drypers WeeWee Dry also comes with several other handy features, such as the Flexi-Tape™ design which makes it easier to fasten and allows for multiple refastenings (no need to throw away a clean diaper due to a false alarm!). They also have a stretchable waist band which hugs your baby's body for a better fit and leak guards to minimize unfortunate leakages. You can find more information on the Drypers WeeWee Dry Disposable Diaper here.
PetPet Disposable Baby Diaper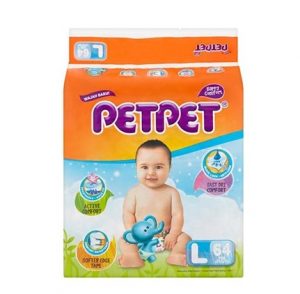 PetPet understands how stressful it can be to take care of a new baby, which is why the PetPet® Disposable Baby Diaper comes with several features to make life easier for mothers everywhere.
First of all, PetPet diapers now come with Velcro Easy Tapes to make fastening and readjusting a lot easier. In addition, the diapers also use Magic Gel which easily retains 70%* more fluid, keeping baby dry and comfortable. PetPet® Newborn size diapers also come with navel care feature that protects a newborn's unhealed navel.
If you'd like to see what other mothers have to say about the PetPet Disposable Baby Diaper, you can read their reviews right here on our site. Don't forget to share your own review either!
Huggies Ultra Diapers Super Jumbo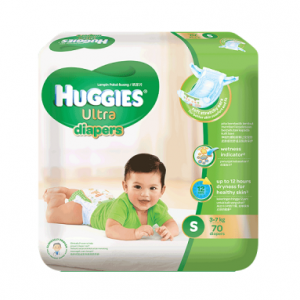 Containing natural extracts of Aloe Vera, Vitamin E and Chamomile, Huggies Ultra Diapers Super Jumbo is clinically proven to prevent diaper rash and guard against skin irritation. It also has a special wetness indicator to make it easier for parents to know when it may be time for a change.
The Huggies Ultra Diapers have been designed with your babies comfort in mind. Its quick-dry layer pulls fluids away from the baby's skin while the Super Absorbent Gel locks in fluid to keep baby's skin dry for up to 12 hours. Interested in learning more? You can check out the Huggies Ultra Diapers Super Jumbo profile here on 100Comments to read reviews left by many other parents.
Diapex Wonder Pants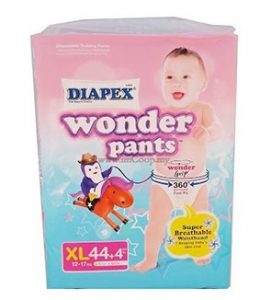 Easy to wear and specially designed for the active baby and busy working mothers, DIAPEX Wonder Pants features include Wonder Grips which provide 360 degree all round waistband for a firmer yet softer grip, 5X Superior Absorbency, and an embossed top sheet enhanced by anti bacterial SAP for ultra dryness and quick absorbency that keeps baby's skin fresh and dry.
It comes with 3 packing sizes, Convenient Pack, Jumbo Pack and Super Jumbo Pack. Click here to read more reviews of the Diapex Wonder Pants.
MamyPoko Air Fit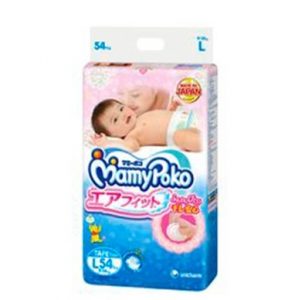 The Japanese mother's No. 1 choice of diaper, MamyPoko Air Fit diaper features the world's first 3D curve-fit diaper that fits gently and snugly, following the contour of your baby's bottom. Its Stretchable Soft Gathers around the waist reduces the pressure on baby's tummy by 50%, leaving your baby feeling comfortable all day long. Share your reviews of MamyPoko Air Fit diaper here.
Merries Super Premium Tape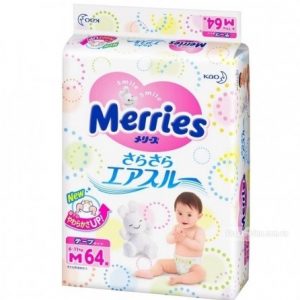 Merries Super Premium Tape is made from super absorbent, highly breathable and ultra soft material to ensure that your active baby always stays dry and comfortable. The Breathable Soft Sheet allows air to flow freely between the diaper and skin so it does not stick on baby's skin, while the unique super absorbency can lock away pee, keeping the diaper's surface dry.
Another useful feature is the Ultra Softness Flexi-fit which molds into a "W" Shape. The softness transforms into a flexible "w" shape at the crotch area to accommodate baby's limb movement so that your child can move around comfortably. Want to find out more? Click here to read reviews of the Merries Super Premium Tape.
Goo.N Diapers Pant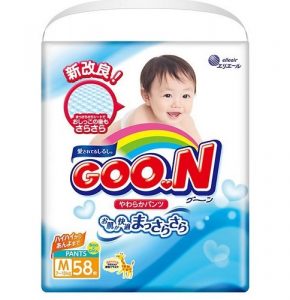 Goo.N Diaper Pants is made from ultra-dry absorbent material that keeps both its surface and your baby's bottom dry. GOO.N's dry surface sheet keeps wetness away from the skin, because its design prevents moisture already absorbed inside the diaper from being reintroduced back towards your baby's skin.
Apart from that, the stretchy structure is suited for lots of movement and flexibility, allowing your baby to move around without chafing or discomfort. The diaper pants also have roll up tape for easier disposal while making sure that parents have a no-mess clean up. For more information, you can find reviews about the Goo.N Diaper Pants here.
Onward Baby Diapers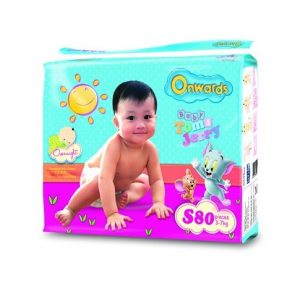 Say goodbye to sleepless nights thanks to Onward Baby Diapers. A one of a kind diaper with all best possible features you ever wanted, Onwards baby diapers come with 'stretchable ears and fastening tapes' that enables multiple adjustments for ensuring a perfect fit around your baby's waist.
This product also comes with other features such as a Breathable cloth-like cover, 3D Absorbent core and Comfort Leak guards to ensure that your baby will be as safe and comfortable as can be. If you want to find out more about the Onward Baby Diapers, you can check out the product reviews here.
Drypers Classic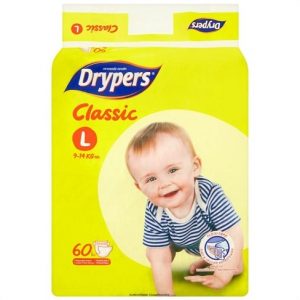 Available in packs of 22, 46 and 72, the Drypers Classic comes with an attractive back sheet designs for different sizes, as well with the FlexiTape™ with size indicator, allowing parents enjoy the moment of diapering with their loved one.
The specially designed shape fits your baby better and is comfortable for everyday use, with a skin gentle layer as well as leak guards and a 100% breathable cloth-like cover to keep your baby's skin fresh and smooth. Have you tried the Drypers Classic before? Don't forget to share your reviews with other young parents here.
Genki Diaper Pant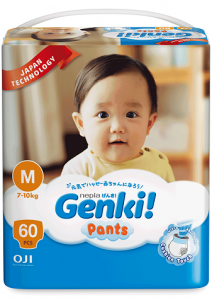 In Japanese, the word "Genki" means happy, lively and active. The Genki Diaper Pants was made to keep your baby happy and comfortable throughout the day. They do this by using super soft and absorbent materials, ensuring that your baby's skin always stays dry and comfortable.
To learn more about the Genki Diaper Pants, you can read reviews from other mothers here.