Healthier Lifestyle, Healthier You with Naturel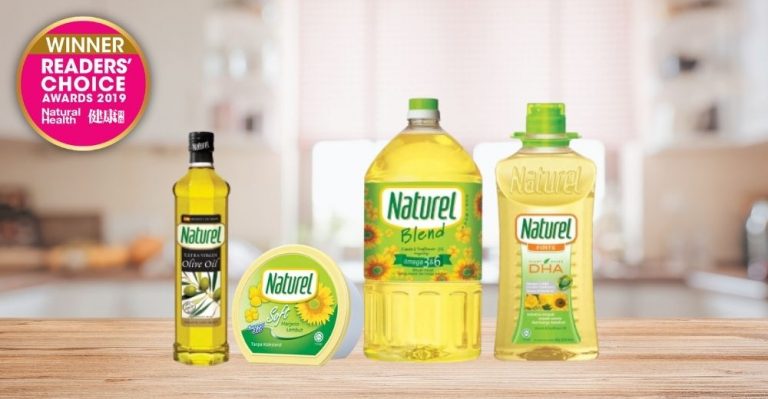 Everyone wishes to lead a healthier lifestyle and care for our loved ones. It can be challenging as most of us lead a busy life, juggling work and family matters. The Naturel brand aims to inspire real care for your loved ones through healthier living habits and natural diets.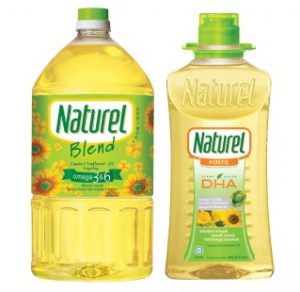 Its all-time favourite, Naturel Blend comes with the
goodness of sunflower and canola flower seed oils, which is rich in Omega-3 and Omega-6. Such essential
nutrients are important for the normal growth of our children. Never resting on its laurels, the Naturel brand
continues to innovate and launched the first plant-based DHA-fortified cooking oil and soft spread in Malaysia
a few years ago. Omega-3 DHA is scientifically proven to enhance brain health and cardiovascular function. The
brand believes and practises the highest level of quality standard and food safety by using plant-based DHA
source instead of marine-based sources to omit the risk of ocean contamination. No wonder! Naturel remains the most preferred healthy cooking oil brand for the past decade. Let's join the Naturel living today. Visit their website for more info.
Goodness of 3 Olive Varieties (HAP) in A Single Bottle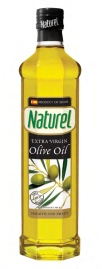 Extra virgin olive oils are known to be a vital ingredient for the healthy Mediterranean diets. Hence, they are highly sought after by the health conscious and affluent consumers in Asia. However, they were often pricey or expensive due to the many intermediaries involved in the entire sourcing and supply chain before reaching the end consumers.
Besides leading to high operating costs, such multiple sourcing and packing practices
involve a more challenged and complicated quality control process, to maintain purity and freshness of the extra virgin olive oil.
This is how the Naturel brand created a huge advantage for its consumers, with its high quality extra virgin olive oils. The brand has carefully selected 3 of the best Spanish olive fruit varieties; i.e. Hojiblanca, Arbequina and Picual (HAP), from the most pristine olive groves in Andalucia, Spain. Within 24 hours of harvesting, these fresh olive fruits will go through cold-pressed oil extraction to preserve its freshness, purity and healthy antioxidants. Upon passing its stringent quality process, they are filled and packed in each bottle of Naturel Extra Virgin Olive Oil in Andalucia, Spain and shipped directly to Malaysia. The Naturel brand adopts the SINGLE SOURCING method, by cutting all layers of sourcing and supply chain intermediaries to maintain the goodness in every single bottle! Visit their website for more details.
Start the Day Right with Naturel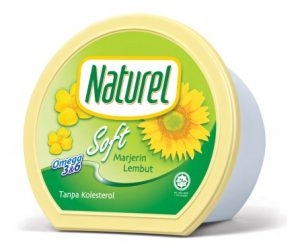 Due to hectic lifestyles and busy schedules, modern parents often find themselves rushing to prepare the right
breakfast for their children. Packed with wholesome goodness to kick start the day, the healthy and nutritious
Naturel Soft Margarine goes great with your favourite toast! Malaysia's most preferred soft margarine spread,
Naturel is made from sunflower and canola flower seed oils which are rich in Omega-3 and Omega-6.
Naturel Soft Margarine only contains good fats, namely, monounsaturated fats that reduce bad cholesterol. It does
not go through any partially hydrogenated process which results in unhealthy trans-fat. Start your day right and spread healthiness with Naturel Soft Margarine. For more information, visit their website.
Naturel products have won the Natural Health Readers' Choice Awards for the categories of Healthy Cooking Oil, Healthy Olive Oil and Healthy Margerine.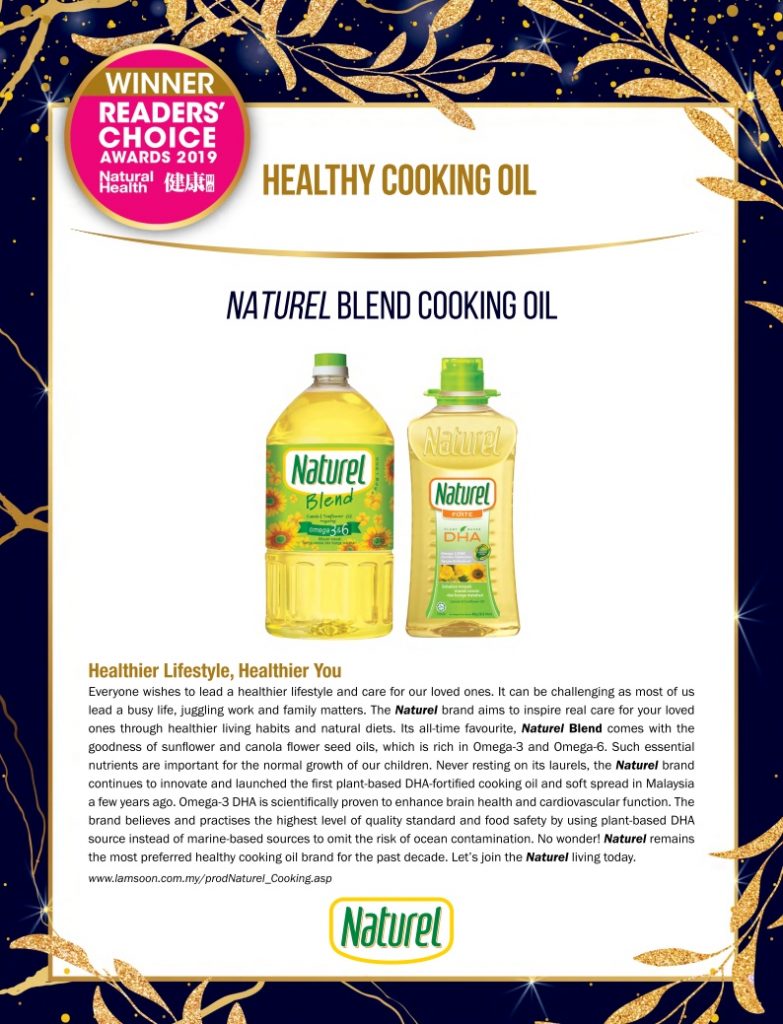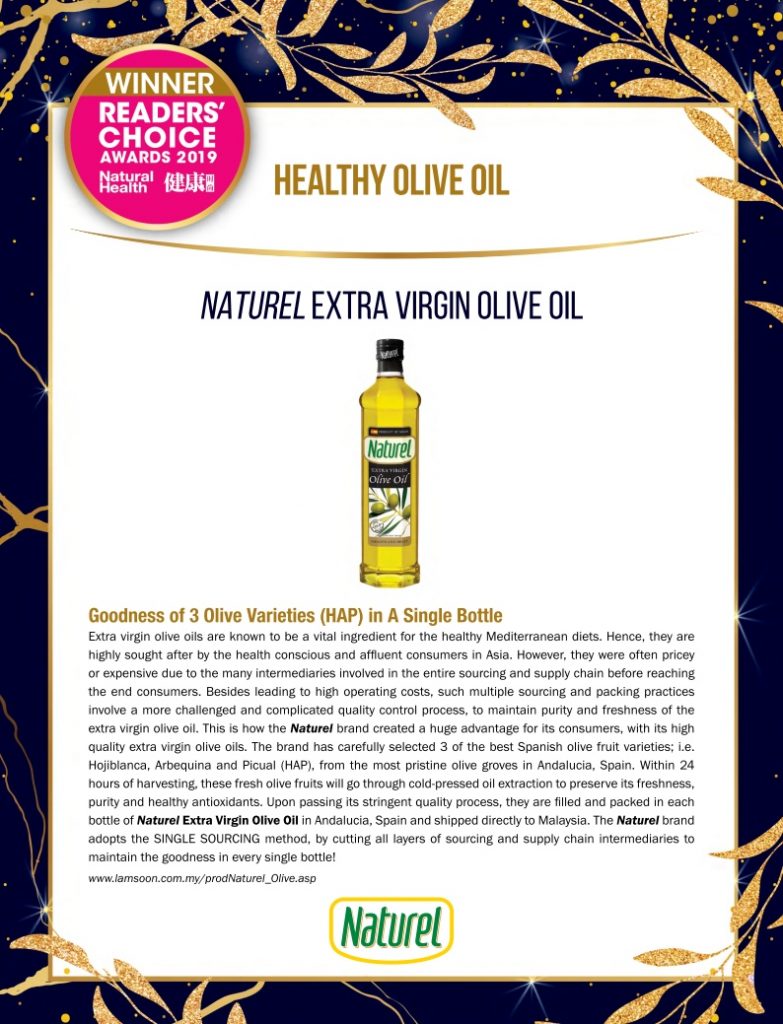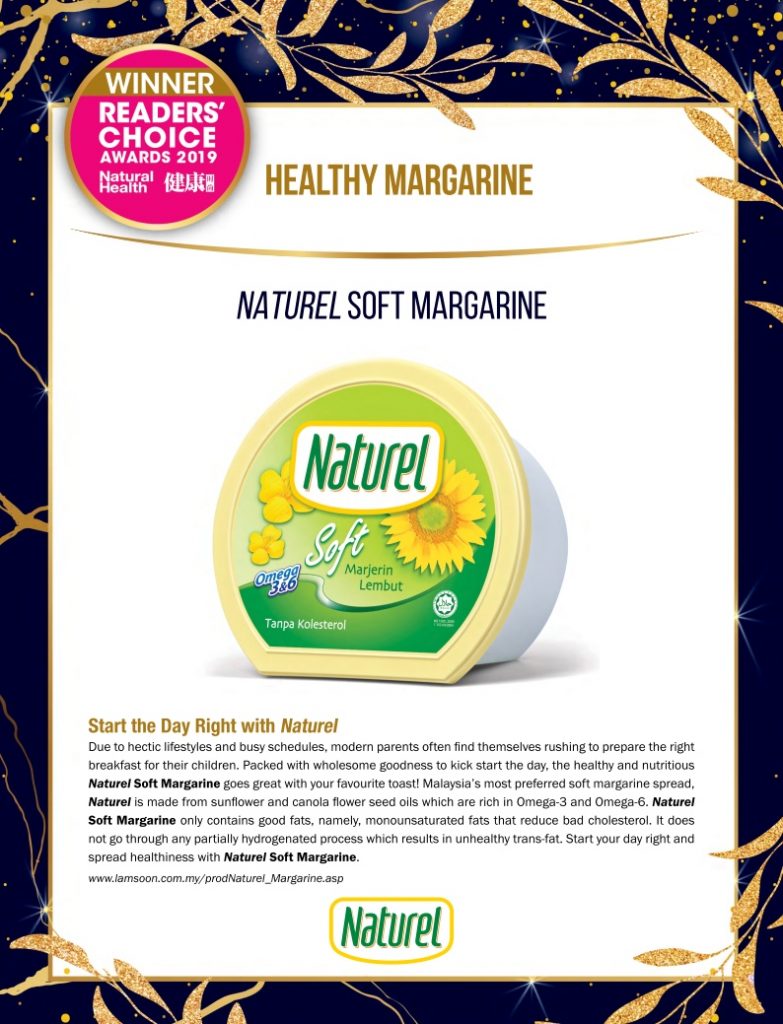 Let's join the Naturel living today.