10 Jenama Lampin Pakai Buang Yang terbaik Buat Si Manja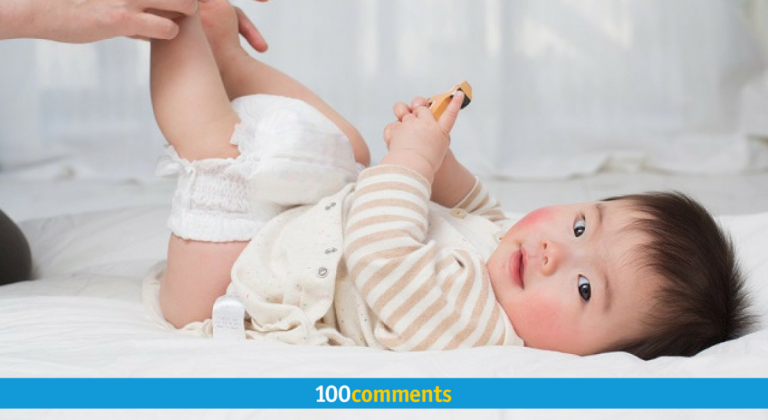 Lampin pakai buang adalah satu barang keperluan yang wajib ada buat ibubapa yang mempunyai anak kecil. Kebanyakkan ibu bapa mencuba dari satu jenama ke jenama lain untuk mendapatkan lampin yang benar-benar sesuai buat si manja. Kesalahan memilih lampin boleh menyebabkan bayi mengalami kemerah-merahan dan ruam yang tidak selesa pada kulit mereka.
Jika anda masih tercari-cari lampin yang mana satukah yang padan dengan si kecil, di sini kami senaraikan 10 lampin pilihan ibubapa:
OffSpring Fashion Diapers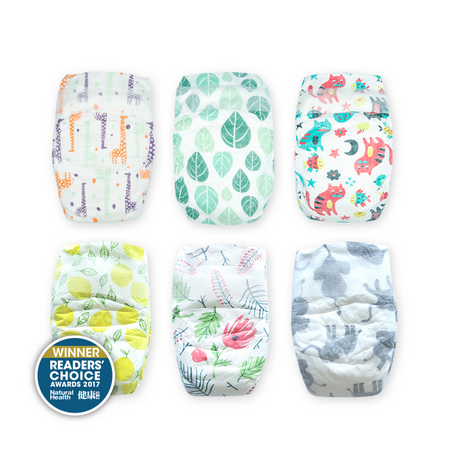 Offspring satu jenama kelengkapan bayi yang dikenali ramai kerana ianya diperbuat daripada bahan semulajadi yang mesra kulit. Lampin Fesyen Offspring ini mampu untuk menyerap dan digunakan sehingga 8-10 jam tanpa sebarang kebocoran. Diperbuat daripada serbuk kayu yang telah diiktiraf oleh FSC dan bebas daripada kegunaan sebarang klorin.
Lampin Pakai Buang Drypers WeeWee Dry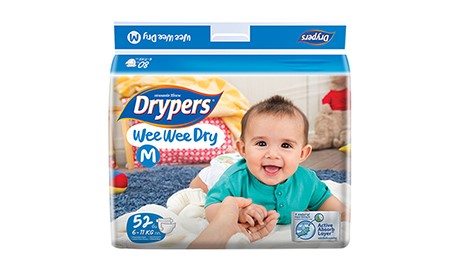 Dengan kuasa lapisan yang menyerap pantas dan denagn cekap untuk memastikan kulit bayi kering sentiasa dan selesa. Diperbuat daripada ekstrak semulajadi iaitu aloevera, chamomile, olive serta Vitamin E untuk membantu memastikan kulit bayi sihat dan selesa. Lampin Pakai Buang Drypers WeeWee Dry mempunyai Flexi-Tape, iaitu pita yang memudahkan anda untuk memakaikan lampin. Ianya dicipta untuk kemas dan rapi mengikut bentuk si manja.
Lampin Pakai Buang PetPet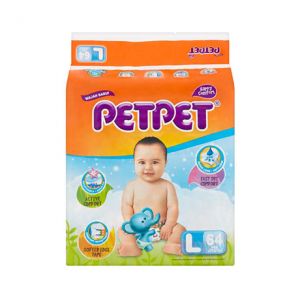 Lampin pakai buang memudahkan kerja seharian para ibubapa. Lampin Pakai Buang PetPet telah ditambah baik dan sekarang didatangi dengan pita jenis Velcro untuk memudahkan proses pemakaian lampin. Anda boleh laraskan lampin dengan mudah dan lampin ini mengandungi Magic Gel yang mampu menyerap lebih 70% cecair untuk memastikan kulit bayi selesa sentiasa. Ianya juga selesa buat bayi baru lahir dan mesra pada kulit lembut mereka.
DIAPEX Wonder Pants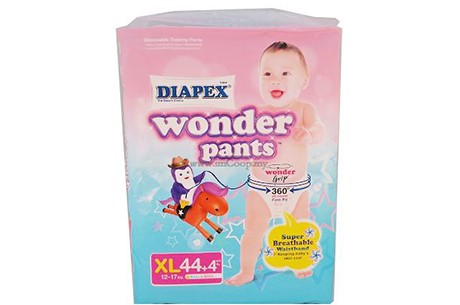 DIAPEX Wonder Pants dicipta khas buat bayi yang aktif dan juga untuk para ibu yang sibuk bekerja. Lampin ini diformulasikan dengan Wonder Grips di sekeliling pinggang lampin untuk memberi 360 darjah pita getah agar ianya lebih selesa dan betul-betul padan mengikut bentuk badan. Wonder Grips memberikan pengalaman yang lembut dan lebih selesa pada si manja.
DIAPEX Wonder Pants is designed for the active baby and busy working mothers. Products are feature with Wonder Grips which will provide 360 degree all round waistband for Firmer & Softer Fits to your love one.
Genki Diaper Pant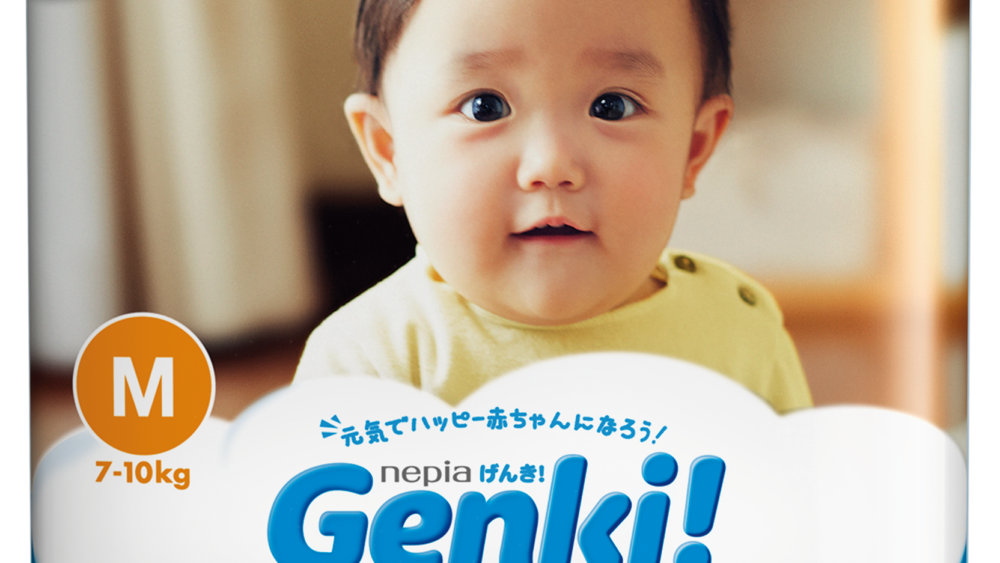 Genki! satu jenama lampin pakai buang yang diminati ramai. Ianya dicipta berdasarkan permintaan ramai untuk memiliki lampin bayi yang lembut dan pantas menyerap. Dengan innovasi terbaru, Lampin Genki! mempunyai lampin yang selembut kusyen serta lapisan penyerapan yang terbaik. Ianya mudah, sesuai serta praktikal untuk dipakai bayi sepanjang hari tanpa mengahdkan pergerakan mereka.
Genki! Pants are developed based on this insight by incorporating the innovative 'All Cushion Touch' and 'Ultra Absorbent Core' features to provide the 'Best Comfort Fit Diaper' for babies. Mothers will certainly find Genki! Pants the easy, convenient and practical solution that best fits their babies' body comfortably, without restricting movement.
Merries Super Premium Tape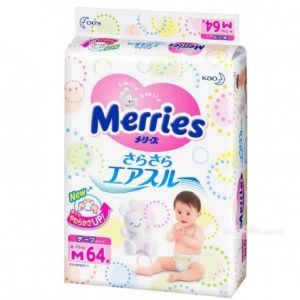 Lampin pakai buang yang menyerap pantas, memberi ruang untuk kulit bayi bernafas dan juga amat lembut pada kulit. Ianya diperbuat daripada lapisan lembut yang berongga agar kulit bayi boleh bernafas dan kekal selesa sepanjang hari. Ianya juga membenarkan udara untuk bergerak bebas di antara kulit dan lampin agar ianya tidak melekat pada kulit dan menyebabkan kemerahan. Merries Super Premium Tape direka dengan bentuk "W" di bahagian lampin agar ianya memberi keselesaan pada bayi untuk bergerak.
MamyPoko Air Fit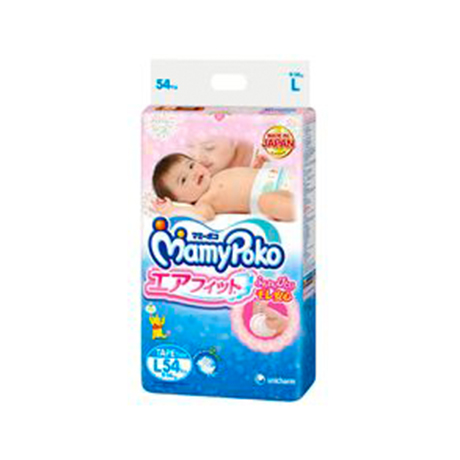 Lampin pakai buang yang sesuai buat bayi baru lahir kerana ianya lembut dan selesa pada kulit. MamyPoko Air Fit adalah produk keluaran Jepun yang direka khas dengan Air Fit Tape beserta Curve Fit di bahagian lampin agar ianya tidak menyebabkan sebarang kebocoran. Rekaan khas lampin ini mampu menghalang sebrang kebcoran di bahagian kritikal dan dalam masa yang sama memberi kebebasan dan ruang untuk si manja bergerak bebas.
Tollyjoy Diaper Pull-Up Pants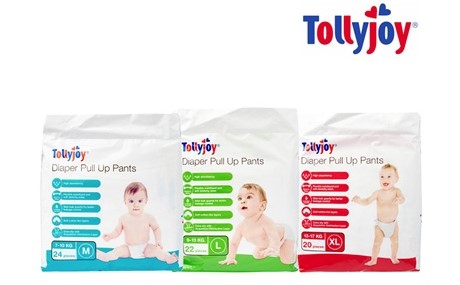 Diperbuat daripada kain yang lembut dan berrongga agar kulit bayi boleh bernafas dengan selesa. Tollyjoy Diaper Pull Pants mampu menyerap dengan hebat dan cepat dengan bantuan ADL (Acquisition Distribution Layer) di bahagian lapisan paling atas untuk memastikan cecair kotoran tidak melekat pada kulit. Ianya fleksibel serta mudah renggang untuk betul-betul muat pada badan bayi. Dengan "leakguards" 3D untuk menghalang kebocoran sepenuhnya.
Lampin Pureen Dry 5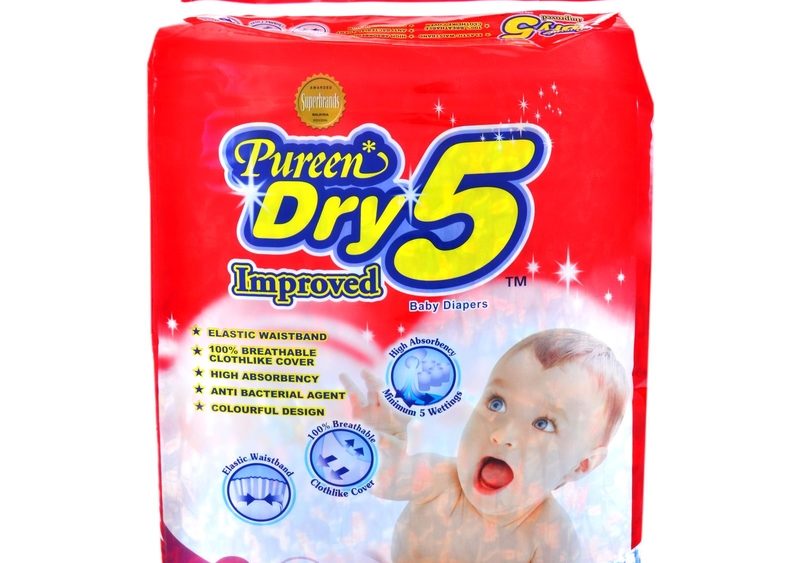 Lampin Pureen Dry 5 ini diminati oleh para ibubapa kerana harganya yang berpatutan dan juga mutu lampinnya yang terbukti berkesan. Ianya mempunyai getah pinggang yang elastik untuk memberi keselesaan paa si bayi dan juga diperbuat daripada bahan yang berongga agar kulit si bayi bernafas dan mengelak kemerah-merahan dan ruam. Ianya juga lengkap dengan anti-bakteria ejen agar dapat mengelak sebarang ketidakselesaan.
Huggies Little Movers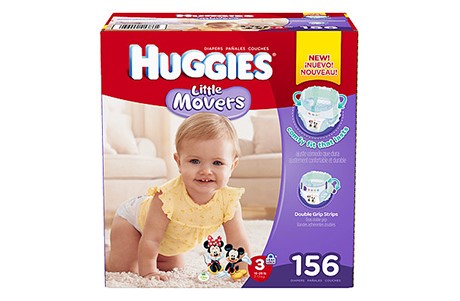 Sesuai buat bayi yang aktif meranggak, Lampin Pakai Buang Huggies Little Movers memberi keseimbangan diantara fleksibiliti serta perlindungan daripada sebarang kebocoran. Dengan pita getah di sekeliling pinggang serta  padding penyerap, lampin ini memastikan si manja bebas bergerak tanpa sebarang kebocoran. Ianya juga mempunyai rekaan kartun yang menarik.