Top 8 Best Healthy Breakfast Cereals for the Whole Family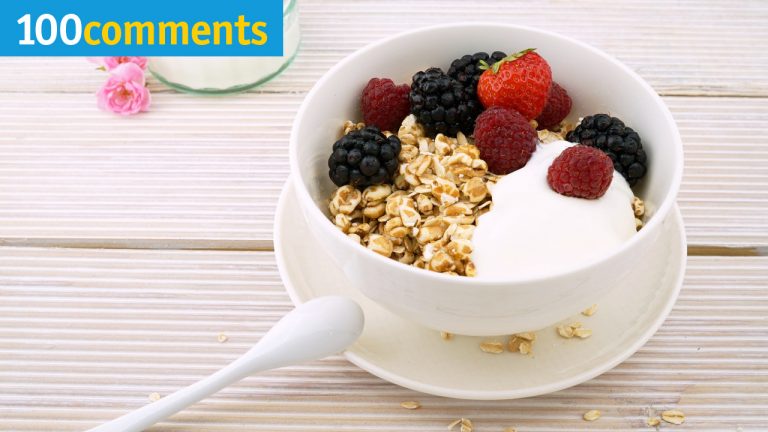 If you're rushing to get out of the door in the morning, enjoying a healthy, nutritious breakfast can seem like a luxury you can't afford. If you're one of those lucky few who can wake up early enough to whip up a gourmet breakfast, great! If you aren't, don't worry: there's plenty of healthy cereals for you to choose from. Despite what you might think, a healthy breakfast cereal doesn't have to be dull or bland. In fact, many of them will make you want more! To help you out, we've got a list of the top 8 best healthy breakfast cereals for the whole family.
Nestle Corn Flakes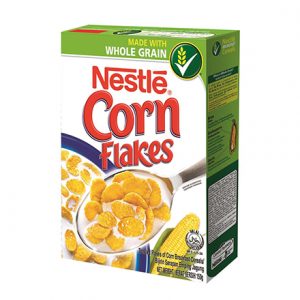 A classic option, you can't really go wrong with Nestle Corn Flakes.
Tear into a box of Nestle Corn Flakes and discover the simple whole grain goodness within. There's nothing quite like a bowl of delicious, crispy flakes of golden corn with a splash of milk to get the day started.
Not only does Nestle Corn Flakes serve up tasty breakfast, it also contains essential vitamins and minerals, including calcium and iron for nutritious start to the day. Nestle Breakfast Cereals- Working to make Breakfast better everyday!
Nestle Cheerios Oat Crisp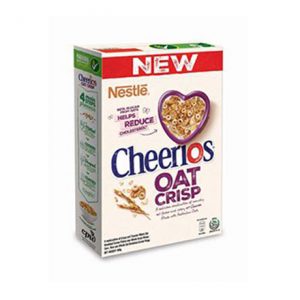 Delicious crunchy flakes made with whole grain oats and mixed with light and crispy Cheerios, Nestle Cheerios Oat Crisp is high in dietary fiber and a source of essential vitamins and minerals. With Beta Glucan from oats to help reduce cholesterol, it is the tasty new way to keep your heart health in check!
Offering a convenient, affordable option, Nestle Cheerios Oat Crisp tries to help consumers choose healthier lifestyle and potentially helps reduce cholesterol issues. This whole grain cereal is high in fiber and low in saturated fat, providing you a tasty and filling breakfast experience without having to worry about a bowl full of sugar or artificial ingredients.
Nestle Fitnesse Cluster Banana Nut Cereal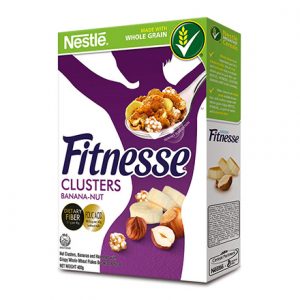 Breakfast doesn't have to be boring! Begin every morning with a delicious bowl of Nestle Fitnesse Cluster Banana Nut Cereal and feel that smile stretch across your face. Be rejuvenated by its irresistibly delicious mix of toasted whole wheat flakes, banana flakes, crunchy nut clusters and a light touch of honey.
These tasty flakes are made with 53% wholegrain, low in fat and contain 10 essential vitamins and minerals, including calcium and iron. So you can get your day off to a wholesome start! All sounding too good to be tasty? Try this balanced breakfast – you'll love it!
Yogood Gourmet Muesli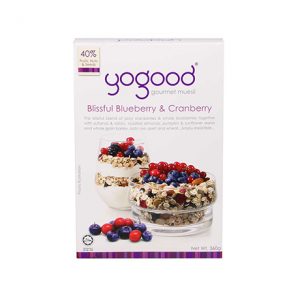 A luxurious blend of 5 types of wholegrain cereals and exquisite fruits, nuts and seeds, Yogood Gourmet Muesli is the perfect way to start your day. Each variant is bursting with 40% fruits, nuts and seeds, giving you a wholesome and luxurious muesli that you can enjoy every morning.
This delicious muesli comes in four different flavors: Cran&berries, MacadaMania, Blissful Blueberry & Cranberry, and Nuts Inc., meaning that there's something for everyone in the family! Made using real fruits and nuts, each mouthful of this gourmet muesli is simply bursting with flavor and nutrition. The wholegrain cereal has a nice crunchy texture while the dried berries add a lovely punch of fruitiness to every bite.
Kellogg´s Special K Series Vanilla Almond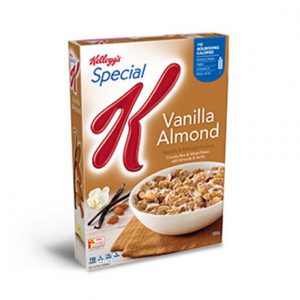 The cereal that started it all, Kellogg's Special K Cereal contains deliciously crunchy multi-grain flakes made with rice and wheat. Not only it is less than 3 % fat but it's a great source of nutrients including 6 essential B vitamins, vitamin C, D, and iron. The vanilla almond version is a great tasting cereal with large and refreshingly crunchy flakes that can be eaten plain or mixed with milk.
Apart from the cereals, Kellogg's Special K Series has a full range of delicious foods you can enjoy throughout the day, with over 10 flavors of breakfast cereals, sweet snacks and even savory crisps.
Quaker Oatmeal Instant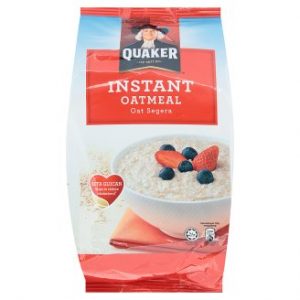 Happiness and nutrition come in a warm bowl of Quaker Oats, and now with Quaker Oatmeal Instant you can enjoy them no matter how busy your day is. These are the same wholesome oats you've come to expect from Quaker in easy to carry single-serving packets that cook in only 90 seconds because they have been finely cut.
A hearty hot bowl of Quaker Oats goes great with everything – try topping with fresh or dried fruits or crunchy nuts. You can also use it in other dishes – try adding some oats to your smoothies for a thicker and more filling drink. Even better, the goodness doesn't stop with the taste; Quaker Oats is 100% whole grains which may help reduce the risk of heart disease.
Nestle Nestum Original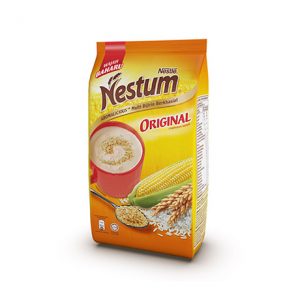 Nestlé Nestum Original is a much-loved Malaysian brand providing delicious and nutritious multi-grain cereals to Malaysian families for more than 50 years. Nestle Nestum Original provides a great selection of wholewheat, change to multi-grains, rice and corn and fortified with 13 vitamins and minerals for your well-being. We've perfected the art of encapsulating the aroma and taste in every Nestum flake.
Designed to be quick and convenient to make, all you need is some hot milk and a few spoonfuls of Nestle Nestum Original to create a creamy, delicious dish. You can prepare it any way you want – as a drink or porridge. Customize your meals by adding in toppings such as fresh or dry fruits to make it more nutritious and exciting!
Radiant Organic Rolled Oats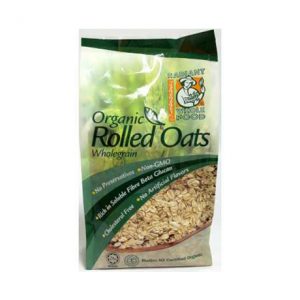 Made from all natural Australian Grown Organic Oats, Radiant Organic Rolled Oats give you a delicious morning breakfast with an oaty, husky aroma. Prepared without any high heat treatments, this GMO free cereal provides you with a generous helping of rich, soluble fiber filled with beta glucan to lower cholesterol and blood pressure. It's also good for your bowels, helping to prevent constipation and diarrhea that occurs when your natural stomach flora is unbalanced.
To prepare, simply add hot water or your favorite beverage on the oats & cover for 2 minutes. Top it off with sultanas, nuts, fruits, or a tablespoon flaxseed oil and lecithin powder. Aside from being an excellent breakfast dish, these preservative and artificial flavoring free oats are also useful as an ingredient for biscuits, pancakes or breakfast porridge.
Need More?
You can review these and many other healthy breakfast cereals here on 100comments.com.