Top 6 Best Breakfast Cereals That Your Kids Will Love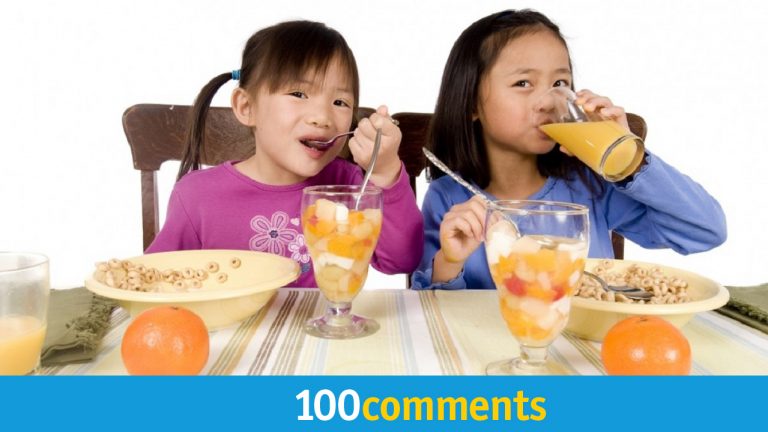 Breakfast in Malaysia comes in many forms. From the humble nasi lemak and roti canai to the filling Full English set, we've got it all. However, in many households across the country, children wake up and enjoy a simple yet satisfying meal of cereal and milk every morning. A lot of families enjoy cereal as it is convenient and requires no special preparation. When you're rushing to get everyone ready to go to school, having such a quick and easy breakfast dish on hand can be a godsend. To help you get everyone out in time, we've put together a list of the top 6 best breakfast cereals that your kids are sure to love.
Nestle Koko Krunch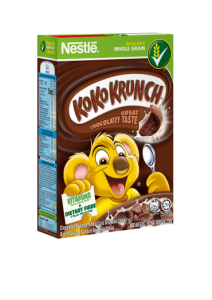 If you live in Malaysia, you've definitely seen this cereal at some point. NESTLÉ KOKO KRUNCH is a delicious cereal with a rich chocolate taste that kids love. Apart from its taste, this can also be a sneaky way to get your kids to drink more milk since they love watching the normal white milk turn chocolaty and sweet. As all kids know, the best part of Koko Krunch is drinking up the chocolate milk afterwards… then asking Mommy for a second helping.
Made with the goodness of whole grain, Nestle Koko Krunch cereal provides seven essential minerals, including iron and calcium. This Whole Grain wheat cereal provides Group B Vitamins (for alertness in school), Dietary Fibre (to keep you fuller for longer) and important minerals such as Iron and Calcium. Known as the number 1 Kids Breakfast Cereal in Singapore and Healthier Choice certified, Nestle Koko Krunch is a good way for your kids to take their day to the max!
Nestle Honey Stars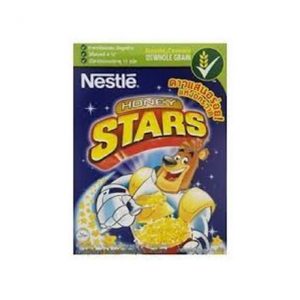 Another timeless family classic, Nestle Honey Stars have been in our bowls for generations.
Keep your kids curious and inquisitive with the delicious Nestle Honey Stars, a breakfast cereal filled with honey goodness in stars and galaxy shapes. With whole grain as its main ingredient, it is a great source of essential vitamins, iron and calcium that will refuel their energy first thing in the morning. In addition, each serving of Nestle Honey Stars can help your kids get at least 15% of the VNR of 8 vitamins and minerals!
To make the breakfast better, serve Nestle Honey Stars with a bowl of cold Full Cream Milk to for an out-of-this-world honey taste that your kids will definitely love. An irresistible combo that will kick start their morning the right way!
Nestle Milo Cereal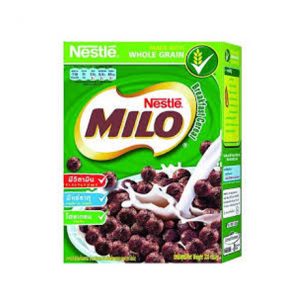 If you're a Malaysian, you've definitely tasted the Milo drink at some point. But did you know that there's a Milo Cereal as well?
Invented in Australia during the 1930s, Milo was originally developed during the depression as a direct response to the fact that children were not receiving enough nutrients from their daily diet. Since then, it has become a beloved drink world-wide, and the Milo Cereal is just one of many products that have been made from the original Milo powder.
A bowl of Milo Cereal with milk is a great source of calcium and contains 10 essential vitamins and minerals, including iron, zinc, thiamine, riboflavin, niacin, vitamin B6, vitamin E, vitamin C and folate. Made from whole grain, Milo Cereal provides you with more goodness-like Group B Vitamins (for alertness in school), Dietary Fiber (to keep you fuller for longer) and important minerals such as Iron and Calcium. Have a bowl of Milo Cereal with reduced fat milk, and you'll be getting 33% of the RDI for calcium, 21% of the RDI for iron, and 17% of the RDI* for zinc.
Nestle Cookie Crisp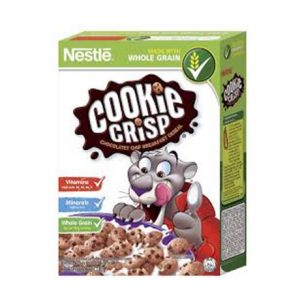 A breakfast cereal that attempts to recreate the taste of chocolate chip cookies, Nestle Cookie Crisp was originally introduced in the United States back in 1977 and was only recently brought here to Malaysia.
A delicious cookie taste which contains whole grain & vitamins and minerals, Nestle Cookie Crisp brings a bowlful of Cookie happiness to your day! Nestle Cookie Crisp is made with the goodness of whole grain and also provides eight essential vitamins and minerals.
Every hundred grams of this cereal contains 30.7 grams of whole grain so that your child is guaranteed to get a head start on their day. In addition, Nestle Cookie Crisp contains 8 vitamins & minerals, meaning that it is a good source of calcium & iron even before you add the milk. Grab a box today to let your kids enjoy the great taste of cookies for breakfast!
Kellogg's Cinnamon Frosted Flakes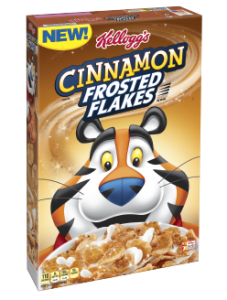 I'm sure that you've seen Tony the Tiger in Kellogg's commercials before. The cartoon tiger mascot has been telling us that Kellogg's Frosted Flakes cereals is "Gr-r-r-eat!" for years. You might be familiar with the original and chocolate versions, but has he told you about Kellogg's Cinnamon Frosted Flakes yet?
Kellogg's Cinnamon Frosted Flakes gives you the crunchy Frosted Flakes you love, bursting with the cinnamon aroma and taste you crave. Kellogg's Research R&D team reportedly considered more than 100 variations, evaluating the intensity of the cinnamon as well as the addition of vanilla and notes of caramelized sugar and maple before settling on this final version.
This means that Kellogg's Cinnamon Frosted Flakes are made differently than other cinnamon cereals, and they taste different, too. This is because the cinnamon flavor is baked into every flake's vanilla frosting instead of being dusted over it, thus producing a very interesting toasty cinnamon sensation. Go ahead and give this a try if you'd like your kids to try something different from the chocolaty cereals that would usually be stocked on your shelves.
Kellogg's Froot Loops Marshmallow Cereal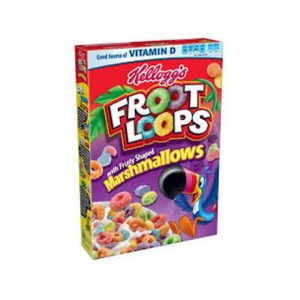 For those who are unfamiliar with what they are, Froot Loops are a brand of sweetened, fruit-flavored breakfast cereal produced by Kellogg's and sold in many countries. The cereal pieces are ring-shaped (hence "loops") and come in a variety of bright colors and a blend of fruit flavors (hence "froot", which I'm sure caused a lot of knee-slapping, belly-aching laughter in the office back in the good old days).
The Kellogg's Froot Loops Marshmallow Cereal is a twist on a classic American cereal. Which means that it was made based on the classic American logic that adding marshmallows to an ordinary cereal would automatically make it a thousand times better. Judging by the popularity of the Kellogg's Froot Loops Marshmallow Cereal, this is probably true. Try it out today and let your kids indulge like they've never indulged before.
Need More?
You can review these and many other cereal brands right here in 100comments.com.