Top 10 Best Kids Toothpastes To Buy in 2018
If you take care of your teeth, they'll help take care of you. Strong, healthy teeth help you chew the right foods to help you grow. They help you speak clearly. And yes, they help you look your best. If you don't take care of your teeth, cavities and unhealthy gums will make your mouth sore, resulting in eating process to be difficult and you will hesitate to smile. So it is vital to take care of teeth since young. Make sure you teach your kids to burhs their teeth at least twice a day after meals. When selecting children's toothpaste, it is important to avoid sugar and flouride. Here's a list of Top 10 Best Kids Toothpastes To Buy in 2018.
Kodomo Lion Toothpaste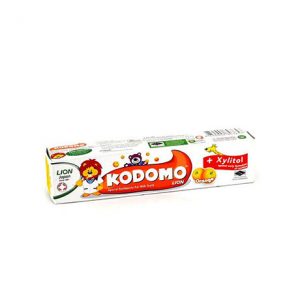 Number 1 Children Toothpaste brand in Malaysia with advanced cavity prevention formula and fruity flavours. Formulated with 5% xylitol with active flouride, it restores and strengthens teeth against the early formation of cavities. Specially formulated for sugar and the best thing about this toothpaste is, it is sugar-free making it suitable for children daily use. Kodomo Lion Toothpaste is available in four variants – strawberry, orange, grape and apple. To know more about this toothpaste, check out all the reviews from other users.
Pureen Kid Toothpaste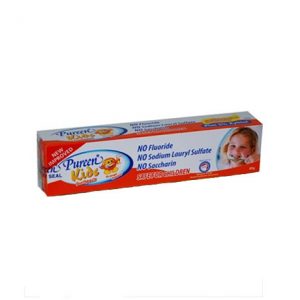 A great toothpaste suitable for your kids' health as it is free from flouride. Excessive flouride ingestion during early childood years can damage the tooth-forming cells, leading to a defect in the enamel known as dental flourosis. It also free from sodium lauryl sulfate. This ingredient is a detergent and a foam booster normally found in any normal toothpaste. It can cause mouth ulcers, as it dries out the protective mucous lining in the mouth. Xylitol is a natural sweetener that is used in this toothpaste. It won't cause any tooth decay and safe to use. Click here to know more about Pureen Kid Toothpaste.
Buds Organic Children's Toothpaste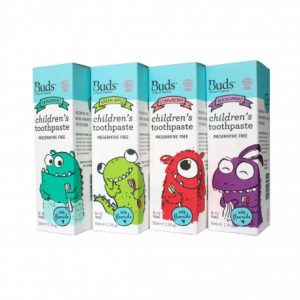 Buds Oral Care Organics are specially formulated toothpaste that is ultra mild, safe and effective in preventing tooth cavity and maintaining good oral health for every stage of your child's development. It is available in four flavours – green apple, strawberry, blackcurrant and peppermint. Flouride-free Buds for Kids organic toothpaste is safe even if swallowed. It is a mild toothpaste formulated with a combination of natural cleanser, organic aloe vera juice and silica to clean gently and effectively. This toothpaste performs well and provides a strong defence against tooth cavity. Interested to know more about Buds Organic Children's Toothpaste? Read reviews on our website.
Fiffy Kids Toothpaste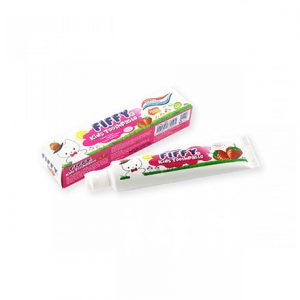 A safe toothpaste and recommended for kids. It contains zero-flouride, sacchari or even sodium lauryl sulfate that may harm the kids' teeth development. Children's teeth are fragile and need to be taken care so it is best to start by using a gentle toothpaste that suits your kids. Contained 5% xylitol with extra minerals and liquid calcium to strengthen child's teeth. This toothpaste is added with aloe vera to soothe the gum. Click here to know more about Fiffy Kids Toothpaste.
Pigeon Children Toothpaste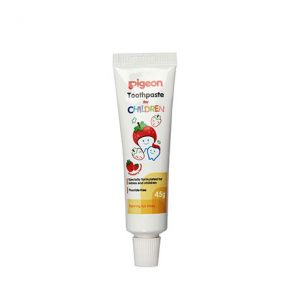 Pigeon toothpaste is an excellent cleaning paste for children's teeth and gum and helps to prevent tooth decay. It does not contain any fluoride, making it safe to be used on children. This toothpaste is specially formulated not for children but babies too. Simply brush teeth at least 2 times a day to get rid of bacteria that can lead to various kind of disease. Have you tried this product before? Leave a review about Pigeon Children Toothpaste on our website.
Baby Organix Dentifricio Organic Baby Toothpaste with Xylitol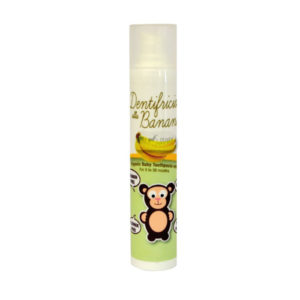 Baby Organix Dentifricio Organic Baby Toothpaste with Xylitol fights Streptococcus mutans, the bacteria responsible for tooth decay. It protects tooth enamel. Xylitol is a non-cariogenic substance, means that it is not fermented by the acids of the mouth and it prevents corrosion of the enamel. It hinders osteoporosis because it promotes the increase in the bone density. This toothpaste also does not contain fluoride and its derivatives, making it safe to be used for kids. Go to 100Comments to know more about Baby Organix Dentifricio Organic Baby Toothpaste with Xylitol.
First Teeth Baby Toothpaste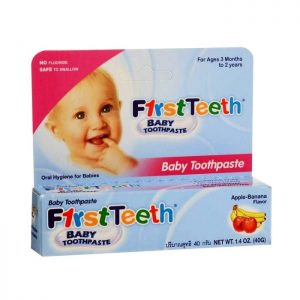 Pediatric dentists recommend gentle cleansing of babies teeth and gums to remove sugars, starches and other foods. Like adults, a plaque-like film on babies teeth is a breeding ground for harmful bacteria. First Teeth Baby Toothpaste is the first 100% natural antibacterial enzyme toothpaste that protects your baby's mouth much like mother's breast milk does. Daily brushing with First Teeth Baby Toothpaste helps fight bacteria, early tooth decay and helps keep the sweetness of a baby's breath. Read reviews about First Teeth Baby Toothpaste here.
Splat Juicy Tutti Frutti For Children
Over the lifetime, a person brushes her teeth about 57,000 times. We started brushing our teeth since we are young. Hence, Splat Juice try their best to collect four unique flavours from childhood to encourage kids to enjoy brushing their teeth. Juicy toothpaste deeply restores and strengthens dental tissues, effectively protects against cavities and soft dental plaque. Tutti Frutti flavour is really nice and sweet for kids. Find out more about Splat Juicy Tutti Frutti Toothpaste For Children here.
Topfer Organic Tooth Gel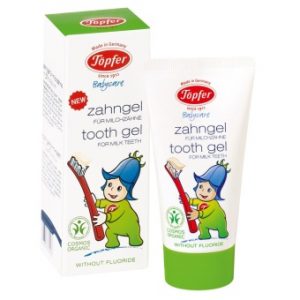 When your baby gets its first little teeth, you should start with regular dental hygiene since the baby teeth are the placeholders for the permanent teeth. As the dental enamel is thinner on the baby teeth and thus more susceptible to tooth decay, Topfer tooth gel contains silica for gentle cleaning and xylitol against caries. Organic wheat bran and calendula care gently for the gums. This is the perfect care when the first tooth appears. Free from tensides and 61% of all ingredients are organic making it safe to use for kids. Read reviews about Topfer Organic Tooth Gel here.
R.O.C.S. Baby Pro Toothpaste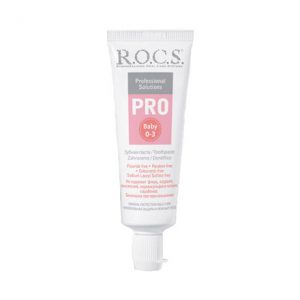 Toothpaste R.O.C.S. PRO Baby is designed for oral care from the early age, from 0 to 3 years old. The soft formulation of the toothpaste provides thorough toothbrushing and doesn't injure thin enamel of milk teeth. Toothpaste is based on the natural ingredients and a special "cold boil" technology enables to preserve natural ingredients activity. Introduce your kids to this toothpaste to ensure their teeth are healthy and protected.  Read reviews about R.O.C.S. PRO Baby Pro Toothpaste here.