Nurturing Entrepreneurial Mindsets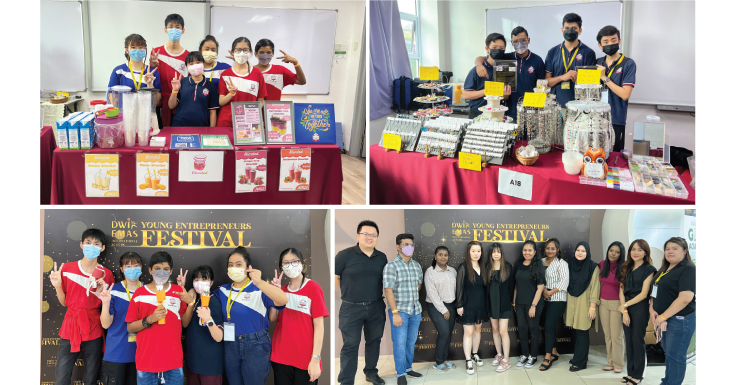 There is no shortage of private schools in Malaysia as families with school-going children can attest. Yet, few come close to what one school, namely British Circle Scholar (BC), can offer in terms of a one-of-a-kind curriculum and stellar education. Located in Puchong, BC offers the lauded Cambridge IGCSE syllabus, ensuring its students receive a well-rounded education with a special emphasis on creativity, critical thinking, and problem-solving. The school is well known, however, for an exceptionally unique programme which focuses on entrepreneurial skills for students.
BC collaborates with Dwi Emas International School, offering the latter's acclaimed Powerpreneur programme, and is the only other school in Malaysia to do so. The Powerpreneur programme is certified by Education Alliance Finland. One of the finer points of this programme is that it encourages students to fully explore their natural interests as well as their passions. Initiatives, including mentorship are included in the programme, alongside coaching by experienced entrepreneurs, business planning workshops, and pitch competitions.
Ultimately, the Powerpreneur programme helps students to build their skills, knowledge and confidence – all the qualities they would require to create entrepreneurial ventures with the ideas they have.
BC is a school that goes over and beyond to ensure that its students get to thrive in a supportive and inclusive learning environment where they also feel valued and respected. Students seldom feel bored here, for they are well-motivated and appropriately challenged to pursue their interests and achieve their best. BC has always been highly committed to providing high-quality education that prepares its students for success in their future academic and professional pursuits, which includes their entrepreneurial ventures.
The award-winning school boasts stellar facilities and resources, including well-equipped classrooms, science lab, library, ICT lab, and more. Experienced, qualified teachers who love their jobs create a supportive and inclusive learning environment where students feel valued, respected, and appropriately challenged to go after their dreams and achieve their full potential.
In conclusion, BC is committed to providing the high-quality education that students today require as tomorrow's trailblazers in academic and professional pursuits including entrepreneurial ventures. Passionate, experienced teachers who are qualified and approachable ensure quality instruction for its students, whereby small classes give them a better understanding of each student. This way, they will be better able to provide personalized assistance to their students, helping them to improve their studies and behaviour. The school's Disciplinary Policy and Behavior Card System helps to align students' behaviour with the set standards.
BC educates and guides students to become successful entrepreneurs.by emphasizing on entrepreneurial mindsets. Through its range of activities and projects that foster innovation and self-expressions, the school's syllabus encourages students to explore and develop their creative abilities, allowing them to use their imagination, originality, and problem-solving skills.