Jump Into Jaya One's Best 4 Kid Friendly Activities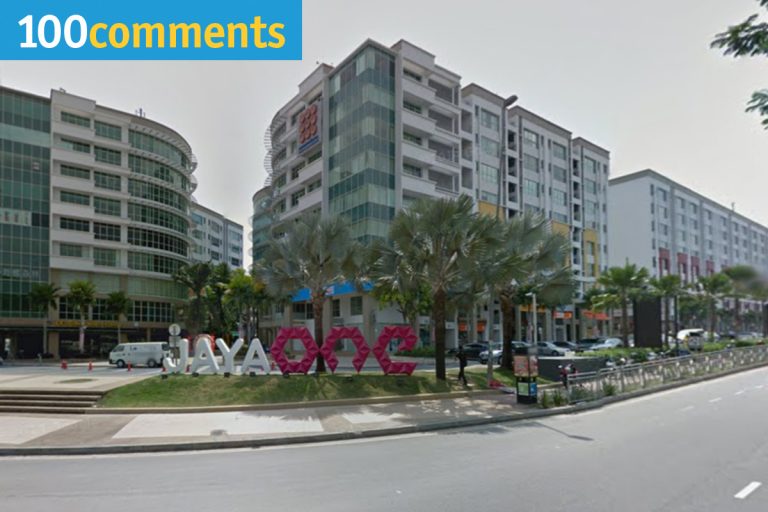 A relatively new mall set in the heart of 'Old PJ', Jaya One has an impressive collection of shops, restaurants and other unique facilities. Its ever popular PJ Live Arts group is one of the pillars of Petaling Jaya's vibrant arts community, while its hip and cool cafes such as The Bee draw in hipsters and happy families from all over.
In this mall you can find all sorts of unique attractions including a theater space, indie designed fashion shops, artisinal restaurants, and many more. With so much going on every week, this is the perfect place to bring your family to a memorable day out. Check out a list of Jaya One's top 5 best family friendly attractions below.
Sun Day Out @ Jaya One
Not sure where to go this weekend? Why not pay a visit to Jaya One and take part in its special Sun Day Out concept?
The exact attractions change from week to week, but you can expect colorful clowns, delicious food, and free reign to cycle inside the mall – for kids, at least. Register your child (must be between 3-7 years old) at the customer service counter and he or she can rent a bike to pedal around the mall. If they have their own bikes at home, the kids can choose to bring those instead.
As part of this weekly event, a number of famous food trucks are parked just outside the mall for you to enjoy. Apart from the food trucks, there are also a few food stores set up by local entrepreneurs offering amazing treats for you to try out. During Sun Day Out, you can find anything from churros to Chinese food, and there's always something new to try every week.
Opening Hours: 10am-3pm (Sunday only)
Website: http://theschool.my/event/sun-day-out/
The School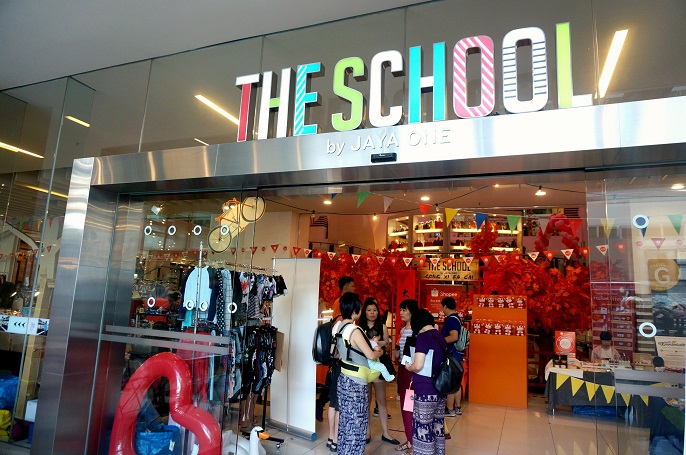 Malaysia's first child enrichment mall, The School @ Jaya One is focused on encouraging the healthy development of young children. They care about providing a better education, which is why more then a third of the establishments at the School are places where your kids can learn and play. To provide the very best education in a fun, creative, and challenging manner, The School has partnered itself with some of the top learning and enrichment centers around.
With a combination of space, comfort, safety, and convenience, The School at Jaya One is a that's mall uniquely suited for those who want to take their kids out for a day of fun.
This mall was designed from the ground up to be "child led". Every access point, corner, nook and cranny was designed with parents and children in mind. Need to do a diaper change? Head to the Mom's Room. Dads have their own special place to crash – one that's fully equipped with wifi, TV, lounge chairs, and even a space for emergency nappy changes. The parking lot has specially set spaces just for driving mothers so that they won't have to juggle balancing groceries and strollers – the mum's dedicated parking bays are safe and secure and you can even request a stroller or jockey service from the guards.
Opening Hours: 10am-9pm
Website: http://theschool.my/
Contact Number: 03-7491 9211
Dialogue in the Dark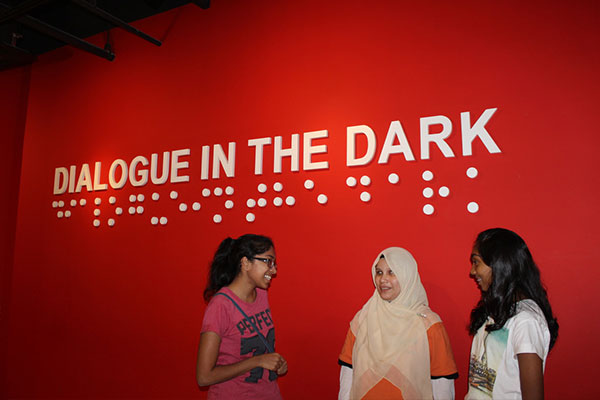 The idea behind Dialogue in the Dark is simple: to let normal people 'see' what it's like to be blind and get a glimpse of daily life through the eyes of the visually impaired.
Started in November 2012 by the founder and president of the Malaysia Glaucoma Society Stevens Chan, Dialogue in the Dark puts participants through a 45-60 minute session where they learn to move around and perform activities while in total darkness.
Once they enter, groups of visitors are led by blind guides through several specially constructed dark rooms in which scent, sound, wind, temperature, and texture are used to mimic all kinds of daily environments – one room might be a park, a city, a marketplace, or even a bar. The participants discover a whole new way to experience their daily routines without any sight. Though the tour lasts less then an hour, the experiences can last for a lifetime.
The concept has been proved quite effective. Over the last twenty years Dialogue in the Dark has been presented in more than 30 countries and 130 cities throughout the world since its opening in 1988. More than 10 million visitors worldwide have experienced Dialogue in the Dark and thousands of blind guides and trainers have found employment through Dialogue in the Dark. Bring your kids over to help them gain an appreciation of what it means to live and work as a blind person.
Opening Hours: 7.00pm – 9.00pm (Admission at 6.30pm -7.00pm)
Website: http://did.my/web/
Contact Number: 03-5891 6212
Jumpstreet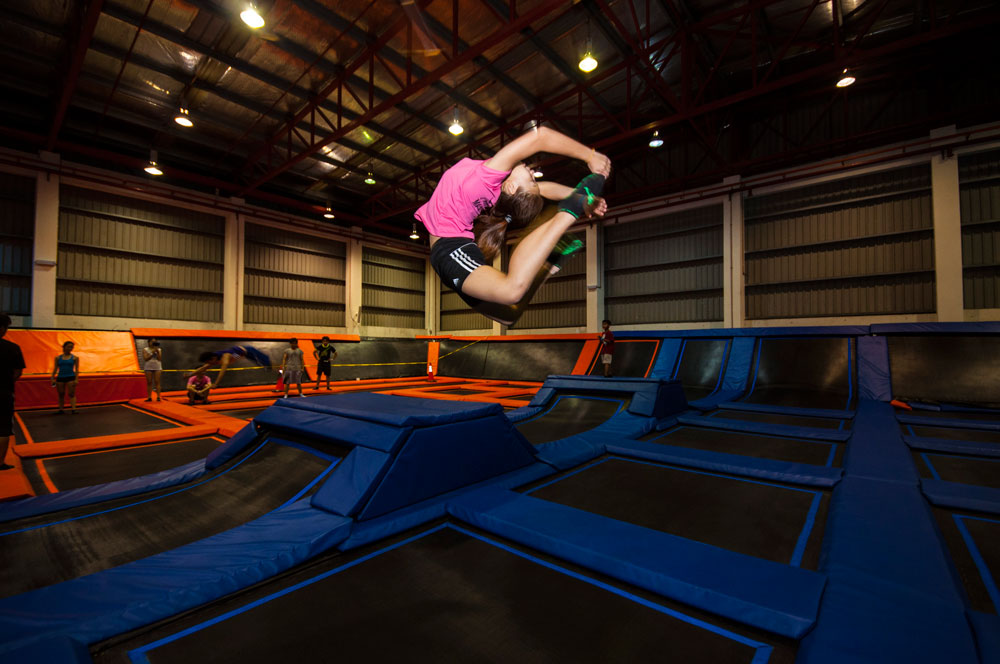 Located in a warehouse just behind Jaya One, Jump Street is Malaysia's first trampoline park  – and the perfect destination for all sorts of jumping, bouncing, tumbling and other gravity-defying activities. Providing active fun for all ages, Jumpstreet Asia contains at least 9 bouncy, bumpy attractions that are sure to get your blood pumping!
From the Main Court with 9, 000 feet of interconnected trampolines to the Foam Pit filled with thousands of soft foam cubes to the Dodgeball Arena where you and your friends can duke it out in trampoline dodgeball, there's something here for everyone. If you get tired of bouncing around, take a moment to visit the Jump Cafe – the perfect place to rest tired legs, watch the trampoline action, relax and catch up with your friends and of course to have a cup of "The Best Coffee in KL" or a meal.
Opening Hours:
Monday-Friday: 11am-9pm
Saturday, Sunday, School Holiday, Public Holiday: 10am-9pm
Website: https://jumpstreetasia.com/
Contact Number: 03-7969 1051
Need More?
The attractions above are just a few of the many family friendly activities available in and around the Jaya One Shopping Mall. For more information on these and many other fun and exciting attractions, simply check out Jaya One's official website at http://jayaone.com.my/.