Haenim NexusFit™ 7X Breast Pump Review & Win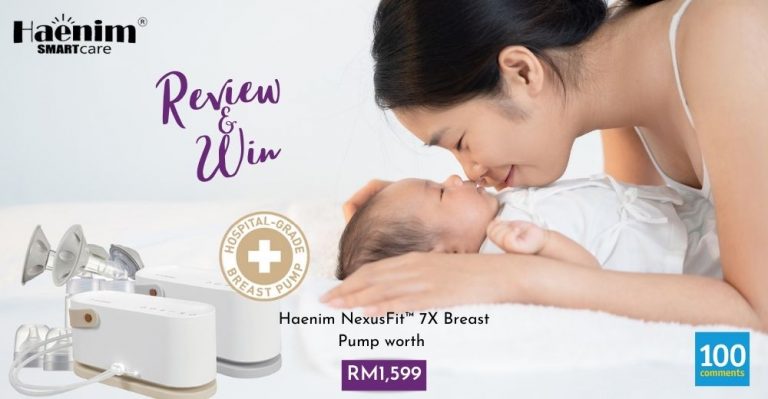 Stand a chance to win Haenim NexusFit™ 7X Breast Pump worth RM1,599! We have 3 units to give away!
‼️‼️ Remember: To qualify, please review 5 products on 100Comments.com. You may submit an unlimited number of reviews if you wish, but 5 is the minimum.
The award-winning Haenim NexusFit™ 7X Breast Pump is a hospital grade electric breast pump that's compact, sleek, fashionable and functionable.
It comes two phases of pumping experiences, namely the massage phase (with 5 massage levels and 5 speed levels) and the expression phase (with 15 expression levels and 6 speed levels). There is also a massage mode available, which imitates a baby's suckling and helps with milk flow. Moms can also switch to the expression mode for pumping.
The Haenim NexusFit™ 7X Breast Pump also features a unique, patented breastshield. It is designed with minimal parts to make cleaning easy and fuss-free. It's also a silent and peaceful to use device that comes with the option of single or double breast pumping. The trendy model is compact, with a user-friendly LED display for indicating suction levels, battery level and timer, and warm LED lighting for night-time use.
To enter:
1. LIKE and FOLLOW us on FB and IG @my100comments.
2. LIKE and FOLLOW Haenim Smartcare at FB (@myhaenim) and IG (@haenim.my).
3. LIKE and TAG 5 friends on this post.
4. Leave a comment "I love Haenim NexusFit™ 7X Breast Pump!" with the hashtags #HaenimNexusFit7X and #my100comments.
5. Follow the instructions to review below.
To enter:
Register at 100comments.com
Leave the required # of product reviews (listed on 100comments.com) of any products that you have used before to qualify for the product (in the table below) that you want. It should not be a product you've reviewed before. It should not be a review used for another product in exchange for reviews campaign. We love honest reviews, so give it your best shot ?. Please note that more consideration will be given to reviews that fit the following criteria:

Comprehensive (at least 30 words and more, in any language). The more details of your experience with the product, the better.
Accompanied by photos and/or videos of you or your family member/friend using the product, and
Made on products with 5 or fewer reviews. 

Once you have completed your reviews (from 3 to 10 December 2021), kindly leave a comment in the form below stating the number of products that you have reviewed. Winners will be chosen based on the quality of the reviews and at the discretion of the organiser.
Reviewers must review the products they receive within two weeks with a minimum of 30 words in any language and a photo and/or video showing them using the product.
We reserve the right to charge the value of the products given to the winners who did not submit their review of the products within 2 weeks after receiving them.
Contest ends 10 December 2021. Good luck!
By participating in this giveaway, the participant agrees to be bound by these Terms and Conditions and the decisions of 100Comments: https://100comments.com/review-win-campaign-terms-conditions/.
Login Required