Combat Body Odour With These 10 Best Deodorants For Women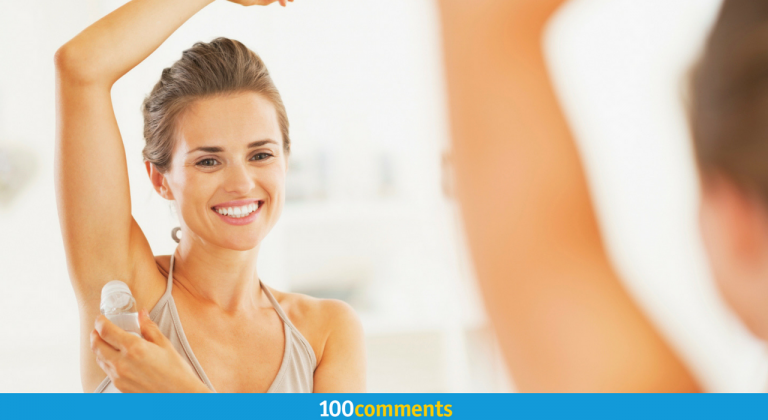 Body odour is really embarrassing and making one lost confidence to mingle with other people. But fret not, it is a problem that you can avoid by taking care of your hygiene. Body odour is the unpleasant smell produced by bacteria on the skin that break down the acids in your sweat. It is common to experience body odour once you have reached puberty as the apocrine sweat gland has developed.
If you have body odour and afraid to get close with people, hence you avoid taking public transportation at all cost because people can smell your body odour, maybe it is the time for you to change your deodorant. You need a deodorant that can combat the growth of bacteria to prevent your underarms from releasing the funny smell. Combat body odour with these 10 best deodorants for women:
Adidas Climacool Deodorant Spray for Women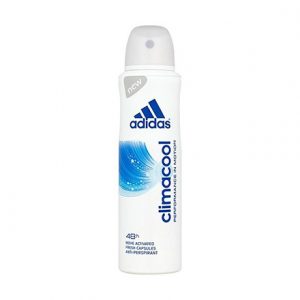 Get refresh with Adidas Climacool Anti-Perspirant Deodorant for Women. It does not only keep you dry and protected from wetness and odour upon applying, it also will provide an instant refreshing charge of fragrance. As you increase the intensity of your effort, a huge burst from capsules will provide a unique lasting freshness. The harder you go, the better it works. The friction between your body and sweat will boost the capsules and release the scent. So get refresh the harder you go workout. Use this deodorant for a long-lasting dry protection and fragrance. Read reviews about Adidas Climacool Deodorant for Women here.
Total Image Smelly-No-More Roll On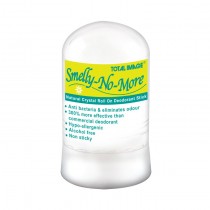 Eliminate body odour effectively in a natural way. If you prefer not to use any deodorant that has chemical and may irritate your skin, then Total Image Smelly-No-More Roll On is the great choice for you. This deodorant is made from pure and natural mineral salts that effectively inhibits bacteria growth under your armpits. Bacteria growth is the real source of body odour. It is free from alcohol, fragrance, chemicals and oil. Besides, this natural crystal stone does not stain clothing and also darken skin. It is a non-sticky and non-greasy that is suitable for all skin types. Click to know more about Total Image Smelly-No-More Roll On.
Safi Balqis Roll-On Deodorant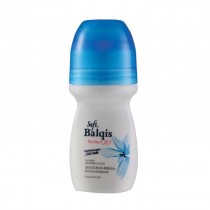 A great product from Safi Balqis for you, a woman who is active and always on-the-go. This deodorant from Safi is alcohol-free and provides 24 hours protection that dries easily. The formula makes it dries easily without any white residue. This deodorant not only combats body odour but also helps to lighten your skin with a long-lasting scent and refreshing feeling throughout the day. Your armpits tend to get darker due to shaving, so solve it with this deodorant! Read reviews about Safi Balqis Roll-on Deodorant here.
Rexona Women Passion Roll On Deodorant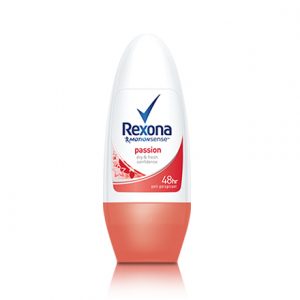 Stay fresh with Rexona Women Passion Roll-On Antiperspirant Deodorant. This deodorant delivers fragrance and protection that goes the distance with you. You can continue doing things that you love to do – climbing mountains, running, be active in sport or even running to meetings without the need to worry about your body odour anymore. Formulated with a clean, airy fragrance that lasts up to 48 hours with full protection to help keep you feeling shower-fresh. The MotionSense technology tops up the freshness when you need it most. Microcapsules sit on your skin, bursting with friction to release extra fragrance when you need it. Stay fresh with every movement! Click to know more about Rexona Women Passion Roll-On Deodorant.
L'OCCITANE Refreshing Deodorant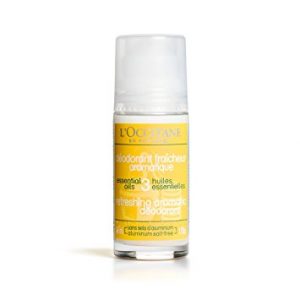 Start off your day feeling fresh with the Aromachologie Refreshing Aromatic Deodorant that is naturally formulated with essential oils from Provence. This deodorant is free from aluminium chlorohydrate and offers a long-lasting natural protection. It is made with the essential oils of mint, pine and rosemary that add a light refreshing scent while limiting perspiration and the development of body odours. The smooth an powdery texture of this deodorant provides a sensation of well-being throughout the day without staining clothes. A fresh yet citrusy fragrance deodorant. Read reviews about L'OCCITANE Refreshing Deodorant here.
Eucerin Deodorant Roll-On 24h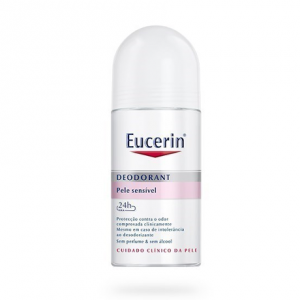 Eucerin Deodorant Roll On 24 Hours is indicated to control odour and perspiration of all skin types and even the most sensitive one. Formulated with high tolerability formulation that gentle and safe to be used on the skin. With antibacterial action to keep your armpits clean and free from bacteria. This deodorant regulates perspiration with the presence of aluminium salts. It can last for 24 hours and safe on the skin. Tested free from alcohol, fragrance and also paraben. Click to know more about Eucerin Deodorant Roll-On 24 Hours.
Clarins Roll-On Deodorant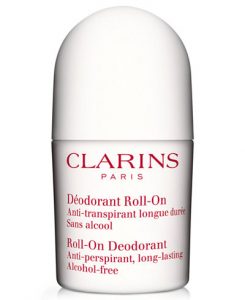 A great deodorant that is soft and subtle with a delicately-scented of Buchu Leaf, Witch Hazel and Rosemary extracts. It is an alcohol-free deodorant that helps decrease perspiration to keep underarms dry and odour-free for hours. It is formulated with a non-irritating formula that is gentle for the most sensitive skin. This deodorant won't irritate your skin or making your skin turn darker due to the chemical. It is free from any harmful substance and cares the skin. The price is a bit pricey but it worths the penny! Read reviews about Clarins Roll-On Deodorant here.
Bioderma Sensibio Déo Anti-Perspirant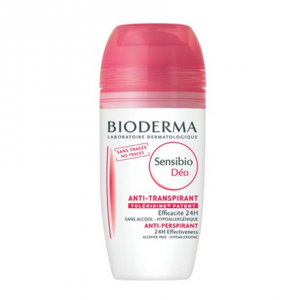 Suitable for sensitive skin and it has an antiperspirant action, thanks to a very low concentration of aluminium salts that enables this product to be used the whole year without needing to pause. Bioderma Sensibio Deo Anti-Perspirant does not block the sweat glands and can also be used as a pause deodorant for other formulations that have a higher concentration. The deodorant is suitable for sensitive skin and the formulation of Toleridine patent helps to improve the tolerance threshold in order to reduce irritations. It does not leave any white traces on clothing. Click to know more about Bioderma Sensibio Deo Anti-Perspirant.
Klorane Deodorant Roll On with White Althea
Klorane Deodorant Roll-On With White Althea is a very gentle deodorant that is free from aluminium salts. It neutralizes odours while respecting the natural process of perspiration. It won't block perspiration and is suitable for sensitive armpits. This deodorant has a pleasant and light fragrance to get a feeling of softness. It is free from alcohol, paraben and also anti-white traces. The presence of White Althea in this deodorant is an emollient plant active with softening properties that adapted for sensitive skins. Read reviews about Klorane Deodorant Roll-On White Althea here.
Rexona Teen Music Fan Anti-Perspirant Deodorant Spray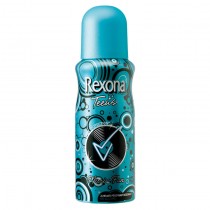 Rexona Teen Music Fan Anti-Perspirant Deodorant Spray provides a 24 hours protection from any body odour and sweating. With music, everything is more intense, fun is much more fun, romance becomes more romantic and on and on. The scent of this deodorant will make you fall in love with the subtle yet romantic fragrance. Not too sexy and it is also energetic that suits for teenagers who are full of spirit and energy. Pump up the volume of your life with Rexona. You are protected from body odour with this deodorant. Click to know more about Rexona Teen Music Fan Anti-Perspirant Deodorant Spray.