ZUMBA! Shake it like Shakira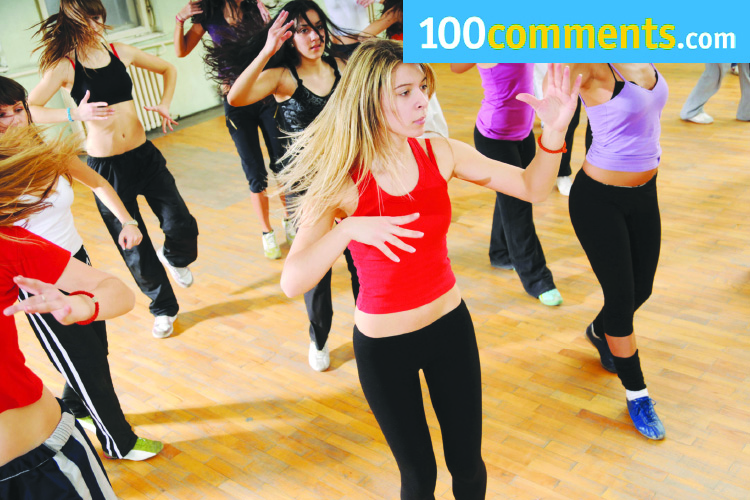 "The Zumba workout provides long-term fitness benefits through exhilarating, high calorie-burning fitness classes, and its simple Latin and urban dance moves increase the fun factor"
Is your workout routine getting a way bit repetitive and lifeless? Spice it up with Zumba!
What is Zumba you ask? If you've not heard of this Latin dance-aerobics fusion by now, then you must be living on a different planet! Even though Zumba has been around for several years, it's not going to go away anytime soon. In fact, it's quickly gaining popularity as more celebrities jump into the craze and show-off the results!
So whether you want to shake your hips, tone them up, or cardio in a group setting, Zumba is just the right cardio-workout to instill the action back into low-impact aerobics!
The man behind Shakira's heart-pounding shakes
Zumba, a spicy mix of flamenco, tango, salsa, hip-hop, calypso and belly dancing, was invented by Alberto "Beto" Perez, who began his career as a boy dancing on street corners of Colombia for spare change.
When he soon grew up he became an aerobics instructor. One day he forgot to bring the music CD for his class. Rather than canceling the class, he improvised the steps by playing a compilation CD of his favourite Latin music and instructed the class to follow his mix of salsa, merengue, mambo and raggaeton music and dancing styles, creating a fun and engaging way to workout. The fun workouts became so popular and was soon known as Zumba, a Colombian expression that means 'move fast and have fun.'
Zumba soon catapulted Beto into a star fitness instructor and dance choreographer (Shakira is one of his most popular students).
Taking the world by storm
After moving to Miami and a chance meeting with Alberto Perlman, Beto soon became a household name and Zumba turned into a sensation. In 2007, Zumba Fitness was launched.
According to the business website inc.com, Zumba classes can now be found in over 70,000 fitness centres in over 105 countries, with more than 4 million Zumba DVDs sold! Obviously, this is no passing fad, and Beto even calls it "the Zumba fitness party" giving a whole new perspective to how workout should be viewed.
Zumba-off those pounds
"The Zumba workout provides long-term fitness benefits through exhilarating, high calorie-burning fitness classes, and its simple Latin and urban dance moves increase the fun factor," explains Beto. "The routines feature interval training sessions with fast and slow rhythms and resistance training, which combine to successfully tone and sculpt the body while burning fat", he continues.
Zumba is quite a workout. You can burn anywhere from 500 to 900 calories from an hour's worth of Zumba. The best part is, you'd probably be so lost in the rhythm and the beat that you wouldn't even feel the time passing.
Experts say one reason why Zumba is such an effective workout is because it utilises the principles of interval training. Meaning, it utilises alternation of short bursts of high intensity activity followed by a low intensity activity or rest period achieved by the tempo of the music which might speed up for a couple of minutes of high intensity salsa and slows down to a more gentler cha-cha. The fast and slow intensity workout of Zumba has shown to result in higher levels of fatty acid oxidation that can lead to a slimmer waist. Zumba workout also builds endurance, strengthens and tone muscles, like the abdominal muscle, and effectively aid in losing the unwanted pounds – all in a fun way!
Celebrities go mad with Zumba
Celebrities across the world have been getting hooked on Zumba as a way to stay in shape and to keep fit. On top of the list is none other than the USA's former First Lady Michelle Obama. Others include top American actresses Eva Longoria Parker and Vanessa Williams of the hit TV series, Desperate Houswives.
Other stars reported to have been bitten by the Zumba bug are martial arts legend Jackie Chan and former Miss Universe, Dayanara Torres.
Other A-list celebrities include Ricky Martin, Eva LaRue (C.S.I. Miami), Hunter Tylo (The Bold & the Beautiful), and Vivica A. Fox (Independence Day, Curb Your Enthusiasm) who even appeared with Perez in his Zumba videos. Stacy Keibler, one of the winners from the popular dance show, Dancing with the Stars, has also endorsed Zumba and appeared in Perez's Zumba videos along with Vivica Fox.
So, if you want to inject life into your workout, get sexy, shake it like the stars, and lose the pounds, all you got to do is ZUMBA!