Why Organic & Neutral Detergent is Good for Your Baby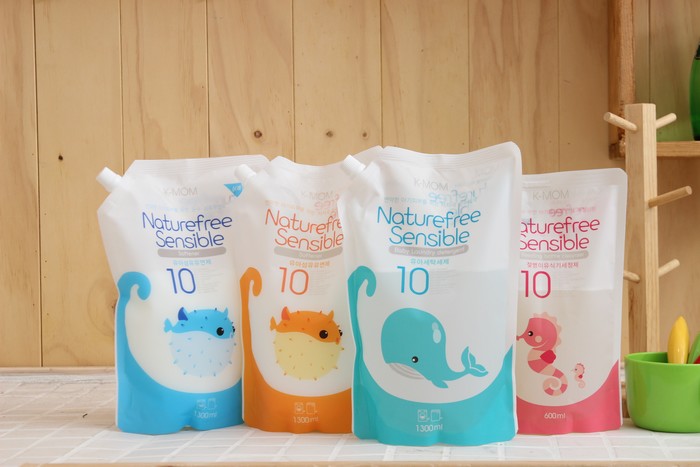 When it comes to your baby, even the slightest hint of unnatural chemicals may irritate their sensitive skin. That is why it is important to choose the right kind of laundry detergent. Here's where K-MOM Natural Sensible Premium Detergent comes to the rescue.
K-MOM Natural Sensible Premium Detergent is made up of two main ingredients – ultra purified water and camelia sinensis leaf extract. This makes it a pure and mild laundry detergent with superb cleaning power and quality results.
Why is purified water important?
The cleaning power of detergent comes frm the ability of ingredients and water bonding together to form wholesome molecules that can remove dirt and stains effectively. By using purified water as the main ingredient, cleansing ingredients are able to bond easily, as purified water that does not contain impurities or microorganisms that will interfere in the cohesion.
What is the benefit of using neutral detergent?
Netural detergent (pH 6.0-8.0) on alkaline scale is generally considered a weak acid. Most cleaning products in the market are mstly using weak alkaline or neutral formulas. Neutral formula detergents can be used for delicates or wool material. Neutral formula detergents cleans gently and is non-abrasive and is most recommended.
Neutral or mild detergent with pH 6-8 minimises irritation to baby's skin and is safe on fabrics. Damage to material such as shrinkage, discoloration are also minimised. It is therefore suitable for delicate materials, even wool and more importantly, is safe and gentle on baby's skin.
Other Wholesome Reasons to Choose K-MOM Natural Sensible Premium Detergent
Hypoallergenic safe on baby's skin – Pure hypoallergenic safe for baby's skin as natural ingredients such as vegetable surfacant does not irritate baby's gentle skin.
Suitable for top/front load machine – Advanced neutral formula is suitable for wide range of washing methods from hand wash to top & front load washing machines. It can be used for even the wool or delicate fabrics.
USDA Certified Organic Extracts – contains aloe vera, lavender, certella asiatica, green tea, etc to protect baby's skin.
Suitable for normal clothing and even fine wool.
Video: K-MOM Natural Detergent