UNIQLO and Marimekko Limited Edition Collection Launches on May 22
UNIQLO fans, there is a new collection coming your way in May! They have worked closely with Marimekko, a Finnish fashion and design house and will once again feature iconic Marimekko prints by the company's legendary designers Maija Isola and Annika Rimala. This time, UNIQLO's high-quality, functional and affordable LifeWear includes a Finnish take on celebrating the end of long winters and the joys of summer times with friends and family.
A bright, variety-packed summer
The collection highlights relaxing times with signature V-neck maxi dresses and shirt styles that pair seamlessly with wide cropped pants, skirts, and shorts, all in joyful Marimekko prints of course. With plain bottoms, the line offers numerous great coordination looks in comfortable fabrics such as linen blend, cotton and jersey. Thin new Pocketable Parkas keep summer rains at bay.
Styles for family coordination fun
Packed with items that make family coordination easy and enjoyable, the collection offers numerous popular cut-and-sew pieces. New items for women this season are printed boxy T-shirts and tunics. There are also jersey dresses and shorts for girls, leggings for active toddlers. Two-piece bodysuits make ideal gifts for newborn.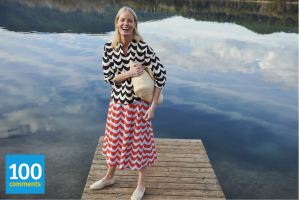 Accessories for summer leisure
The summer leisure essential accessories include paper hats, paper tote bags, espadrille, and scarves. Hats and bags featuring raffia-like finishes complement the apparel perfectly. Large linen-blend scarves serve also as short overgarments.
UNIQLO x Marimekko Limited Edition Collection Details
Launch date:         From Friday, May 22, 2020
Availability:           Available in all UNIQLO Malaysia stores
Special website:   www.uniqlo.com/marimekko20ss/my