Transforming Lives: ABC's Award-Winning Approach to Autism Intervention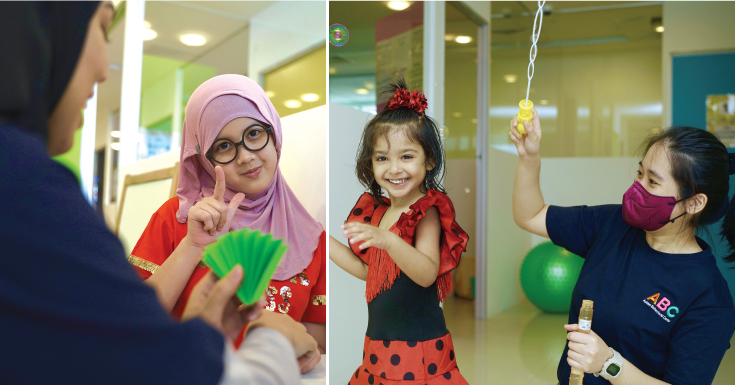 With the growing recognition of Autism Behavioral Center (ABC) in Malaysia, it comes as no surprise that parents, schools, and doctors have deemed the center's international standards of intervention to be dependable and trustworthy. With the implementation of PaTTAN (Pennsylvania Training and Technical Assistance Network) Technology, a brainchild of Dr. Amiris Dipuglia and Mr. Mike Miklos, ABC has revolutionised the field of ABA therapy, earning multiple accolades and establishing itself as the leading provider of applied behavior therapy in Malaysia.
As the largest 1:1 early intervention centre in Malaysia utilising ABA therapy, ABC has garnered a reputation for its unwavering commitment to helping children with communication, behavioral, and learning setbacks. ABC is supervised by a Board-Certified Behavior Analyst (BCBA), the centre has consistently exceeded expectations in providing top-notch intervention services.
ABC operates from three convenient locations: Bangsar, Sunway Geo in Subang, and Ampang. In addition to catering to young children, the centre also offers dedicated life skills training for teenagers and adults. This comprehensive approach ensures that individuals with autism spectrum disorder and other developmental delays receive the support they need to thrive in all aspects of their lives.
A Trusted Name in Autism Intervention Services
What sets ABC apart is its emphasis on positive reinforcement as a means of fostering progress and growth. By using this approach, the committed therapists at the centre create an environment that motivates children to reach their full potential. Whether it's managing behavior issues, addressing speech delays, or overcoming social challenges, ABC's team of experts is well-equipped to guide children towards success.
To maintain a strong partnership with parents, ABC keeps them closely involved in their child's therapy journey. Daily therapy updates provide parents with valuable insights into their child's progress, allowing them to stay informed and engaged. Additionally, weekly parent training sessions equip parents with the necessary tools and strategies to support their child's development at home. Furthermore, monthly progress meetings serve as a platform for parents and therapists to discuss achievements, set new goals, and ensure that the intervention plan remains aligned with the child's evolving needs.
By prioritising open communication and collaboration, ABC has cultivated a strong sense of trust and reliability among its clientele. Parents can rest assured that their children are receiving the highest quality intervention services, backed by internationally recognised standards. This commitment to excellence has earned ABC its esteemed status as an award-winning brand.
Not only does ABC focus on immediate goals, such as preparing children for school, but it also places great emphasis on equipping them with the skills necessary for a more functional life. Through its dedicated life skills training programme for teens and adults, ABC ensures that individuals are equipped with the tools they need to navigate the challenges of everyday life independently.
As the recipient of the BabyTalk MamaPapa Awards 2023 in the ABA Therapy Centre category and the South East Asia Business Awards 2023 for the Best Private Autism Intervention Clinic, Autism Behavioral Center (ABC) has emerged as a beacon of hope and support for children with autism spectrum disorder and other developmental delays in Malaysia. With its unmatched dedication to international standards of intervention, ABC has garnered the trust and admiration of parents, schools, and doctors alike. By providing top-quality ABA therapy, utilising positive reinforcement, and actively involving parents in the therapeutic process, ABC continues to pave the way for brighter futures for these remarkable children.
For more information, visit their website, as well as their Facebook and Instagram pages.