Throw A GREEN Kids Birthday Party And Help Save Planet Earth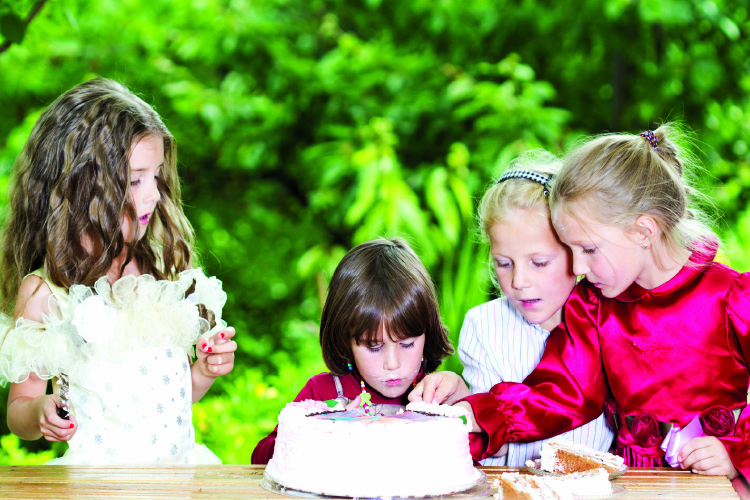 A birthday party is an event that everyone looks forward to, especially as a kid. The good old times when our parents threw us birthday parties with birthday cakes to be shared with friends. There will be games of musical chairs, a variety of home-cooked food and lots of presents. Those were the days of simple yet much-loved birthday celebration.
Today, kids have more luxurious parties, some even come with themes. Most often, the parties are held outside the home at fast food restaurants where parents are spared the hassle of preparing food, entertaining the kids and cleaning up after them. The more cost-conscious ones or those who prefer some personalisation will throw the feast at home instead. Wherever the party is held, there is bound to be some threats to the environment without you knowing or realising it.
At your child's next birthday, throw a green party!
'Green' does not refer to the theme of every child dressing up as Hulk but rather, an event that is designed to be environmental-friendly and leaves less footprints (literally, too) behind. There are just so many aspects of a party that need to be taken care of, namely food and beverage, decoration, gifts, entertainment and the selection of location. Throwing a green party is best done at home as everything is in your hands, which can turn every step green if you know how to.
Spread the word
Once you have the date and place set, the first step is to block out the dates on your guests' calendars.
Send electronic cards
While invitations cards are indeed pretty and can bear a personal touch, do away with those and opt for e-cards instead. This saves time and paper too, and you can also be sure that your invite doesn't go missing in the post.
Create a Facebook event
Facebook has become a popular method of inviting guests – simply create an event, select your intended guests and click 'send' to invite!
Use recycled cards
If you have saved the greeting cards from the last festive season, now is the time to whip them out and reuse them. Cut out the pretty pictures on them and paste on another card. You can rope in the kids to make the cards for their friends too, resulting in thoughtful little cards made by little hands.
Getting the things and place ready
You'll need napkins, tablecloth, utensils, cups and plates. "Should I buy them? Where can I find environmental-friendly ones? Can I just throw them afterwards instead of reusing them?" These questions might be playing in your mind, so let's get your questions answered:
Plates, cups and utensils
Plastic utensils are always a favourite at every party. They are convenient and are durable. However, as you probably know, plastic is one of Earth's worst enemies as they do not biodegrade. Opt for wooden utensils and paper cups and plates instead. These are great if you don't intend to reuse them thereafter. If you constantly throw parties, then using washable ones made from compost corn starch is a better idea.
Napkins
Serviettes are paper products born from chopped trees. For every 800-1,000 napkins, a tree is felled. To reduce your usage of these napkins, visit the nearest fabric shop to buy some washable fabric scraps or reusable napkins according to the quantity that you need. These cloth napkins are durable, reusable and cost less in the long run. You can also choose your child's favourite prints on the fabric to add a touch to the party.
Tablecloths
You don't need a new tablecloth for a kids' party. Reuse an old one if you have one. If your old ones are really not fit for the public eye, here's an idea of how to camouflage it. Spread the sheet on a table and let the kids decorate it with paints and markers. They can either draw pictures or make handprints, whatever they fancy. Now you'd have a tablecloth that indeed fits the theme of a kids' party.
Food and drinks for the kids
Feeding many young, fussy mouths is already challenging enough on top of making the whole process eco-friendly. So what should busy parents do to feed hungry young ones the healthy way? Remember that the food must taste good too, as you'd certainly don't want fussy kids to go home complaining to their parents that you didn't feed them.
Prepare healthy organic food
Whatever you plan to serve at your party, go for the organically produced ones. If you are thinking of dishing up some pasta, get some organic pasta from the organic store or hypermarket. If it's chicken, organic or free range chicken would be perfect.
Prepare some finger food
It is just like kids to eat with their hands, so don't fuss or nag at them too much but instead make sure that they wash their hands before eating. Prepare some of these finger foods that the kids can eat while running around:
Crunchy carrot sticks
Remember not to cut them too thick as the kids will have a tough time chewing and swallowing them. Alternatively, you can cut the carrots into flower-shapes or just any shape that you fancy.
Different colour raisins
Serve a combination of black and yellow raisins. They look colourful to eat and kids will enjoy the different sweetness and texture. You can mix both types of raisins in a bowl to tease their young eyes.
Fruits
Fruits are almost every child's favourite, especially colourful ones served chilled in a variety of shapes. Get a melon scoop and make green, red and yellow balls out of watermelon and honeydew. Local fruits such as star fruit will look interesting and tempting to the kids as well. The kids are fascinated and get their dose of vitamins and fibre at the same time. Just make sure that the fruits are seedless or have been pitted.
Bite-size crackers with cheese
You can choose any flavoured cheese to pair with the crackers. There are unsalted cheese, tomato cheese, cheddar cheese and many more to suit your little guests' palate. To be on the safe side, you can also prepare some crackers with jam just in case there's a few who won't take cheese.
Bite-size sandwiches
Make some peanut butter and jelly sandwiches; kids would love them. Cut them into bite-size pieces as the young ones will find it easier to hold and eat. Also, if you serve the sandwiches as a whole, the kids might not be able to finish them and hence, causes wastage.
Healthy potato or corn chips
Homemade chips are much healthier because you'd use less oil, no colouring, no flavouring and definitely no preservatives. Search the Internet for some easy homemade chips recipes.
All-time favourite cupcakes or cookies
You can add in your own wholesome ingredients such as sultana, dried fruit or nuts and allow your kids to help out with the preparations and decorations.
Make some fruit punch.
Children love anything sweet and fruity, so search for recipes from the Internet or cookbooks. These are healthier than cordials which contain only artificial flavouring, colouring and preservatives.
Bake a birthday cake.
A homemade cake is the best cake to have because it is made with love and a whole lot of wholesome healthier ingredients. Make the cake-baking process fun by asking the birthday kid to lend a hand.
Decorating the place
No party is complete without decorations to create the mood and liven the atmosphere. So what can you do to decorate your home for the party in the least environmentally-destructive way? For starters, avoid using any material that are non-durable such as balloons. Balloons burst easily and contribute to the growing heap of garbage when discarded at the end of the party. These balloon pieces cause even further harm when they are mistakenly consumed by sea animals such as the sea turtles.
Once you have identified the eco-friendly items to use in your décor, here are three types of decoration methods that you could use:
Homemade decorations
Decorations need not be elaborate for it is a kids' party after all. Let kids decorate for kids! Let the children make use of cardboard, glue, coloured papers and scissors. You can help them out by sewing fabric scraps together to create lovely pieces. Simply search online for ideas on how you can transform any type of material into decorations. The best part is that you can save them for future use.
Theme-based decorations
If your kid wants a wildlife party, you may cut shapes of animals and plants from old cardboard boxes before painting them. Similarly, if it's a fairy-themed one that your little girl wants, sew lace and fabric to make little fairies.
Activity-based decorations
This method would mean that you would be decorating during the party itself. Yes, you read correctly! You could turn decorating into a game. Collect recyclable materials, gather the kids and their parents for this task and announce that whoever who manages to decorate the place in the most creative manner with the given materials will walk away a prize.
But what if I really don't want to throw the party at home?
There are still ways you can celebrate out of home while caring for nature.
Party in the woods
Maybe not literally but you could have a party at the park or garden where everyone is free to roam. Let the children and parents too enjoy the chirping sounds of birds, the blooms of flowers and the sights of nature. If you are knowledgeable enough, you could act as a guide to the kids telling them the names of flowers and such.
Out-of-classroom learning
Check with the local aquarium or petting zoo if they can host parties. The children will have fun learning and getting close to the various domestic or aquatic animals on show.
Presents – everyone's favourite
Presents can make up the bulk of waste, with all that packaging and boxes. Sometimes, even the gift is discarded as well! That happens when the item received is just something that you don't know what to do with. So what can we do to minimise packaging and to reduce the number of 'unwanted' presents tactfully?
Communicate your love for nature
In your invitations, you could mention your intention to protect the environment. Let guests know how they can help by giving suggestions, one of them being wrapping gifts in reused wrappers or in other eco-friendly methods.
Ask for sincere hearts
If you prefer to donate to charity, let your guests know that you would very much appreciate if they could channel some donations to the charity of your choice instead. Your little ones will also be exposed to philanthropy at a young age.
Ask for homemade presents
Once again, communicate to your guests that if they insist on bringing something, a simple homemade gift would suffice. Anything that the young friends can make at home would do; it's the thought and effort that counts.
Ask for specialty presents
Your little ones, being young after all, might expect presents at their birthday parties after all. To avoid having a whole lot of toys or books that your child has no interest in, you could make a wishlist which guests can choose to gift any item from the list. Your child gets what he or she wants and you don't have to discard or re-gift any unwanted gifts.
A green party is not as boring as many would think as soon as the phrase comes to mind. It is just like any party, possibly even more interesting with the concepts and methods thrown in, so give your child a party different and greener from the ones that he or she has attended.