The One-Stop Centre for Premier Family Planning, Prenatal and Postnatal Care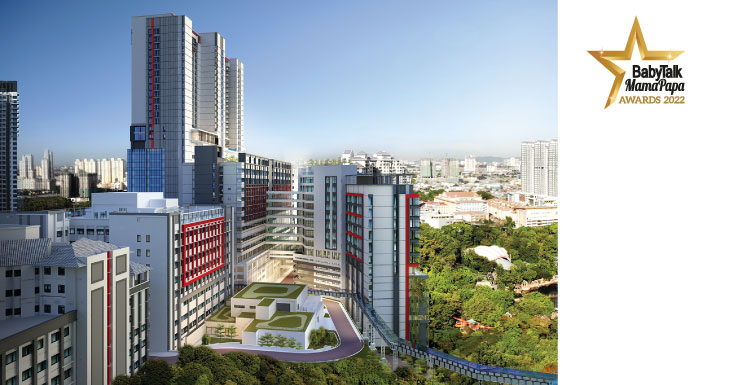 Providing specialised care for every stage of your family's life.
Sunway Medical Centre, Sunway City, is the largest private quaternary hospital located in Sunway City, Selangor. Quaternary hospitals provide advanced levels of medical care that are highly specialised and not widely available.

Established in 1999, the award-winning hospital is accredited by the Australian Council on Healthcare Standards (ACHS) and is one of the top choices for families when it comes to high-quality healthcare services.
Sunway Medical Centre has the most sub-specialities in the Klang Valley and is well-equipped with 616 licensed beds, more than 200 consultation suites, 13 operating theatres, and two multi-storey car parks with a total of 1,470 parking bays.
They are proud to provide a comprehensive range of healthcare services, which include state-of-the-art facilities and advanced medical technologies for outpatient and inpatient specialty care, health and wellness programmes, and 24-hour emergency services. These world-class services are supported by a strong team of more than 3,300 dedicated healthcare and hospitality professionals.
The Trusted Medical Partner in Your Parenthood Journey
Sunway Medical Centre understands that expecting a child is one of the most exciting times in a couple's lives. From conception to childbirth and beyond, parenthood journey is full of learning opportunities. And sometimes, in addition to the joy that it brings, it can also be an overwhelming experience for new parents.
To help new parents navigate this journey, the hospital offers state-of-the-art medical care with skilled healthcare professionals and advanced technology. Their Sunway Fertility Centre helps couples seeking fertility consultation and support through services ranging from IVF/ICSI, fertility screening, semen analysis, intrauterine to frozen embryo transfer.
They also provide Parentcraft Classes to equip expectant parents with knowledge and skills for labour and delivery, prenatal and postnatal care, newborn care, breastfeeding, vaccination, nutrition, fitness, and the screening of a newborn's hearing.
Ensuring Exceptional Care for Women and Children
Sunway Medical Centre's Children and Women Health Centres are outstanding when it comes to providing quality healthcare for women and children.
The Children Health Centre provides medical care and preventative services for the physical, mental, and behavioural care of infants, children, and adolescents from 0 to 15 years old.
Excellent facilities are only part of the equation as Sunway Medical Centre's highly trained specialists, nurses and staff make the difference. Their paediatricians take the utmost care to screen, prevent, diagnose, treat, and manage any health problem affecting young patients. They focus on the growth rate and physical milestones of children, developmental issues, and their changing medical needs. The experienced paediatricians advise parents and guardians on the diagnosis, treatment, care, and medication needed for their children.
Their holistic approach to child health is evidence-based and of the highest quality in healthcare with the most paediatric sub-specialities. Their team of doctors and nurses are constantly trained with new approaches to paediatric health and provide up-to-date methods and procedures best suited for your child and their needs.
The Women Health Centre combines the latest technology with comfortable surroundings and professional care to ensure a beautiful and safe birth experience for mother and baby. They offer a full range of gynaecological health care and family planning services. They specialise in pre- and post-natal care, infant development and mother and baby wellness. They offer more than just physical support, as they also pay attention to the emotional and physiological development of the infant and mother.
Their experienced nurses and doctors help to nurture the parent-baby relationship and support parents in continuing care after discharge. The nursing staff is trained in a step-by-step guide to breastfeeding your baby, the best breastfeeding positions, overcoming the common breast feeding problem, guiding the moms on cup feeding, bathing the baby, safe baby care, and other advice on caring for a newborn. They are striving to become a certified "Baby-Friendly Hospital Initiative" and will continue to improve the overall birthing and parenthood experience for their clients.
In addition to these, their gynaecology unit offers a comprehensive range of services with the latest in robot-assisted technology for gynaecology surgeries for women's overall well-being. From routine annual exams to pap smears to infertility and menopause, their team is on hand to get women through each phase, in a safe and easy-access approach to complete healthcare.
Making a Greater Impact for the Future
The expansion of new towers in the near future will transform Sunway Medical Centre, Sunway City into a 1,000-bed hospital, surpassing its current 616 beds and setting a new benchmark for healthcare standards of service.
As a testament to the quality of their healthcare services, Sunway Medical Centre has won numerous awards, such as the Frost & Sullivan Best Practices Company of the Year Award in the Malaysia Smart Hospital Industry, the Healthcare Asia Awards Hospital of the Year and Smart Hospital Initiative of the Year, and the Private Hospitals Category and Private Hospitals – Cancer Centre Category in the Malaysia Health & Wellness Brand Awards 2022. Sunway Medical Centre is also the multiple award winner of BabyTalk Magazine for the categories of Best Maternity Hospital (Selangor) and Best Woman and Child Centre.
From prenatal and postnatal care, to family planning and beyond, you can be sure that you will get the best possible at Sunway Medical Centre, Sunway City. For more information, visit their website or contact them at +6019 624 2293.