The Heart Healthy Food Everyone Should Know About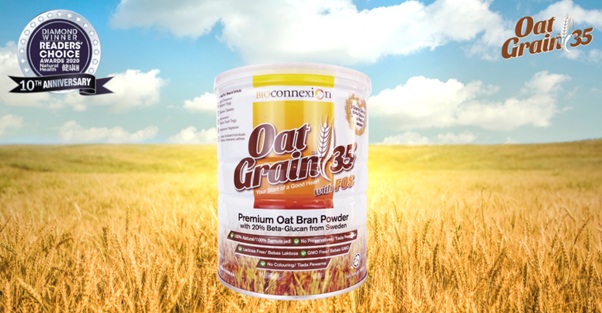 A healthy heart is essential for our general wellbeing. However, as we age, our heart health slowly declines. In some cases, we can end up developing heart disease due to living an unhealthy lifestyle.
According to the Department of Statistics Malaysia, heart disease is one of the top causes of death in our country with 16,374 people dying from heart-related causes in 2019. This means that regardless of your age, you should be taking care of your heart to prolong its longevity. It is never too early to start making all the right choices that will have an impact on your long-term health.
You might think that you need to make drastic changes to your lifestyle and diet, but that's not necessarily the case. Sudden, extreme changes to your habits are hard to sustain and you will end up going back to your old habits. The good news is, just by making simple changes like adding heart healthy foods to your diet, can have a big impact on your heart health.
The Wonders of Beta Glucan
Studies have proven that beta glucan can improve heart health and decrease cholesterol and triglycerides. Based on this research, the United States Food and Drug Administration (FDA) has approved a heart-healthy designation for foods containing high levels of beta glucan. Researchers discovered that consuming oats that contain at least 3g of beta glucan daily can reduce bad cholesterol (LDL) levels by 5 to 7%.
OatGrain 35 – A Heart Healthy Food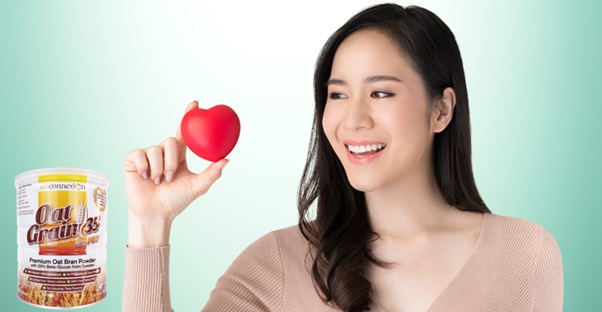 A product of BioConnexion, OatGrain 35 is a unique blend of premium quality oat bran and barley bran, as well as 20 percent oat beta-glucan (soluble fibre) sourced from Sweden. Its beta glucan's content generate a gel that binds cholesterol in the intestines and prevents it from being absorbed, lowering the risk of coronary heart disease.
OatGrain 35 is fortified with 32 different grains and herbs, which does wonders for the heart, blood sugar levels and gut! These grains offer a variety of nutrients, including dietary fibre and minerals (iron, magnesium, and selenium), which help to maintain blood sugar levels, lower LDL or "bad" cholesterol, and lower the risk of colon cancer. There are also B vitamins that assist the body make red blood cells and increase metabolism (thiamine, riboflavin, niacin) (folic acid). Omega 3 fatty acids protect against heart disease and arthritis, while the combination of all grains is beneficial for brain growth and health.
Grains are a great source of dietary fibre, which helps to lower blood cholesterol while also maintaining healthy digestive functions and minimising constipation.
While heart health may seem hard to achieve, it doesn't have to be. By adding only a few heart healthy food such as OatGrain35 to your daily breakfast, you will already be on your way to a healthier heart!
Oat Grain 35 is the recent Diamond Winner of the Natural Health Readers' Choice Awards 2020 for the Best Heart Healthy Food.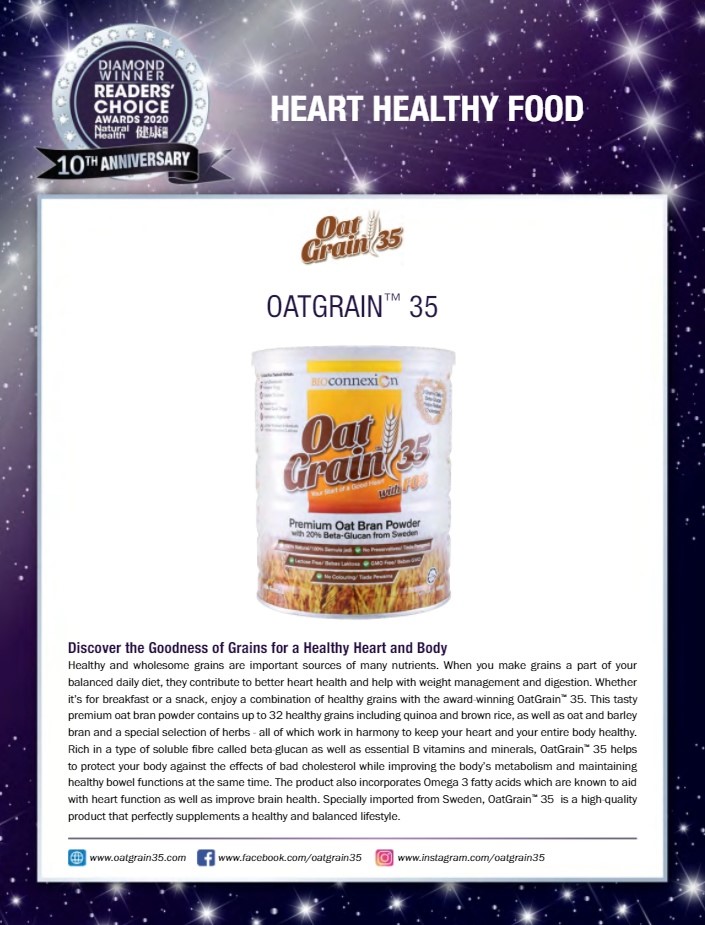 If you love OatGrain 35, review it here! For more information, visit their website, Facebook and Instagram page.