The Fertility Specialist Centre of Choice in Selangor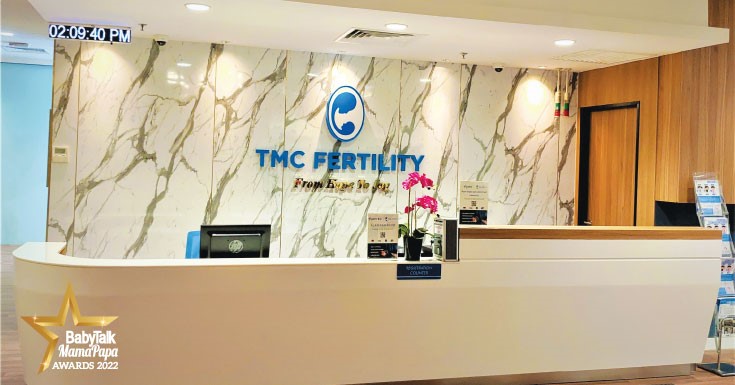 If you and your partner have been trying to conceive for a while with no success, you may be feeling frustrated and heartbroken. You may not know what the problem is or if there's even anything that can fix it. And you might feel like there's no hope for your family to grow and you to become a parent like you've always dreamed of. But fret not—the team of specialists at TMC Fertility & Women's Specialist Centre can help.
The importance of getting the right fertility help and expertise is crucial and cannot be overstated. Established over 25 years ago, TMC Fertility & Women's Specialist Centre is a fully equipped fertility treatment facility that has been providing a wide range of treatment options for both male and female patients. With a wealth of experience, they are definitely the centre to visit when it comes to fertility issues.
TMC Fertility & Women's Specialist Centre is committed to helping patients achieve the dream of parenthood. With multiple fertility clinics located in Puchong, Kota Damansara and Kepong, their expert team of doctors and nurses works with each patient individually to create a treatment plan that is tailored to their needs. TMC Fertility centres are equipped with all-inclusive world-class laboratories for fertility procedures, recovery rooms, and counselling bays to serve residents of the Klang Valley.
The TMC Fertility team understands that every couple struggling with fertility issues is different, which is why they offer a wide range of treatments, ranging from IVF (In-Vitro Fertilization), ICSI (Intra-Cytoplasmic Sperm Injection) to PGT (Pre-Implantation Genetic Testing). Other services offered by TMC Fertility include Cryopreservation (Oocyte, Sperm and Embryo Freezing) and Donation Programmes (Oocyte, Sperm and Embryo Donations). TMC Fertility provides affordable packages, quality medications, and advanced technologies such as Next Generation Sequencing and Time-Lapse Imaging to help couples achieve their parenthood dreams. With TMC Fertility, patients can be assured of receiving top-quality care and support throughout their fertility journey.
At TMC Fertility, they don't believe in one-size-fits-all solutions for any of their services; they listen to the needs of their patients and create treatment plans specifically for them because they believe that only the best possible treatment plan can help achieve the goal of parenthood. Thanks to its cutting-edge medical facilities and skilled fertility specialists, TMC Fertility's impressive pregnancy rates have earned it a place in the 2018 Malaysian Book of Records for the highest number of IVF babies delivered by a single clinic (with a total of 5,388 babies).
Recently, TMC Fertility & Women's Specialist Centre was awarded the BabyTalk MamaPapa Awards 2022 as the Best Fertility Specialist Centre (Selangor).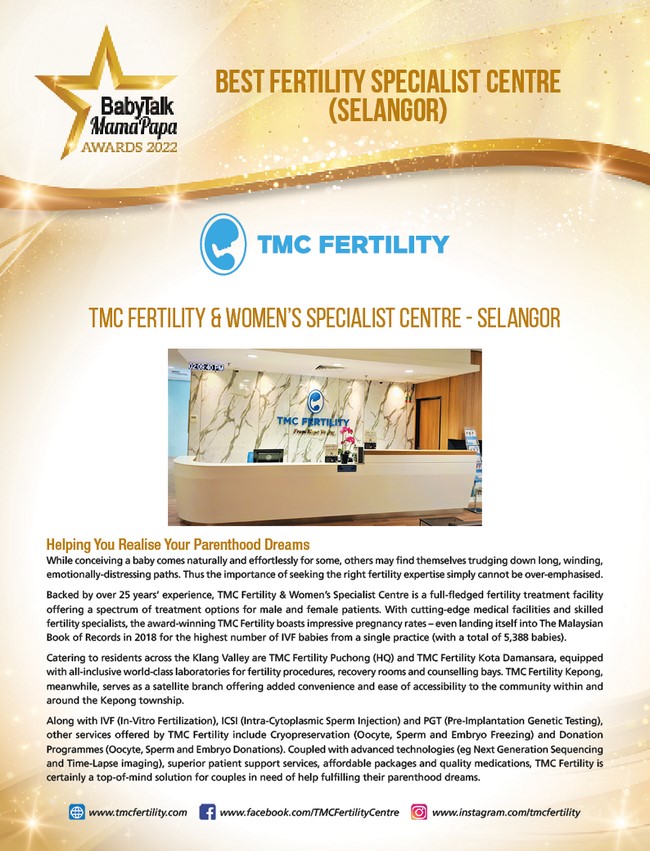 TMC Fertility's experienced team of doctors and nurses will work with you to create a treatment plan that is tailored to your specific needs. Contact them today by visiting their website, Facebook and Instagram pages.