The children's house: The benchmark for Preschool Education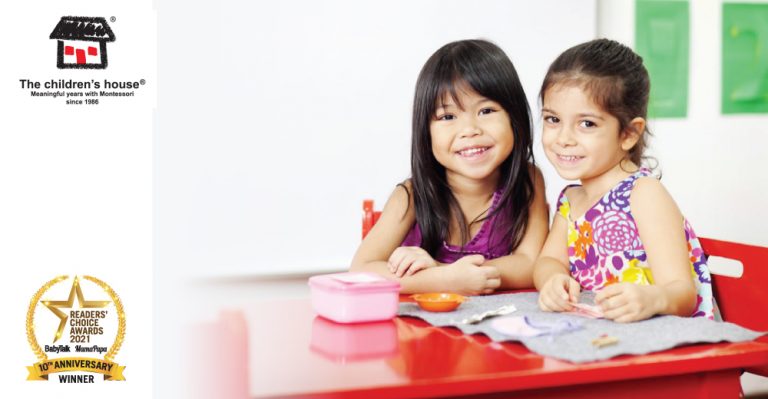 To prepare your children for their schooling journey ahead, parents would certainly want to look out for the best offerings out there in terms of preschool education. Reputation, curriculum type, safe environment and qualified, caring teachers – these are some of the things parents would want to look into when they are looking out for a preschool for their child. Above all, quality education is crucial, because parents do understand that the first six years of their child's life is when their little one's brain is at its critical learning period, hence the kind of education their child gets matters a whole lot!
The children's house – is actually no longer needs an introduction. Having won multiple awards for several categories, it is by far one of the top choices of preschool for Malaysian parents. Its iconic black, white and red house icon is instantly recognisable anywhere!
Renowned for its dedicated staff and quality education, each one of its 15 outlets boasts a homely, inviting environment which beckons both children and their parents. There is always something in the air of its environment that tells parents that this is where they want their kids to be spending quality time, learning and making friends.
As a Montessori preschool, The children's house Preschool Education Programme allows children to learn the way that fits them naturally, in an environment that has been purposely designed to enhance the children's learning experience. Children will be exposed to the core Montessori components that are crucial for their learning experience, to help each child reach their fullest potential. This carefully prepared Montessori learning environment provides bright, young minds certain freedom within limits to choose for themselves the materials they want to work with, and what interests them personally. Here's where the acclaimed Montessori method prevails throughout the times, to help children build a sense of love for purposeful tasks, as they learn independently, and develop a love for doing so.
The children's house Preschool Education Programme consists of two main categories, namely, Montessori Playgroup and Montessori Junior, which are designed to allow your child to capitalize on his or her natural strengths and talents, rather than a standardized method of education.
The Montessori Playgroup Programme is for children between 2 months and 2.5 years of age. It consists of a holistic Infant and Pre-toddler class, as well as a Toddler class, which are created to support a child's rapid-learning needs during the first three years of life. Guided by three distinctive features, namely Caregiving, Attachment and Play, the entire programme emphasises building the emerging physical, sensory-motor, perceptual, cognitive, language and social-emotional skills of babies and little ones in the pre-toddler ages. The environment, for this purpose, is designed to respect, support and respond to their sensorial development.
The Toddler programme is designed to foster cognitive, speech and language development, taking full advantage of the child's natural yearning for independence.
The Montessori Junior Programme consists of Nursery and Preparatory classes, with a 'living room' classroom environment, where they get to pick out their own activities with correlating materials to work with. The curriculum focuses on 5 distinctive domains, namely care of self, care of the environment, exercises of grace and courtesy, and refinement of physical movement and coordination.
The Preparatory classes are structured in ways that prepare children for their schooling life ahead while fostering the development of lifetime cognitive skills. The aim is to see children emerge as accomplished readers and writers, and be skilled in mathematics. They should be confident, have healthy self esteem, and possess creative thinking and problem solving skills.
Having bagged the award for the best Preschool Education Programme in the 2021 BabyTalk Readers' Choice Awards, The children's house has certainly set the benchmark as the best in its category!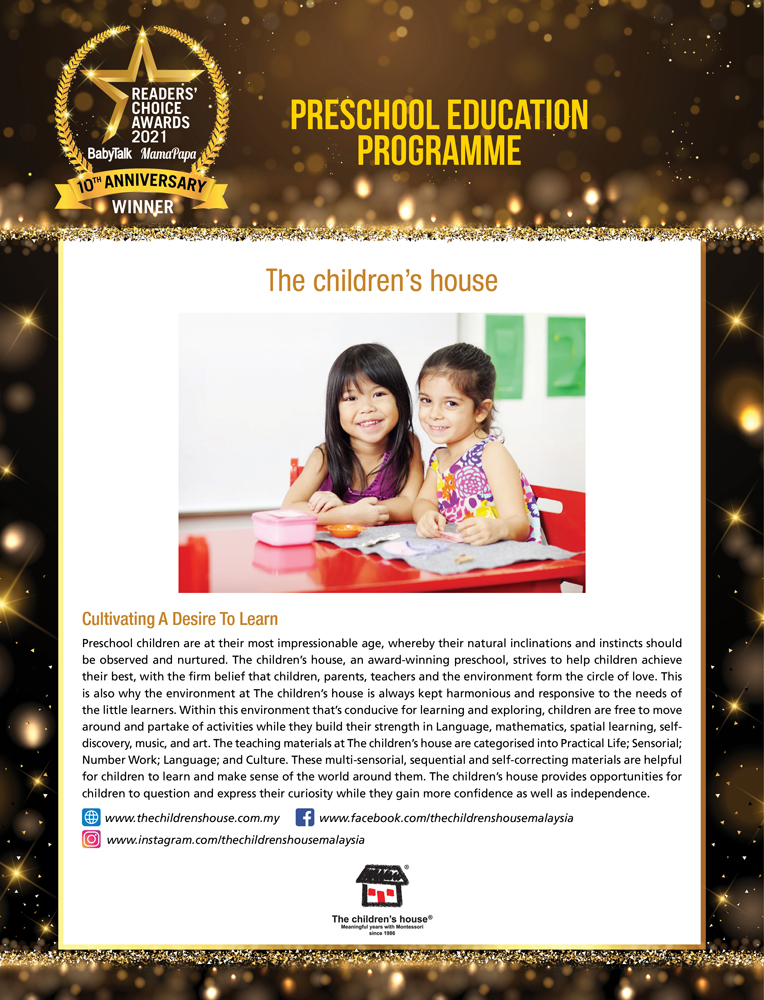 For more information, please visit their website,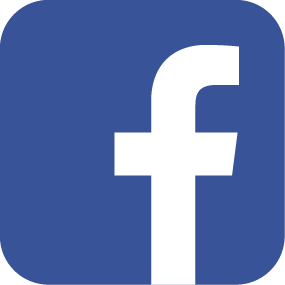 Facebook page and 
 Instagram page.