Take the inheritance headache out of your beneficiaries with My Waris EAP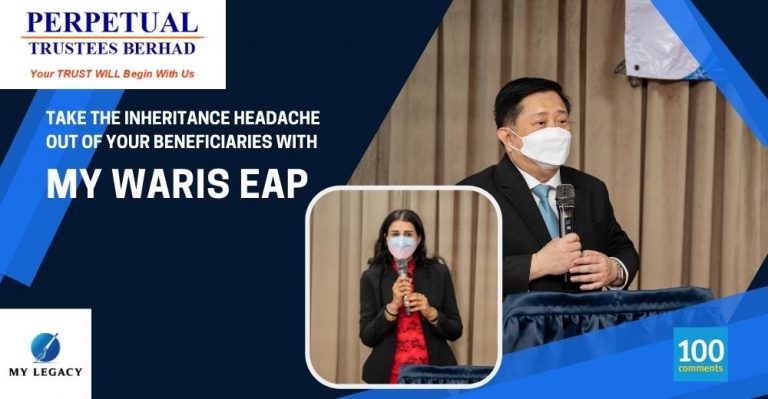 Money matters after a demise is never easy but My Waris Estate Administration Plan (EAP) – launched by My Legacy Will Services Sdn Bhd, in partnership with Perpetual Trustees Berhad – promises to pave a smooth administration of Wills and inheritance processes.
"Getting your affairs in order does not merely comprise of writing just a Will – although it is an important first step," said My Legacy Will Services CEO Andric Lin. "Challenges are aplenty upon execution of the Will and this is where we come in."
My Waris EAP is a comprehensive end to end service that takes clients from Will writing right to the final execution and distribution of wealth and estate. It runs on a membership and subscription model, with a Trust company – Perpetual Trustees Berhad being appointed Executor and Trustee.
"When you sign up as a My Waris EAP member, we will first help you write your Will. Perpetual Trustees will be custodian of your Will. Upon demise, Perpetual Trustees will carry out all administrative work from handling of court proceedings for your beneficiaries to executing and ensures your estate are distributed to your beneficiaries as per your Will" says Lin.
So how does this service help your beneficiaries?
"Many people do not realize the magnitude of costs incurred during the execution of a Will. There are legal fees, stamp duties, court fees, probate costs – which can collectively average out up to about 3 to 4% of the total asset value. These monies have to be settled before the assets can be transferred," he explains.
"On top of this are the various administrative steps, red tape and legalities to run through, which can be very stressful and time consuming for the grieving family."
This is where My Legacy shoulders the burden and this is how the whole plan works:
Client pays a joining fee of RM3,600 to RM 7,200 depending on the assets value, or with a RM500 rebate if he has already had a Will.
From the second year onwards, until age 70, the client pays an annual subscription fee of RM 860 to RM 3,400.
Upon demise, Perpetual Trustees will step in and handle the entire process of the Will execution right up to the rightful distribution of all assets and monies to the listed beneficiaries from
"If the client passes on before 70 years of age, we will absorb all the execution expenses for assets of 3 properties up to a maximum 12 properties worth RM 3 million up to RM 12 million (subject to terms and conditions). This means that the beneficiaries will get the total value of the estate without having to pay for any administrative costs," Lin said, adding that the accumulated joining and subscription fees paid will also be refunded to the beneficiaries up to the plan limit.
However, if demise comes after the age of 70, the execution expenses will be deducted from the accumulated joining and subscription fees.
"On top of that, we will also lock in the execution costs at current published rates. With the administrative and legal fees constantly on the rise, this offers great savings to the bereaved family," he adds.
Meanwhile Perpetual Trustees CEO, Sheela Vasuthevan hopes that My Waris EAP would create more awareness of the necessity of having not only a Will but a funded Will.
"We estimate that some 90% of eligible Malaysians have not looked into proper estate planning either due to ignorance or procrastination," she says, taking note of the RM80.75 billion unclaimed monies as at end of 2019, as reported by the Accountant General's Department of Malaysia (AGD).
"My Waris EAP provides an easy to access one-stop service which will take care of these needs and I hope that the message and the service reach more people," Sheela adds.
My Legacy has three flexible plans to choose from, based on the amount of assets one has. Clients are assured that regardless of the plan selected, the unused monies will be refunded.
"Appointing the right person to administer the estate is an extremely important consideration, so are the expenses incurred. Both these matters are unfortunately often overlooked in estate planning," she adds on.
With My Legacy partnering with a team of lawyers who are skilled and well-versed in handling these matters, clients can be assured that everything will be handled quickly and professionally.
"This is the first ever complete estate administration service to be made available in Malaysia and we are happy to bring it to the market as we feel that it will greatly ease the transfer of assets to beneficiaries" Lin concludes.
My Legacy invites those who are interested in EAP offerings to get in touch for more information. The company is also looking for agents who would like to come on board.