Savour The Goodness of Jungle House Honey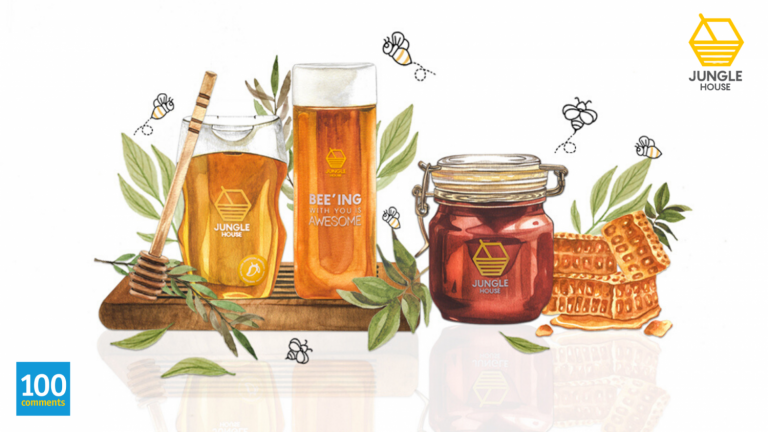 Health benefits of raw, Jungle House honey every Malaysian should know to boost immunity and vitality.
For centuries, honey has been touted as a nutrient powerhouse. Now, more than ever as people are seeking to fortify their health and well-being, honey is highly sought-after for its rejuvenating and medicinal properties.
Honey is rich in enzymes, calcium, magnesium and phosphorus with trace elements of zinc, iron and selenium. In its natural and raw form, honey tastes twice as sweet as sugar, making it a healthier alternative to sugar in beverages and food because a little goes a long way. Unlike white or brown sugar, honey has a lower glycemic index (GI), which means the sugars in honey are broken down slowly, preventing the dreaded 'sugar crash' from occurring.
Not All Honey Are Equal
However, not all honey are equal. Some brands resort to cutting cost by adding cane or corn sugars to their honey, resulting in sweet products but very little to none of the goodness of honey and all of the adverse effects of white sugar. Jungle House, a purveyor of raw honey sourced directly from the Southeast Asian jungles, has been offering honey of the highest quality and nutrition to consumers for more than a decade. Jungle House's flower nectar or floral honey have a lower GI, which has a lower impact on blood glucose and insulin levels and therefore, may be safe for diabetics.
Jungle House was founded by Ashley Lam, who started by selling honey at events and roadshows until she developed her own brand of fresh and good honey sourced from the jungle. Ashley's passion and depth of knowledge in all things honey has propelled the brand to greater heights, as she tireless seeks to bring the goodness of high quality and pure honey to Malaysian families. Jungle House offers these delicious variants of real honey with a host of benefits, and their unique colours and flavours reflect the flora source:
Jungle's Heart – Sourced from the strawberry flower, has a strawberry aftertaste — a definite favourite with kids. It helps to ease symptoms of coughs, flu and sore throats.
Sweet Tooth – Derived from the mango flower, it has a mango aftertaste. Great for digestion, it has been known to help with constipation.
Fruit Boss – A must for the fans of King of Fruits as it is sourced from the durian flower and has a light durian aftertaste. It is an energy booster and promotes male fertility.
Jungle's Eye – Sourced from the longan flower, it has a longan aftertaste. It is great for a glowing skin complexion and has anti-bacterial effects.
Royal White – Sourced from the kiawe flower, it gives a citrus burst aftertaste. It helps with insomnia and has anti-ageing properties.
Royal Black – Sourced from the mahoni flower, it has a bitter aftertaste and no apparent sweetness. It is good for alleviating back pain as it has anti-inflammatory effects.
Yellow Love – Sourced from the linden tree, it helps improve the eyesight, has a cooling effect and boasts of antioxidant properties
Pink Lady – Sourced from the cotton flower, it is a stamina booster and is high in anti-oxidants
For that extra boost of health and energy, consume these honey products daily as part of your breakfast, beverages or even on its own.
Another must-try is Jungle House's raw honeycomb as it is deliciously sweet, helps with diarrhoea, improves sleep and is high in anti-oxidants. Sourced from the nectar of wild flowers, it is a precious treat worth sinking your teeth into. It is soft and subtly sweet and sour to taste.
Jungle Honey also offers Jungle Juice, ready-to-drink nice honey drinks that are delicious, nutritious and convenient to consume on-the-go. Tea lovers can also indulge in Beau Tea, which is made from the extracts of the dragon fruit tea leaves and has high anti-ageing and antioxidant properties with no added sugars, preservatives and artificial colouring.
Honey, A Wholesome & Healthy Gift
Nothing says I care more than a thoughtful gift to loved ones. Jungle House has an array of bundled sets that make great corporate gifts, birthday gifts and wedding gifts.
Some of the sets come bundled with Jungle House's handmade honey soap, which makes washing hands a joy as it is akin to pampering your skin. Made from natural honey sourced from flower nectar, it gently cleanses and moisturises the hands while exuding a soothing scent that relaxes the mind. Prices for the Super Saver Sets start from RM38 and it can also be a great introduction to someone who just wants to sample the best that Jungle House has to offer.
Jungle Honey's healthy honey products can be purchased online as well as at their physical stores in Klang Valley and Penang. Prices start from RM14 (Jungle Juice), RM120 (Basic), RM130 (Regular) and RM250 (Premium). If you have ever walked past any of the Jungle House retail outlets, you will be drawn to the cheerful and welcoming facade with rows of jars and bottles containing the healing elixir. Just walk right in to sample the utter deliciousness of raw jungle honey and ask for more details from the friendly staff. Remember, a spoonful of honey a day keeps the doctor away!
Now you can try Jungle House honey products at 10% discount! Hurry before the offer ends. Details below: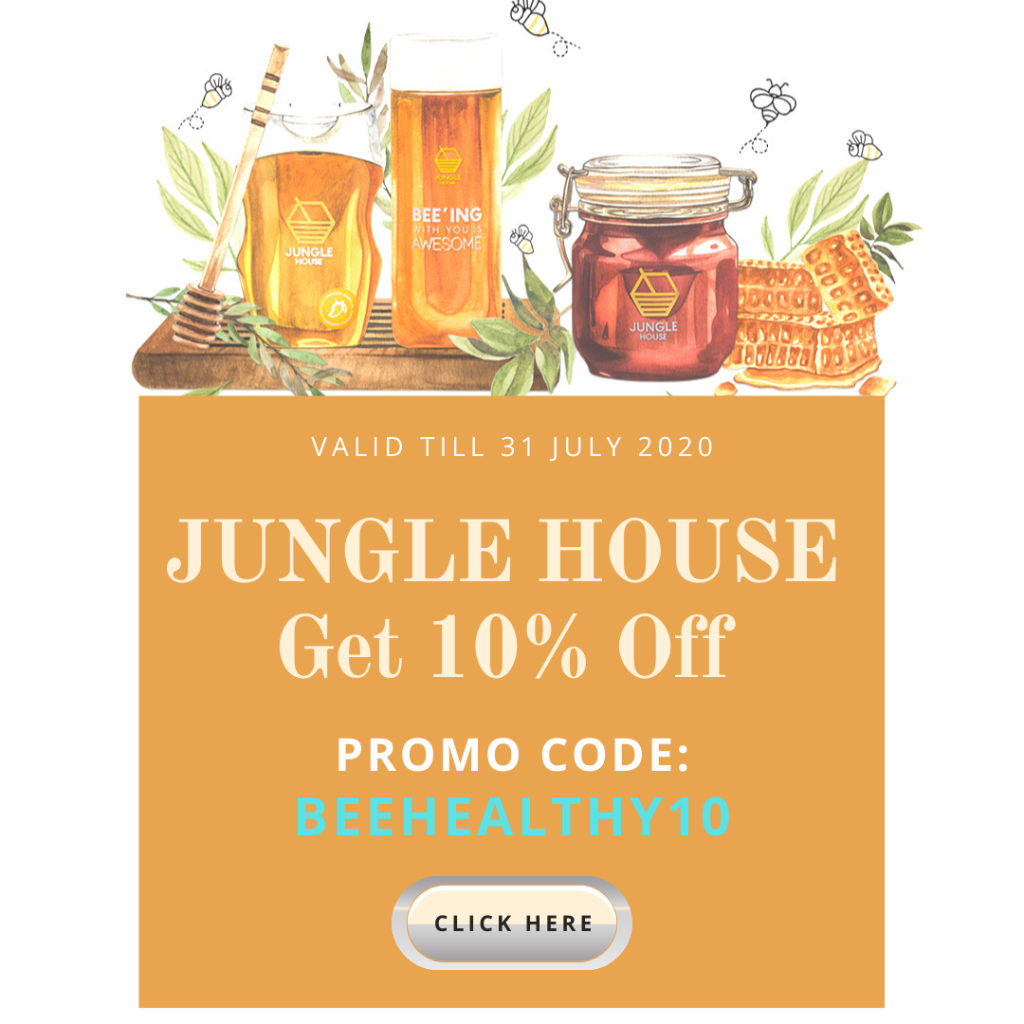 Promo Code: BEEHEALTHY10
Valid Until: 31 JULY 2020
Head over to Jungle House's Online Shop now!
If you love Jungle House honey, leave a review here! For more information, visit their website and Facebook page.