Preparing Our Country's Future Trailblazers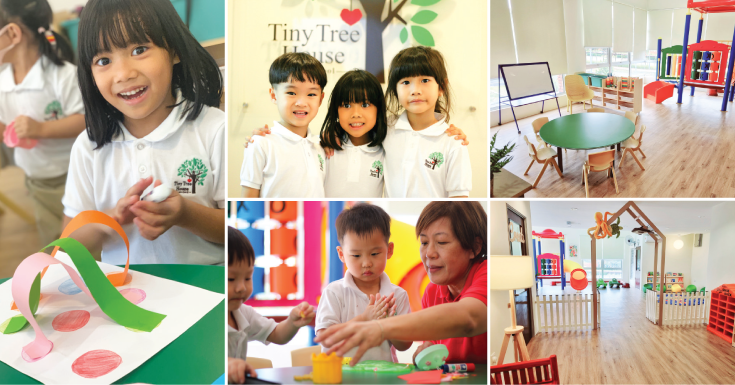 Children learn the quickest and most efficiently during the first six years of their lives, which is also known as the critical learning period in life. Consequently, a good early education is paramount if parents wish for their young ones to thrive and achieve more in terms of academic success. So, what makes for a high quality early education, and are all early education centres, or preschools, the same?
The answer is, no they are not. And, the most outstanding factor that determines the quality or even ratings of a preschool is its teaching approach. This is followed closely, of course, by the teachers themselves.
Tiny Tree House is a shining example of a preschool which offers quality education and care for young, developing minds and growing bodies. While keeping the important basics of early education intact for a stronger, more solid foundation, the preschool ensures that children get the proper start during their sensitive learning period. As time changes and the world around us evolves, it is a given that teaching approaches may have to change too, as well as the way children learn. But the basics of a good education must not be overlooked for a wholesome, effective learning experience and more favourable learning outcome. Tiny Tree House has always understood this important factor, and with patience and a passion for helping children flourish in their learning journey, they keep doing what they do best, and that is to deliver the most engaging, fun and effective teaching which is wholesome and child-oriented. Children, after all, have only once in their lifetime to be children and to experience the joys of their growing years.
In everything done here for its little learners, there is care and dedication, owing to the fact that the teachers are well-qualified, passionate, and love their job of working with children, which include guiding them, nurturing them, and watching them thrive.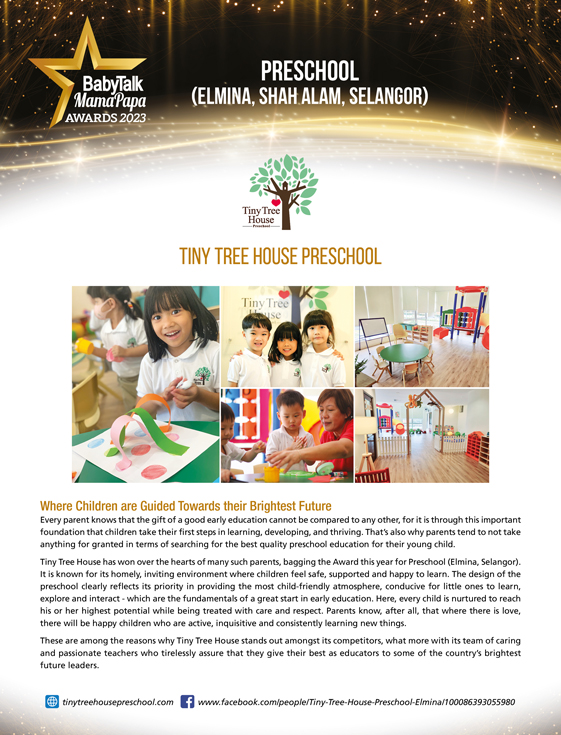 Favoured by families in the community of Elmina and its vicinity, Tiny Tree House Preschool has bagged the Award for Best Preschool in Elmina, Selangor in the BabyTalk & MamaPapa Readers' Choice Awards 2023. Established and run by energetic and caring educators, the well-loved preschool brings out the best in children by means of a high quality, holistic early education for the best start they could possibly have in their education journey.
Tiny Tree House Preschool is known for its homely, inviting environment, which is actually important for children to feel happy, safe and supported while away from their parents. The preschool is designed to deliver a highly conducive learning environment which encourages little ones to explore, learn and interact. The more comfortable children feel in their environment, the better they learn, don't they?
In conclusion, Tiny Tree House Preschool is a place where little ones are nurtured to reach their highest potential, under the guidance of a team of caring, highly qualified individuals who consistently give their best as educators to the country's future trailblazers.