Polident Launches its All-New Pro Retainer & Guard Cleanser for Mouth Guard & Retainer Wearers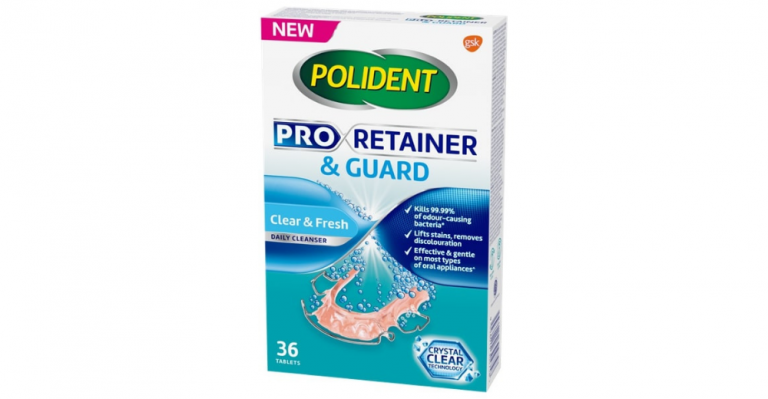 – Spend & Win Contest exclusively at Watsons with up to RM8,000 worth Watsons gift vouchers
GlaxoSmithKline Consumer Healthcare Sdn Bhd (GSK Malaysia), a leading consumer healthcare company, introduces its Polident brand's new Pro Retainer & Guard, a cleanser developed especially for all oral appliance wearers in Malaysia.
In a survey conducted by Google, out of ~9.5M retainer wearers in Malaysia, only 77% users clean their retainers. Within this group, 50% prefer using soap and toothpaste as cleaning agents[1]. A study conducted in 2019 revealed that nearly half the population of oral appliance wearers in Malaysia use a toothbrush and toothpaste to clean their oral appliances[2] . These mechanical methods of cleaning may not be advisable as most toothpastes are abrasive and the bristles of a hard toothbrush may leave scratches on the surface of the oral appliance, leading to plaque buildup and resulting in bad mouth odour[3].
Keeping these findings in mind, the Polident Pro Retainer & Guard with its non-abrasive formulation, provides effective deep cleaning of oral appliances, which goes beyond the ability of toothpaste. This new cleanser is able to remove 99.99%1 odour causing bacteria, help lift stains, leaving its users with a refreshed and confident smile.
The Polident Pro Retainer & Guard has been tested and proven to be compatible with 20 different oral appliance materials including clear aligners and retainers, orthodontic metal wires, polyurethane and polypropylene. Developed with Crystal Clear technology, this cleanser can be used daily, and is highly effective yet gentle on different types of oral appliances, causing no scratches or corrosion to the appliance.
Bryan Wong, General Manager of GSK Malaysia said, "All oral appliance wearers deserve to feel their best, freely express themselves and wear their smiles with confidence. Polident strives to ensure that its science and products are developed to help its consumers reach that goal. The Polident Pro Retainer & Guard is more than just a transformative oral care product that gives confidence to its users. It encourages people to laugh a little more, be their authentic selves and live their lives with pride."
The Polident Pro Retainer & Guard is a handy and hassle-free method of keeping oral appliances clean. With just three easy steps*, users are guaranteed fresh and clean appliances –
• Drop one Polident Pro Retainer & Guard tablet into a glass of enough warm (not hot) water to cover your appliance.
• Soak for 3-5 minutes. For best results, gently brush your oral appliance with a cleanser solution using a soft brush and discard the remaining solution immediately after use.
• Rinse the appliance thoroughly with running water.
*Consumers should always refer to the pack instructions prior to use
Polident's Pro Retainer & Guard, launched in partnership with Watsons, is now available in all Watsons outlets nationwide and on www.watsons.com.my.
"We're delighted to be the retail partner for Polident Pro Retainer & Guard and provide a prominent platform for visibility and ease of access. As a leading health care and beauty care chain store in Asia, we know how important daily routines are to our customers' holistic wellbeing. We are also excited to reward our consumers with RM100 gift vouchers to the top 80 spenders in a contest together with Polident," said Caryn Loh, Managing Director of Watsons Malaysia. "Polident products provide best results with a simple everyday routine – and that's something to smile about."
You have tried the Polident's Pro Retainer & Guard? Feel free to share you thoughts with us!
[1] Google Customer Survey, Department of Statistics Malaysia (2019)
[2] GSK Omnibus Study (Nov'19)
[3] Žilinskas, J., Junevičius, J., Česaitis, K., & Junevičiūtė, G. (2013). The effect of cleaning substances on the surface of denture base material. Medical science monitor : international medical journal of experimental and clinical research, 19, 1142–1145. https://doi.org/10.12659/MSM.889568