OatGrain 35: A Nutritional Powerhouse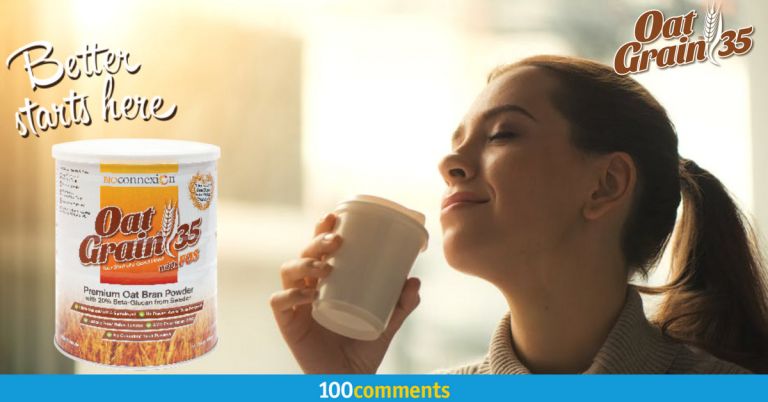 Imagine a mug bursting with nutritional goodness that brings forth a host of health benefits. Imagine the convenience of consuming 32 types of grain for breakfast every day. Thanks to OatGrain 35, you don't have to imagine this any longer. It consists of the following wholesome ingredients:
Oat Bran & Barley Bran
OatGrain 35 is a special formulation made from a mixture of premium quality oat bran and barley bran with 20% oat Beta-Glucan (soluble fibre) imported from Sweden. The proven properties of beta-glucan form a gel which binds cholesterol in the intestines and prevents it from being absorbed, therefore reducing the risk of coronary heart disease.
32 Grains
OatGrain 35 is reinforced with 32 types of grains and herbs, which is a whole lot of grains indeed! These grains contain many nutrients including dietary fibre and minerals (iron, magnesium and selenium) that work to control blood sugar levels, lower LDL or 'bad' cholesterol and reduce colon cancer risk. There are also B vitamins to boost metabolism (thiamine, riboflavin, niacin) and to help the body form red blood cells (folic acid). Omega 3 fatty acids prevent heart disease and arthritis, while the combination of all the grains are great for improving brain development and health as well as preventing dementia and Alzheimer's Disease.
The powerhouse of grains provide the much-needed dietary fibre decrease blood cholesterol while maintaining healthy bowel functions and reducing constipation.
Quinoa
This superfood is high in amino acids, enzymes, vitamins, minerals, fibre, antioxidants and phytonutrients, and contains amazing health benefits. It is also packed with high quality proteins, potassium, magnesium, iron, vitamin B and fibre.
Brown Rice
Brown rice may seem simple but it packs quite a punch. Studies have shown that it improves cardiovascular system functions, digestive system and brain and nervous system. It is also loaded with powerful antioxidants that proved relief from hypertension, unhealthy cholesterol levels, stress, mental depression and skin disorder.
6 Herbs
OatGrain 35 also includes the potent 6 herbs, namely, Pearl Powder, Tangsheng Root, White Atractylodes Rhizome, Poria, Chinese Yam and Fructus Amomi. Together, they protect against heart disease, diabetes and cancer, while promoting digestion and metabolism, strengthening the immune system, stimulating the nervous system, dilating peripheral blood vessels and inhibiting adrenal cortex activity, which effectively lowers blood pressure.
Fructooligosaccharides (FOS)
FOS promotes the growth of good bacteria, which boosts the overall gastrointestinal tract health and treats digestive disorders such as irritable bowel syndrome, constipation and flatulence.
All These Goodness In A Mug!
So if you want to consume a fibre-rich diet amid your hectic on-the-go lifestyle, OatGrain 35 is the perfect supplement when increase your fibre intake in your quest to maintain a healthy lifestyle. It's tasty and super easy to digest, too!