MORE THAN 8,000 EXPLORERS RACE THROUGH KUALA LUMPUR AT THE FIRST EVER DISTRICT RACE MALAYSIA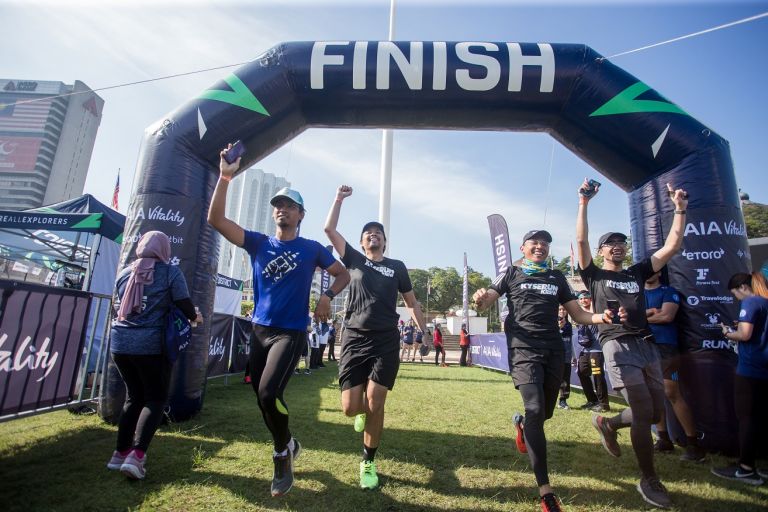 [KUALA LUMPUR, NOVEMBER 4, 2019] – The first-ever District Race in Malaysia saw over 8,000 participants conquer the streets of Kuala Lumpur in an immersive tech-fuelled urban race.
Presented by AIA Vitality, District Race is a ground-breaking technology platform that encourages Malaysians to lead active, healthy lifestyles by motivating people to get active through exploration with the District Race app. Powered by cutting-edge augmented reality and location-based technology, participants navigated through the city and ran a collective distance of 82,000 km, completing over 180,000 virtual challenges and checkpoints.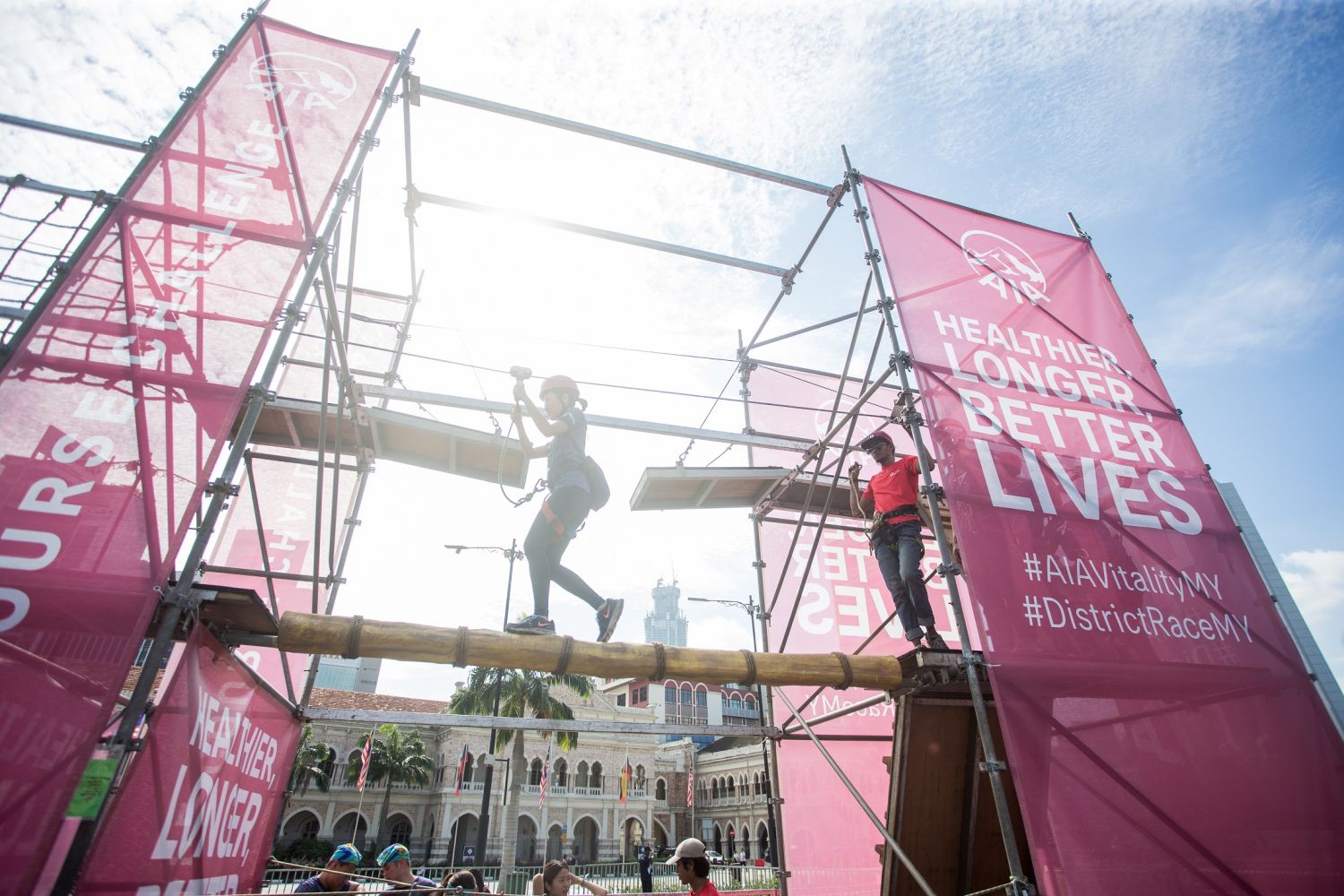 District Race Malaysia was launched earlier in June this year, activating various grids in Kuala Lumpur, Penang, Melaka and Johor Bahru. This allowed all Malaysians to explore and experience District Race for free before the grand finale at District Race KL by AIA Vitality. In the past five months since its launch, more than 5,000 participants took to the task and completed the various challenges and explore their cities all across Malaysia
Earlier yesterday, participants, also known as 'Explorers' were flagged off at the historic Dataran Merdeka. With no set route or distance, participants created their own strategy and chose how they explored Kuala Lumpur. Explorers had a time limit between 1-2 hours to complete as many checkpoints and challenges as possible to top the leader board in two categories – Open and Discovery – as individuals or in teams of four. Each category presented Explorers with three types of challenges to be completed, namely the Scan Challenge, Discovery Challenge and Time Trial Challenge.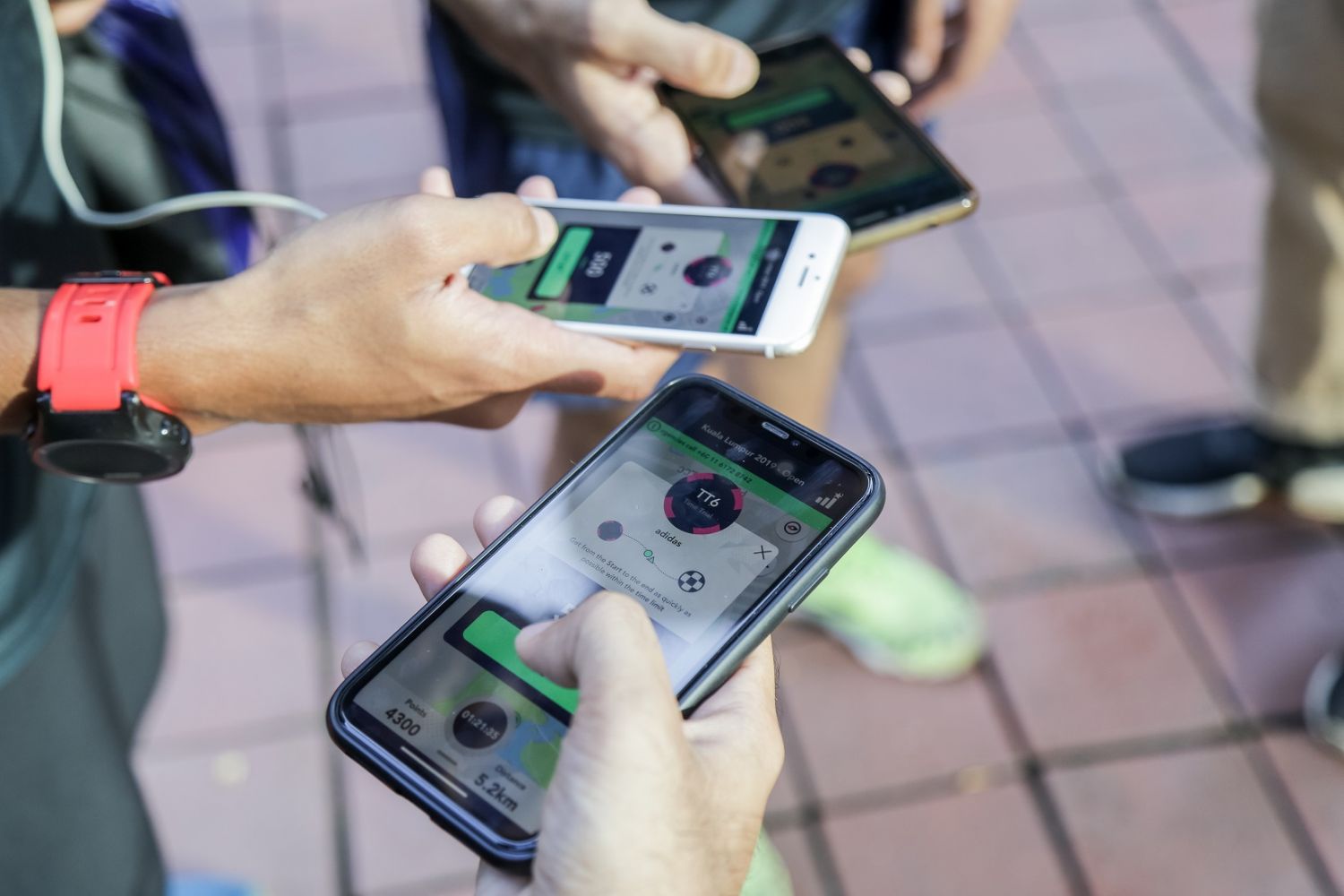 Ben Pember, Chief Executive Officer of District Technologies said, "District Race was created to inspire everyone to rediscover their city while levelling up their fitness. We want to thank AIA Malaysia for all their support in making District Race KL possible.  It was through our partnership with AIA Malaysia that we were able to launch this huge initiative to help people get active in a way that is totally unique to Malaysians – an innovative way to get fit and have fun beyond a typical race. The massive turnout for the very first Malaysian edition of District Race today is hugely encouraging. Hopefully, these explorers have a newfound appreciation for the city that they call home and are motivated to keep on exploring and staying active with the District Race app."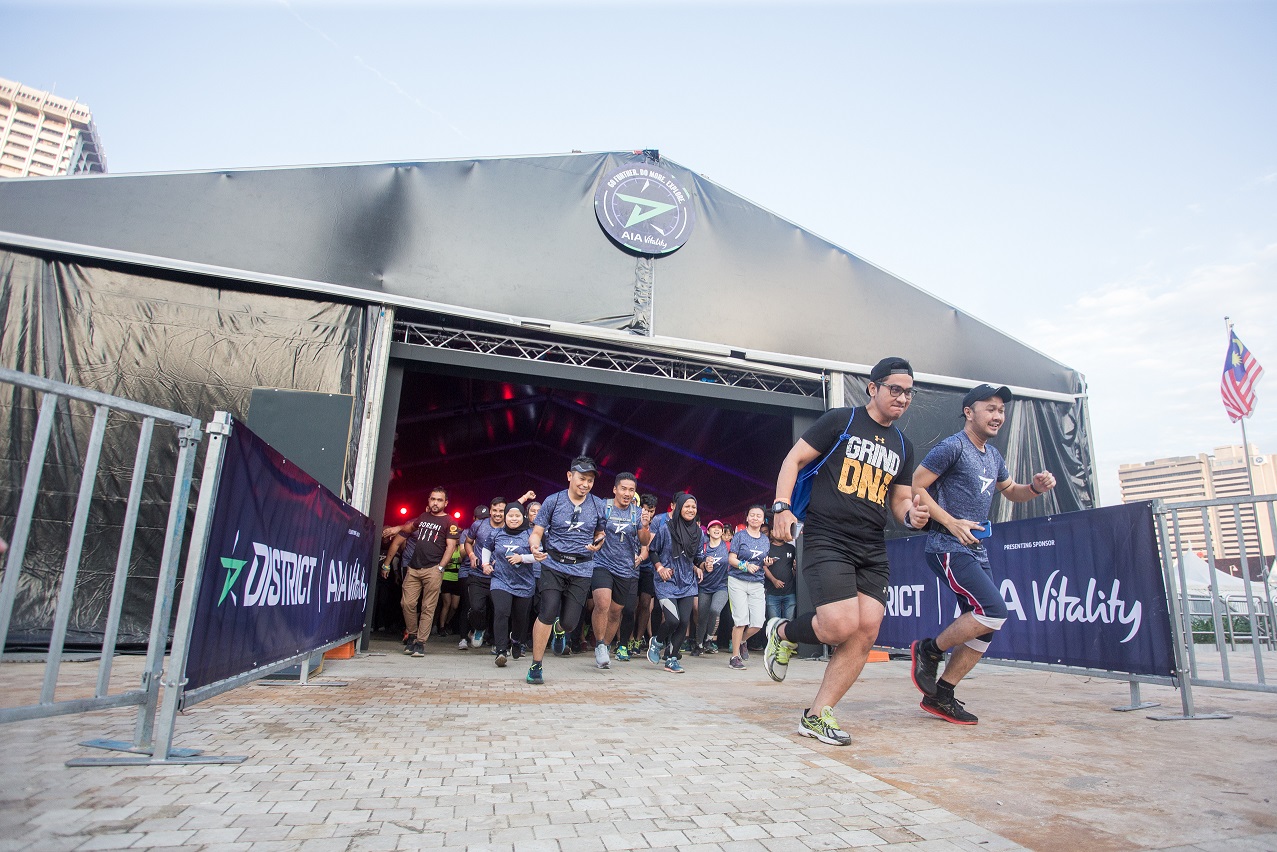 Heng Zee Wang, Chief Marketing Officer of AIA Malaysia additionally shared, "Since the launch of District Race earlier this year, we have seen tremendous support and enthusiasm from participants all over the country. We at AIA are excited to celebrate the culmination of District Race with this historic event at Dataran Merdeka and are thrilled to see an overwhelming number of participants. We started this journey with District as part of our efforts to encourage Malaysians to get active with their family and friends while experiencing their city in a whole new light – we hope to continue supporting avenues like this as part of our mission of helping Malaysians live Healthier, Longer and Better Lives."
"Our mission at District is to enable people to get active through exploration. To that end, we introduced the Ultimate Explorer Challenge in the lead up to the race to encourage everyone to explore their city and their limits with the District Race app. Our winner Jimmy has completed over 500 runs with the District Race app since June and he truly embodies the spirit of exploration as our Ultimate Explorer." said Mr. Pember.
Jimmy Lim, the winner of the District Race Ultimate Explorer Challenge who resides in Kuala Lumpur completed the most runs with the District Race app and won the competition. He was presented with a round-the-world trip to try out District Race grids that are available in over 35 cities globally.
Jimmy attributes his win to his wife, who introduced him to the app. "Personally, I am very excited to have won the Ultimate Explorer Challenge and will continue to explore new and old grids because it makes me feel alive. My wife first introduced me to District Race and we both love running with the app and have continued to explore familiar places like Lake Garden, Bangsar, as well as grids in our home town of Penang Island!
"Having checkpoints and challenges as an additional focus makes it more fun and interesting. The best thing about District race app is that there are always new grids available and my wife and I plan our time to go try them out and the app is a common interest for us, as we encourage one another. I'm looking forward to visiting other beautiful places around the world and trying out District grids there," he added.
After the race, participants were treated to an array of activities from augmented reality games, live music, great food, and interactive experiences from AIA, eToro and Adidas.
Beyond the race, all Malaysians will still be able to use the District Race app. There are currently over 30 grids in 4 cities across the country, which are completely free to use, with more being added all the time.
For more information on District Race Malaysia, please visit:
Website: www.exploredistrict.com/en/events/kuala-lumpur
Facebook: www.facebook.com/DistrictRaceMY
Instagram: www.instagram/exploredistrictMY
The District Race app is available to download on the Apple Store and Google Play.
#weareallexplorers #districtraceMY  #AIAVitalityMY
###
About District 
District Technologies is an innovative technology company that is redefining running and urban exploration through gamification. Founded in 2017, District Technologies was born from a desire to reignite the spirit of discovery in all of us and enable everyone to lead an active and social lifestyle. District Technologies' key offering is District, a first-of-its-kind experiential urban exploration app that combines ground-breaking location-based tracking and augmented reality technology to motivate people to rediscover their cities and level up their fitness by completing in-app challenges built around the urban environment. District Technologies also holds District Race events around the world that are built around the District app. District Technologies is headquartered in Singapore and has since established a global presence, with key markets in Asia-Pacific and Europe.
For additional information, visit www.exploredistrict.com.
About AIA Bhd.
AIA Bhd. is a leading insurer in Malaysia, where we have been privileged to do business since 1948. We offer a suite of financial solutions including Protection, Health, Personal Accident, Employee Benefits, General Insurance, Mortgage, Retirement and Family Takaful products to meet our customers' protection and financial security needs at every life stage. Through our wide and diverse distribution footprint which comprises a 14,000 strong Life Planner force, our exclusive bank partner's branches nationwide as well as corporate sales teams and brokers, we give our customers the choice of deciding how, when and where they connect with us.
Part of the AIA Group, the largest independent publicly listed pan-Asian life insurance group, AIA Bhd. has the financial strength, experience, service centre network and a well-trained team of more than 2,000 employees to serve our 3.9 million customers nationwide.  As at 30 June 2019, AIA Bhd.'s total asset worth was RM54.7 billion, with a paid-up capital of RM1,451 million.
About AIA Vitality
AIA Vitality is Asia's first and only comprehensive science-backed health programme. It provides members with the knowledge, tools and motivation to bring about long-term positive behavioural changes to lead a healthier life. AIA Vitality members are incentivised to actively engage in health and wellness activities by offering them a range of benefits including extra insurance benefits on selected insurance and Takaful plans as well as savings and discounts from AIA Vitality partners.
Learn more about AIA Vitality at www.aiavitality.com.my