Modern Day Dishwashing Superheroes!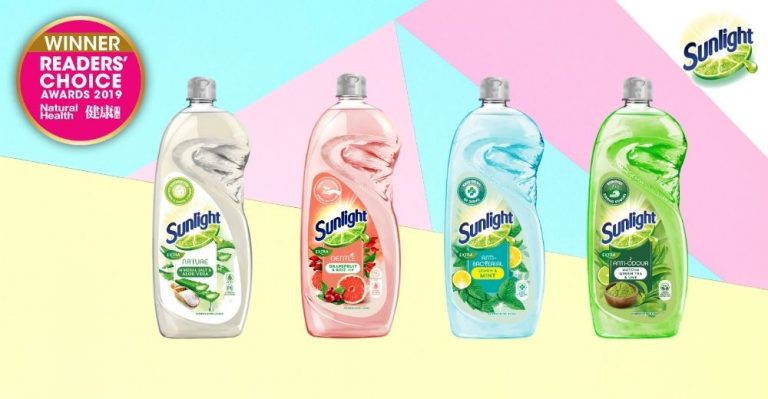 Sunlight,  the No.1 dishwashing brand in Malaysia, has always been associated with clean, sparkling dishes. Its Nature range  is now a favourite among Malaysian households. It consists of Nature, Gentle, Anti-Bacterial and Anti-Odour, each having specific features while maintaining the brand's famed degreasing power.
Safe For Baby Bottles & Utensils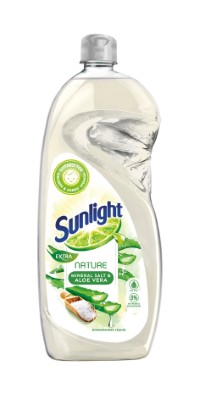 Sunlight Nature, a clear and colourless product, is enriched with the goodness of Mineral Salt and Aloe Vera. It is formulated with 0% parabens, dye and phosphates that is completely safe to clean your children's utensils. Parents can rest assured knowing that their kids are not exposed to harmful chemicals.
Its key ingredients include mineral salts that are a known remedy and helps greatly against tough grease, while aloe vera is a soothing and calming agent that can keep your hands moisturised while washing your dishes.
Sunlight Nature's multi-functional benefits not only provide an effective dishwashing solution, but it is also safe enough for cleaning baby bottles, as well as fruits and vegetables. All your need is one dishwashing liquid that does it all!
Gentle on Your Hands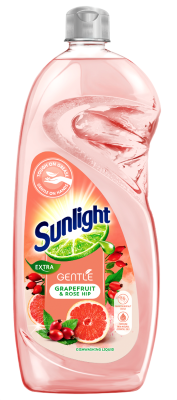 Sunlight Gentle is specially formulated from natural ingredients like grapefruit, which is rich in antioxidants and vitamins, along with 100% natural essential rose hip essential oil that helps to keep our hands hydrated. It is a dermatologically tested hypoallergenic formula that is made to be tough on grease yet gentle on the most delicate hands.
Sunlight Gentle safe for the family, and earth-friendly too, as it comes packed in 100% recycled bottles. Its natural ingredients ensure that your skin won't be stripped or adversely affected after every wash.
Its mild and gentle fragrance will also make dish-washing time a pleasure in the kitchen.
Kick Foul Odours To The Curb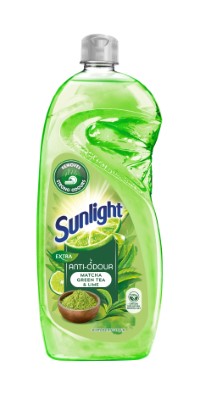 For lingering odours, there's the Anti-Odour variant boosted with Matcha Green Tea & Lime to eliminate stubborn smells from all the food preparations and overnight dishes.
Matcha green tea is known for being a natural odour buster that can effectively neutralize the strong odours in the kitchen. Its perfect companion, Lime, is renowned for weakening the sticky nature of grease stains, making them easier to remove.
The powerful combination of the odour-busting properties of matcha green tea and the zesty fragrance of lime ensures that Sunlight Anti-Odour is thoroughly capable of removing strong odours.
From the strong smell of leftover belacan to the cloying scent of garlic, it is an effective way to keep bad odours at bay and making your dishes smell fresh after meals.
No More Worrying About Germy Sponges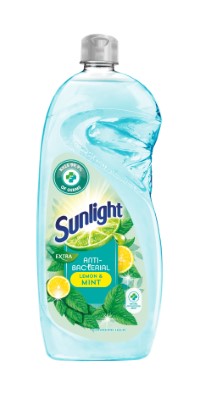 Did you know that even if your sponge looks clean, invisible bacteria that can be harmful could still remain hidden if you don't clean them properly. It then spreads bacteria contaminating your plate and utensils, which can put your family, especially your children at risk. Most of the time, the sponges used for washing dishes are ignored after use and become a breeding ground for germs and bacteria.
Sunlight Anti-Bacterial with Lemon & Mint contains a natural anti-bacterial agent, boosted with lemon and mint, that can kill up to 99% of germs and prevents bacteria growth in your dishes and sponge. Now, you can get sparkling clean dishes with the power of Sunlight and protection from germs for you and your family. It leaves your dishes squeaky clean and residue-free.
There's A Sunlight For Every Dishwashing Need
Sunlight Extra Dishwashing Liquid variants, the newest natural inspired range, has taken care of everyone's dishwashing needs, making the task an effortless one. Dishwashing will never feel the same for you again with Sunlight's superheroes.
For more information, visit www.facebook.com/SunlightMalaysia.