MOCHI SOFT SKIN IN JUST ONE STEP, SHOWER AFTER SHOWER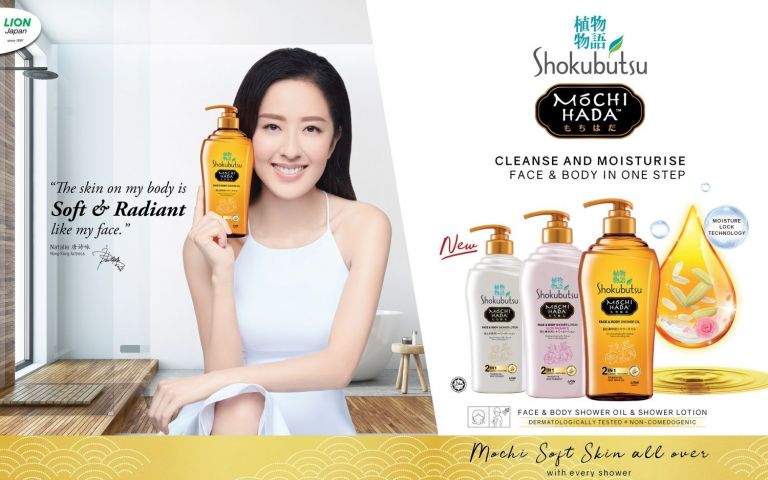 Kuala Lumpur, 3 August 2019 – Holding on to its values derived from Japanese inspired philosophy, the creators of Shokubutsu shower products have just introduced the new and revolutionary Shokubutsu Mochi Hada Face & Body Shower Series which allows everyone to effectively cleanse and moisturise both their face and body, all in one simple step while in the shower!
The new product series was launched today at Sunway Pyramid in collaboration with Watsons Malaysia and Shokubutsu Mochi Hada's brand ambassador, Hong Kong actress Natalie Tong.
"At Shokubutsu, we understand the inherent need to look and feel younger. As a result, we spend so much time and effort to achieve that goal. More often than not, these efforts are concentrated on making sure the face looks great, thereby neglecting the remaining 90% of the skin on our bodies. From talking to women it was an Ah-Ha moment when they realize that they are neglecting their body and it is actually causing the rest of their skin to age faster than their face. This is further compounded by our busy lifestyles and we just do not have the time or resources to care for the rest of our entire skin on our body, as we do for our face," said Carmen Foo, Senior General Manager (Marketing), Southern Lion Sdn Bhd.
"This neglect causes the aging process to kick in and as a result, the skin on our bodies, devoid of the care and protection it deserves, ages much faster than our face. The answer to that is the new Shokubutsu Mochi Hada Face & Body Shower Series. Inspired by the Japanese philosophy of routine simplification, this innovative new product was developed with Moisture-Lock technology, trapping moisture already present on the skin's surface, thereby 'locking in' water molecules which makes it very efficient in keeping face and body skin well hydrated," she added.
The bottom line is simply this – the all new Shokobutsu Mochi Hada Face & Body Shower Series makes it easier than ever before to effectively cleanse and moisturise the skin on both their face and body in just one simple step while in the shower. With this new product, therefore, comes a refreshing new challenge to everyone to love the skin on their entire body, as they do their face, resulting in 'mochi soft' skin all over, shower after shower.
"One great thing that I enjoy about Shokubutsu Mochi Hada is that it saves time in the shower by simplifying my cleansing and moisturising routine because it is safe, gentle and very effective for both my face and body. And with a busy schedule like mine, this product is truly remarkable. I don't think I have come across any other product quite like this made from natural Japanese ingredients. I have visibly seen positive results after just two weeks of regular use and urge everyone to use it to get skin that is soft, supple and radiant," said Natalie Tong on her experience with Shokubutsu Mochi Hada.
Staying true to the brand's principles of using safe and natural ingredients, the secret to Shokubutsu Mochi Hada's efficacy lies in the nature-inspired benefits of Tsubaki Oil, an essential part of Japanese beauty rituals and the beauty secrets of ancient Geisha; Rice Bran Oil, an anti-aging ingredient which helps firm and tighten skin while maintaining hydration; and Rice Ferment Extract, with rich minerals and essential amino acids that helps maintain skin's hydration, texture, resilience and an overall supple, healthy appearance.
Backed by extensive research and development processes, Shokubutsu Mochi Hada Face & Body Shower Series has been dermatologically tested; having passed skin stinging tests and found to be non-comedogenic, yet very effective while being gentle on your face and your body. In fact, during home usage tests which involved more than 450 women, 80% said that their skin felt smoother, softer and more radiant in just two weeks! The result is a simple, efficient and effective product, which with continued use will show visible positive results in helping users achieve 'mochi soft' skin in just two weeks.
Shokubutsu Mochi Hada also launched the "#LoveYourFaceLoveYourBody" emochi campaign, to remind women to stop neglecting the other 90% of their body skin, which deserves just as much tender loving care as their face. Women are invited to share a creative emochi picture of a smiley face using different parts of their body on social media using the hashtag #LoveYourFaceLoveYourBody during August and September and stand to win a Shokubutsu Mochi Hada Shower kit offered every Tuesday.
Priced from RM19.00, all three variants of the Shokubutsu Mochi Hada Face & Body Shower Series is available exclusively at Watsons Stores and Online Stores. They can also be found in other major retail supermarkets and e-commerce stores. The variants include the Shower Oil, Shower Lotion: Glow Radiance and Shower Lotion: Ultra Moisture.
Love your face AND your body today with the all new Shokubutsu Mochi Hada Face & Body Shower Series.