Malaysia's First Kid-Friendly Wrap – Ideal for Tiny Fingers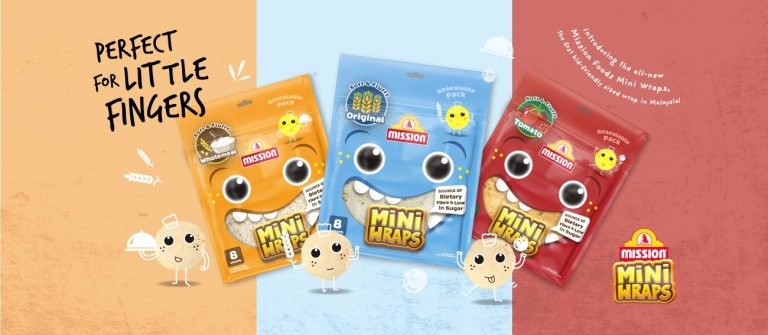 Mission Foods, everyone's favourite tortilla wrap brand, has just released a line of fun-sized wraps designed specifically for children. The all-new Mini Wraps, which is smaller in size but monsterrific in taste, is set to excite kids and parents alike with three great flavours and super fun illustrated monster packaging.
The three flavours, Tomato, Wholemeal, and Original, are available in resealable packs of eight to keep them fresh for longer. The smaller 5.75-inch wraps are ideal for little fingers.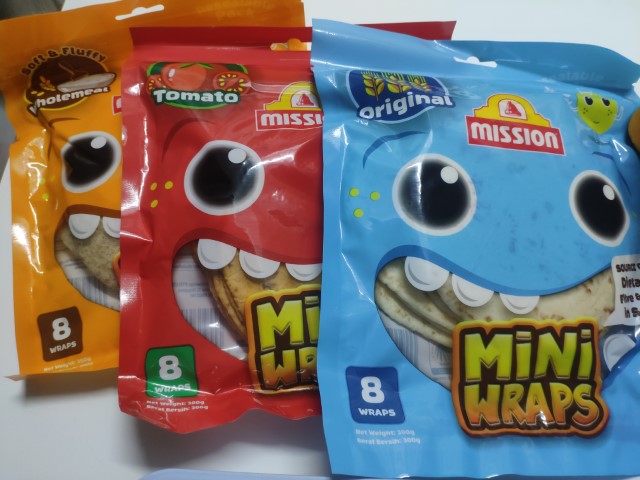 Mission made the wraps smaller because little people have small hands and appetites, . They are easier for children to handle and hold, and they make an excellent canvas for all of their favourite foods.
The bright and colourful monster illustration on the packaging adds a playful element to mealtime. Food goes down much easier when it's fun, because kids eat with their eyes first. It's a fantastic way to incorporate a sense of play and experimentation into getting them to prepare their own meals.
Mission Foods recently launched a fun and engaging campaign called #PerfectForLittleFingers, in which we engaged parenting and bento influencers to share great recipes and ideas using Mini Wraps on their social media. Abang Brian, a Le Cordon Bleu alumnus and celebrity Masterchef, helped bring the campaign to life by sharing fun recipes and ideas that parents and children can try at home. The celebrity chef, who owns the well-known Young Chefs Academy Malaysia, has created three exciting recipes that turn Mini Wraps into fun kiddie meals, including the cutesy Caterpillar Chicken Wrop made with Tomato Mini Wraps, the teddy bear faced Bear Bear Pizza Wrap made with wholemeal Mini Wraps, and the Crouching Lion Hidden Veggies Japanese Curry Wrap made with Original Mini Wraps.
"With Mini Wraps, you won't feel bad about allowing your children to play with their food." They are never too young to participate in the preparation of their own nutritious meals. Mealtime will be just as much fun as playtime with a little help from Mom and Dad!" said Abang Brian.
He was not wrong as it was fun to assemble the Mission Mini Wraps packed lunch that was sent as a media kit. Following the simple instructions, I was able to assemble a teddy bear on the tomato flavoured mini wrap and it tasted yummy too! Savoury and flavourful with the unmistakable tomato taste, the texture is soft yet firm at the same time so as to hold the food and sauces in place for you to sink your teeth into it. I can see myself enjoying this as for tea or a light meal. Simply scrumptious!
Mission Foods also held a contest for consumers to attend an exclusive workshop with Abang Brian as part of the campaign. Participants were required to submit the most creative image of a friendly monster created by their child using the new packaging. The winners – 20 pairs of parents and children – were given the opportunity to learn how to make the Caterpillar Chicken Wrap in a live workshop with Abang Brion in March, as well as goodie bags worth RM200 each.
The new Mission Mini Wraps range, available in three flavours, is now available in the bakery aisle of all major supermarkets, alongside Mission's existing wraps, naan, pita, and pizza crusts. These new Mini Wraps are a must-have in your grocery cart as an essential addition to pantry staples, whether for the kids to experiment with during the school holidays or as Back-to-School meals.
If you enjoy Mission Mini Wraps, please leave a review here!