IGS English: Where Reading and Writing in English Come Naturally!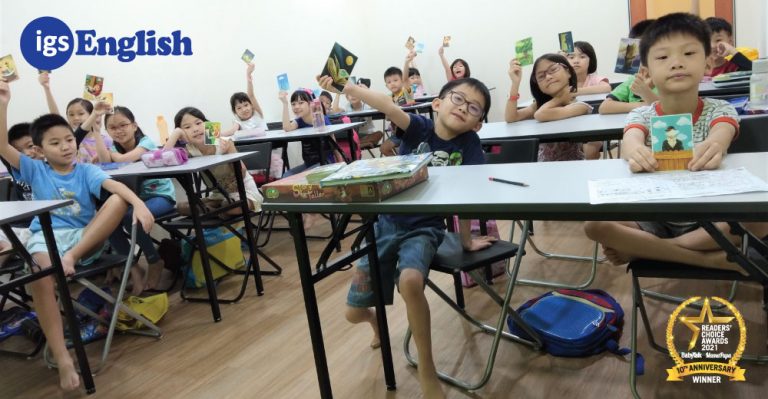 In learning a language, there has to be input and engagement to ensure that an individual is able to apply what they are learning in order to learn from their mistakes and improve themselves. The effort that has to be expended in learning a language is immense. Language generally consists of three main components: speaking, reading, and writing. Can children be effectively taught to do these? Read on…
Speaking is generally considered the easiest as one can simply listen to the words being uttered and just take into account the context and one can usually make out the sentence that is said. Reading and writing is a whole other story. And, if we're going to teach a child to read and write, you'll find that certain expertise might be required for the best results.
The English language requires intense practice in order to be proficient. This practice can take many forms. One of the forms is the normal classroom method of teaching reading and writing in a rigid manner. There is, however, a lack of sufficiency in our English teaching standards, and that means that countless young ones do not possess the kind of reading skills that will help them succeed, much less decent writing skills
Children should be provided the means to learn how to read and write well, or their progress will be stifled, resulting in lost interest in learning. This may even be for an entire subject, such as the English language!
Enrichment centres are usually set up to fill this role of engaging children with dynamic activities to help children learn more effectively. They should, however, implement fun and dynamic activities for children to enjoy themselves while learning how to read and write in the English language to a degree of competency and apply it in daily life. And, as with everything else, starting early is how you can get your child to be very proficient in the English language.
IGS English has an excellent solution for you and your child. The centre is an award-winning establishment that helps your child unlock his or her fullest potential when it comes to the English Language. This English language school, one of the best in the Klang Valley, is located in the Atria shopping mall, and is relatively accessible to most Klang Valley people, making it one of the top choices for Klang Valley residents.
Here, reading and writing in English is given due emphasis to the point of training children to be great readers and creative, passionate writers. The outreaching educators go out of their way to restore the love for reading is a gift that seems to be disappearing these days in children. Through its Creative Writing programme, children emerge with the penchant for writing grammatically adequate essays with a finesse for sentence structures and wordings.
IGS English caters for pupils ranging in age from 4 to 18. To top it off, the school provides a range of courses and workshops to help students improve their English language abilities. The educator strength is nothing short of commendable, having some of the top educators in the field. Their teachers have a variety of certifications, including TESL, TOEFL, TESOL, TEFL, and CELTA.
IGS English's Enrichment centre is equipped with state-of-the-art technology in order to help your child learn and have fun. The activities are all well-designed to engage each child and help them remember what they have learned, and effectively help them succeed in learning reading and writing in English.
IGS English has emerged as the winner in three categories in the recent BabyTalk Readers' Choice Awards 2021, namely English Language School, Kid's Public Speaking Programme and Enrichment Centre (Reading and Writing).