How to Keep Your Mask Fresh All Day Long
When it comes to wearing face masks, reusable fabric masks are certainly the way to go. Not only does it save costs in the long run, it is also good for the environment as it drastically reduces dirty disposable masks from piling up in the landfill.
However, not all fabric masks are created equal. Choosing a high-quality mask like OFFEN 3 Layer Fabric Mask will offer you the complete protection you need during these times when mask-wearing is compulsory in public places.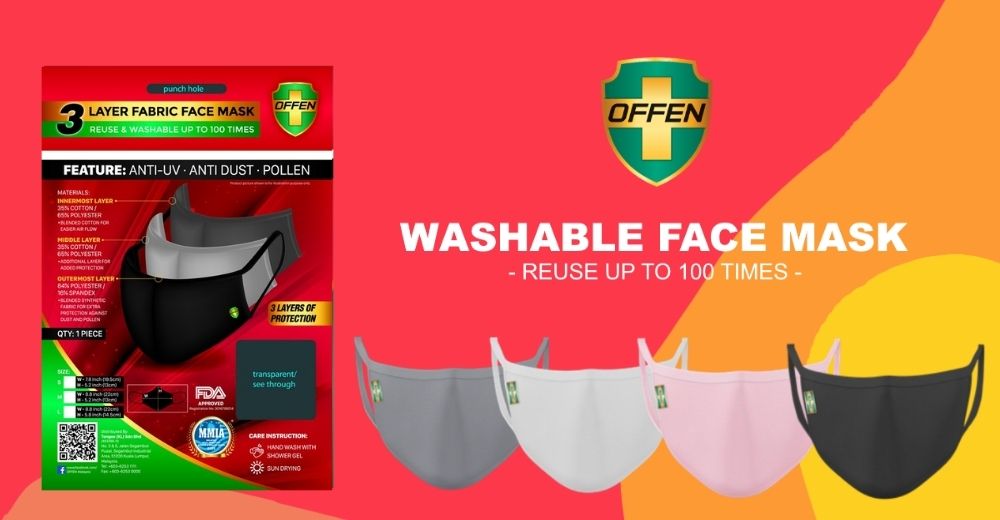 Like its name, OFFEN 3 Layer Fabric Mask comes with 3 layers that have been proven effective in preventing 99.9% of bacteria from penetrating the mask. The first layer is made of 84% polyester and 16% spandex, which offers extra protection against dust and pollen. The second layer comprises 35% cotton and 65% polyester as an additional layer of added protection. The inner-most layer is made from 35% cotton and 65% polyester, a blended cotton type of fabric for easier air flow. You can certainly breathe and speak in utter comfort when wearing this mask. It comes in different sizes including kids' size, as well as four different colours so you can choose the one that fits your face comfortably.
OFFEN 3 Layer Fabric Mask is washable up to 100 times, making it a cost-effective and environmental-friendly option for the whole family. The mask also protects against harmful UV rays, pollen and dust.
One drawback of wearing a mask the whole day is that it tends to smell stale and may be riddled with germs long before the day ends. Realising this, OFFEN has crafted the OFFEN Natural Sanitizer Spray to complete your anti-virus hygiene kit.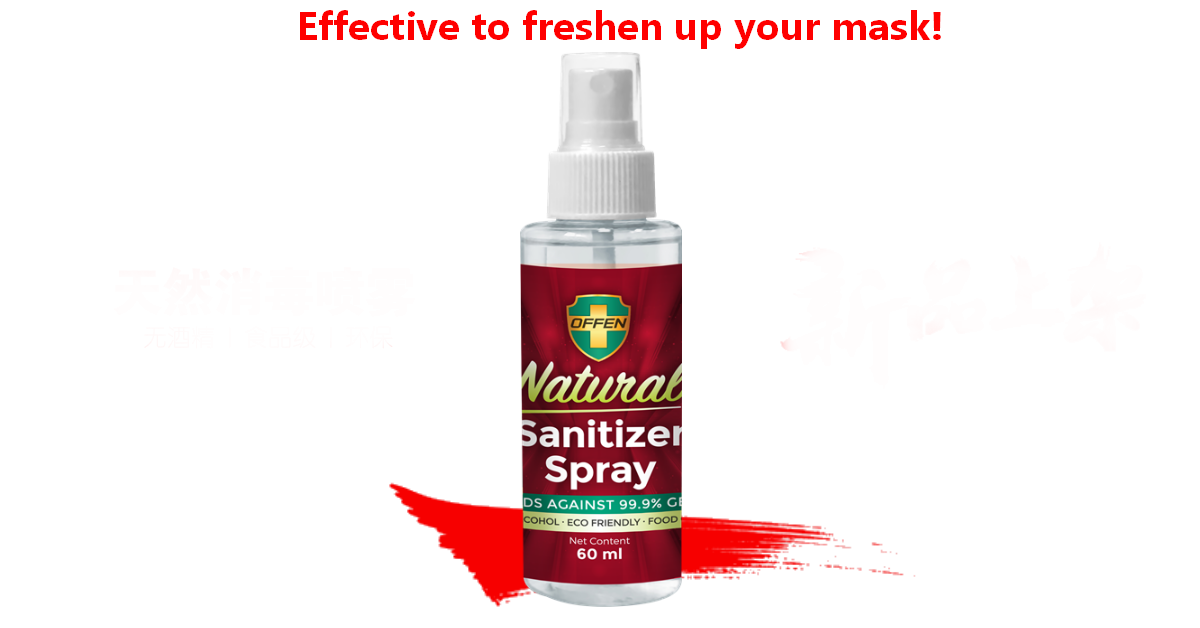 OFFEN Natural Sanitizer Spray is a multi-purpose sanitiser that not only sanitises the hands and surfaces, but can also act effectively as a mask disinfectant. Small in size, it is convenient to bring along everywhere you go.
First, sanitise your hands by spraying the sanitiser thoroughly on your hands and rub it in. Then spray the front and back areas of your OFFEN 3 Layer Fabric Mask completely, and wait for at least 30 seconds or until it is dry before putting it on. The sanitizer spray has no alcohol, which makes it perfect to clean fabric masks as it will not damage the layers within the mask. It cleans the mask fast, so you not have to wait for the next laundry load to finish before you can reuse your mask. It keeps the mask fresh all day long by killing odour-causing bacteria on the fabric. It is also effective in eliminating 99.9% of germs and bacteria on the mask surface.
OFFEN Natural Sanitizer Spray is safe for the whole family and even babies as it is non-toxic, unscented and leaves no sticky residue behind. Spray it liberally to sanitise your car, furniture, pets, dishes, toys and other surfaces in your house.
Use it together with OFFEN 3 Layer Fabric Mask daily for your peace of mind and to be well-protected all day long.
For more information, visit OFFEN's Facebook page.