Healthy Gut, Happy You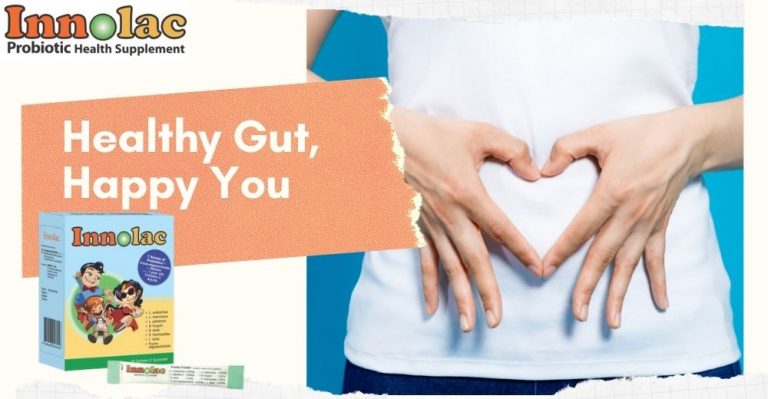 In our modern day hectic lifestyle, digestive issues have unfortunately become a part of our daily experience. Poor digestion rears its ugly head in the form of constipation, diarrhoea, bloating acid reflux, nausea, fatigue, sugar craving, mood disorders, difficulty sleeping and rashes. These are usually symptoms of an imbalance of good and bad bacteria in our gut microbiome (a community of living microorganisms).
Causes of Unbalanced Gut Microbiome
Many folks find it a challenge to maintain a balanced gut microbiome as it can be affected by antibiotics, poor dietary choices, age, chlorinated water, food preservatives, environmental factors, stress and the list goes on. Unbalanced microbiome can affect our mood, mental health, immune health, and even our brain function.
Is it any wonder that most of us suffer from poor digestion, moodiness and foggy brains? Thankfully, a high-quality probiotic supplement like Innolac® Probiotic Powder can help restore your gut microbiome balance.
The Power of Innolac® Probiotic Powder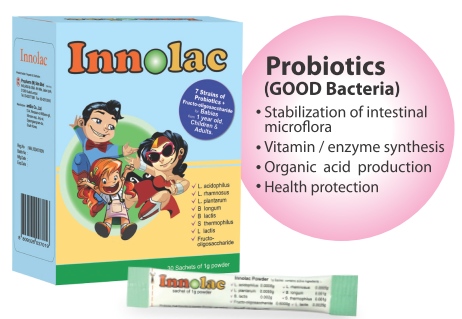 Consuming a packet of Innolac Probiotic Powder a day is a great and convenient way to boost the health of your digestive system. Innolac®  contains 30 million CFU (Colony Forming Unit) probiotics, which are often called "good" or "helpful" or "friendly" live bacteria that line our intestinal tract. These friendly microorganism work with our body to ensure optimum digestive health that promotes immune health, digestive health, brain health, emotional wellness and more.
Probiotics stick to the intestinal walls, contending with 'bad bacteria' and help to curb unhealthy growth of disease causing pathogens. Daily probiotic supplementation supports our digestive health by:
Stabilising our Intestinal microflora. This helps maintain the balance of good and bad bacteria.
Helping the digestion and absorption of vital nutrients and enzymes from foods we consume.
Easing constipation and stimulating bowel movement.
Reducing toxins in our body.
Producing organic acids such as ascorbic acid (Vitamin C) and amino acids, which are beneficial to create proteins, neurotransmitters and fatty acids.
Strengthening our natural defences and boosting our immune system.
Helping to lower the risk of allergies, reduce the frequency and duration of cold symptoms.
Did you know that by having a healthy gut, we naturally become happier as serotonin, the happy hormone, is substantially produced in our guts!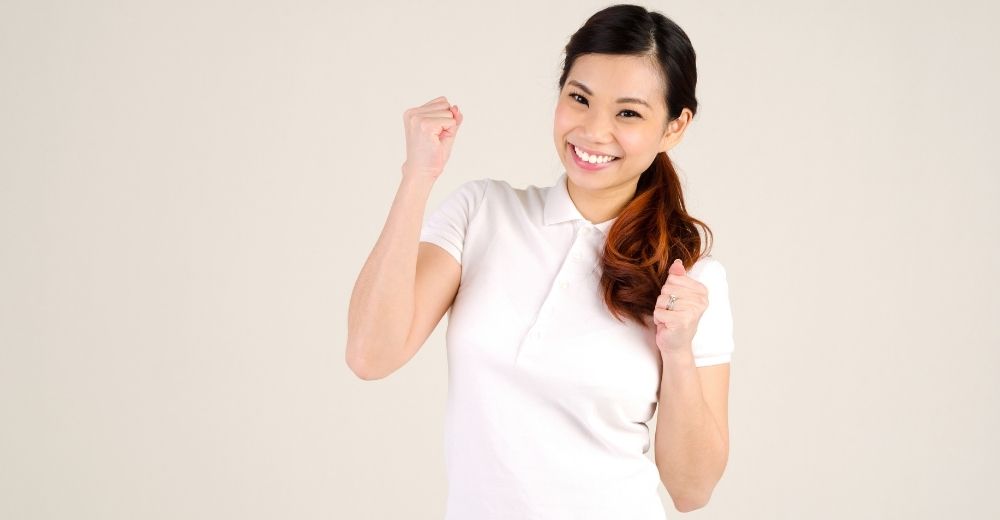 Healthy gut, happy you!
Great for the Whole Family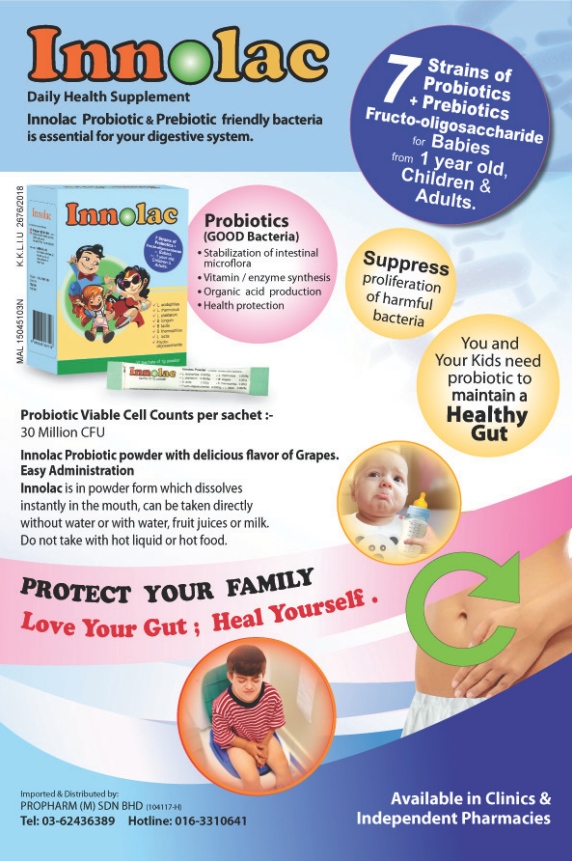 Innolac®  stands out as it has 7 probiotic strains including Lactobacillus acidophilus, Lactobacillus rhamnosus, Lactobacillus plantarum, Bifidobacterium longum, Bifidobacterium lactis, Streptococcus thermophiles and Lactococcus lactis. The more strains a probiotics supplement contain, the better, as different strains work in varying parts of your gastrointestinal tract. Lactobacillus works in the small intestine, while Bifidobacterium works in the large intestine.
Imagine getting all these probiotics goodness in just a convenient sachet at the precise right dosage. Innolac® Probiotic Powder easily dissolves in the mouth and has a pleasant grape flavour that the young and not-so-young would love. Children from the ages of 1 to 12 years are recommended to consume one sachet daily while adults can consume one sachet twice a day.
There is no need for refrigeration as Innolac®'s specialised formulation process and packaging technology helps keep the good bacteria alive right until its shelf life of 24 months.
Innolac® is produced under Good Manufacturing Practices (GMP) and adheres to stringent quality control for your complete peace of mind.
Take Innolac® every day and make it a part of your family's daily health routine! If you love Innolac®, leave a review here. For more information and to purchase Innolac®, visit their online store.