Giving Your Child the Very Best in Nutrition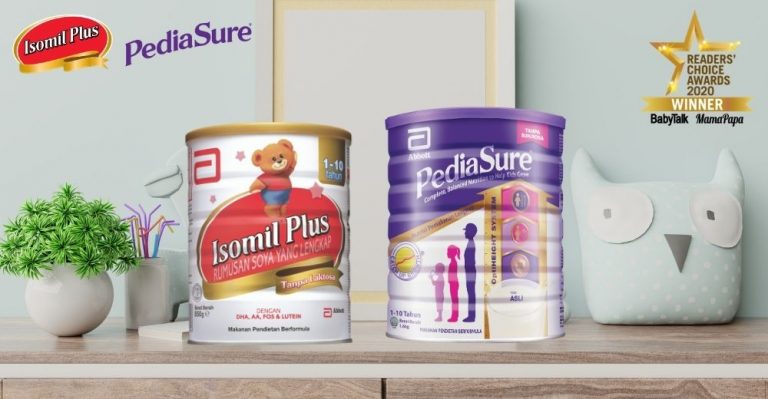 In these times, it is important to ensure that your child is getting all the nutrients that they need in order to thrive and achieve their full growth potential. What they eat and drink can affect their body's ability to prevent, fight and recover from infections. While no food or dietary supplements can cure viral infections, a healthy nutrition is important for the support of immune systems.
Two such products from Abbott, Isomil Plus® and PediaSure® cater to provide complete nutrition for children aged 1 to 10 years old. Made from high-quality ingredients and from a renowned and trusted brand that is backed by many years of scientific studies, you can trust that you are providing the right nutrition for your child's needs.
Soy Based Proven Solution For Children's Needs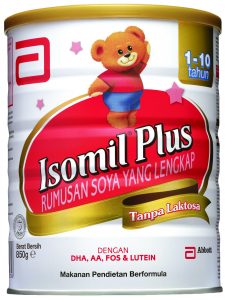 Isomil Plus® is nutritionally complete, soy-based and lactose-free, making it ideal for children with cow's milk protein allergy, lactose intolerance, galactosemia and kids on a vegetarian diet. Milk allergy can cause physical symptoms such as diarrhoea, vomiting and rashes.
Suitable for children aged 1 to 10 years, Isomil Plus® is free from proteins and lactose which can cause allergy for children. Being high in nutrients, this soy-based formula supports kids' healthy growth and development. It is also high in calcium, a vital element that is essential for strong bones and teeth. Isomil Plus®, contains a unique vegetable oil for easy digestion and softer stools and Vitamin E with a dual absorption system.
This food beverage is made from 100% high quality soy protein isolate, containing DHA, AA, Taurine and Choline for mind development plus 26 vitamins and minerals, FOS and Lutein.
 Your Child's Growth Is Assured With Pediasure®!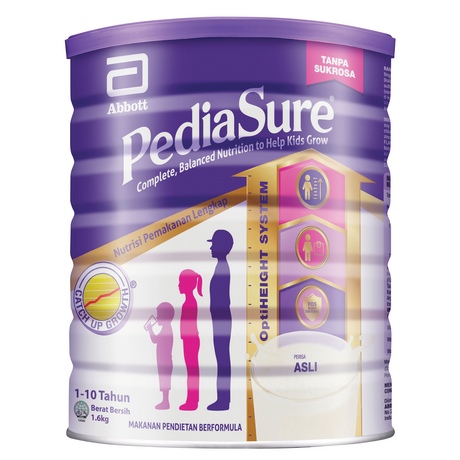 Optimal growth is vital for children, especially those who are picky eaters or are on restrictive diets for various reasons. These children may be unknowingly impeding their own normal growth, causing stunting or being underweight. PediaSure® is the ONLY scientifically-proven complete and balanced child nutritional supplement to help children aged between 1 – 10 years old to catch-up on growth.
PediaSure®'s formulation includes Arginine, Natural Vitamin K2, Calcium and 38 key nutrients to help bones grow longer and stronger1,2. PediaSure® also contains Prebiotics and Probiotics to assist in healthy digestion.
PediaSure® is scientifically proven to improve appetite in 4 weeks, height & weight in 8 weeks and less sick days in 16 weeks3,4. It is gluten-free and suitable for children with lactose intolerance.
Abbott has recently won several BabyTalk Readers' Choice Awards 2020 for the following categories: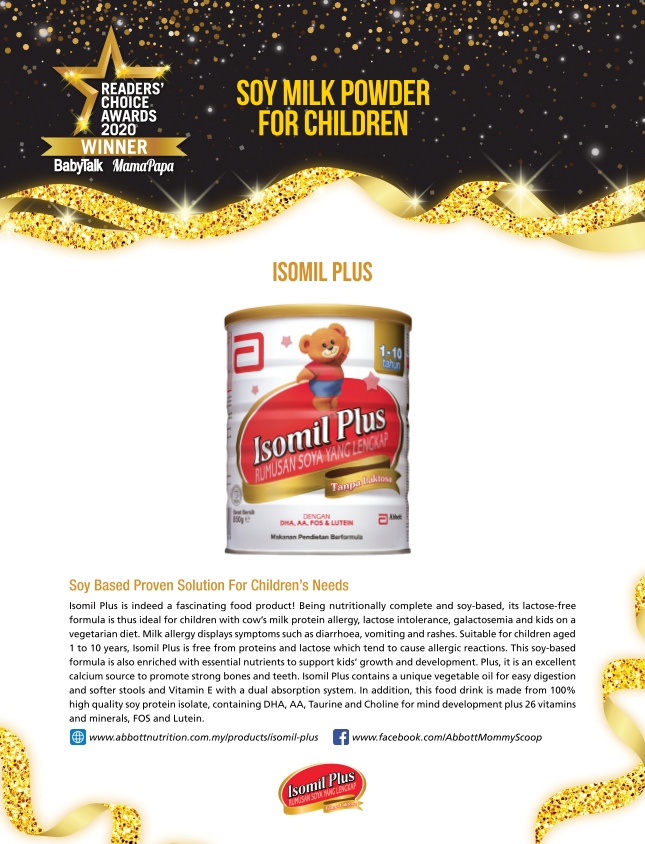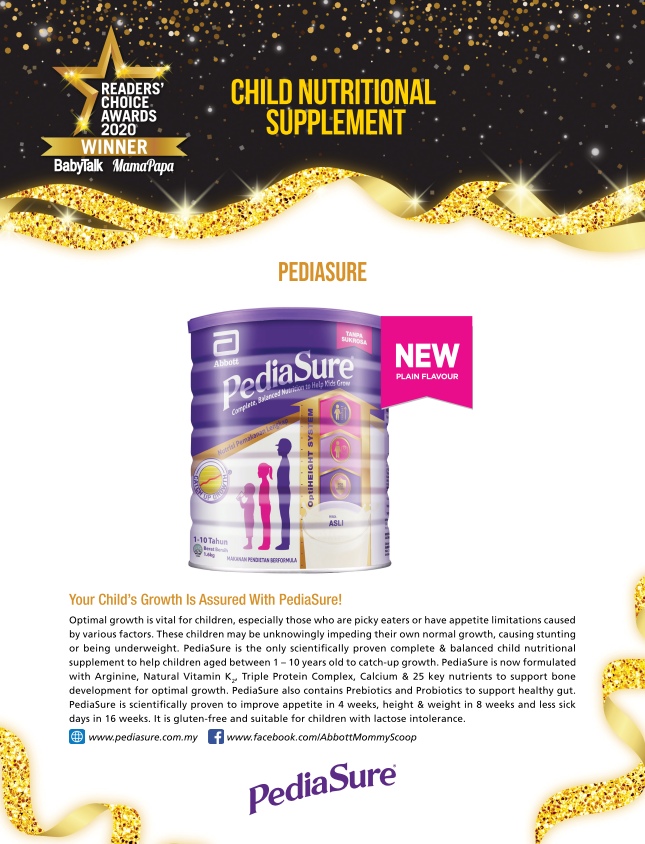 For more information, visit their website at www.pediasure.com.my or Facebook page.
1) Huynh DTT et al. J Hum Nutr Diet (2015), 28, 623-635. Longitudinal growth and health outcomes in nutritionally at-risk children who received long-term nutritional intervention.
2) Huynh DTT et al. 5th International Conference on Nutrition & Growth 2018. Oral nutritional supplementation improved linear growth in Filipino children at nutritional risk.
3) Van Vught AJ et al. Br J Nutr (2013), 109, 1031-1039. Dietary arginine and linear growth: the Copenhagen school child intervention study.
4) Van Summeren MJ et al. Br J Nutr (2008), 100, 852-858. Vitamin K status is associated with childhood bone mineral content.