Excellence in Public Speaking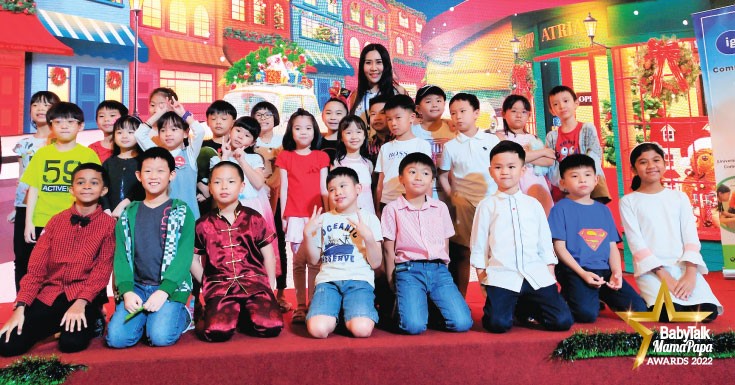 Many people are hesitant to communicate in English due to a lack of proficiency in the language. Now, more than ever, parents recognise that being fluent in English is critical to their children's future success, especially if they want a bright and promising future for them. Public speaking is an excellent way for students to improve their English skills. Parents who want to give their children a head start can consider enrolling them in IGS English's award-winning Kids' Public Speaking Programme.
Gaining Confidence in Communicating in English
The educators at IGS English know that communication skills are very important in this day and age, and they understand how crucial it is to be able to speak well in front of others. Public speaking also offers a variety of other advantages to young learners, such as increasing self-confidence, developing critical thinking and leadership abilities, and assisting young learners in interacting and connecting with others.
Its Kids' Public Speaking Programme has assisted many children in overcoming their anxieties and speaking publicly confidently. Through its variety of fun-filled activities, children are taught how to develop self-confidence and self-esteem, how to project their voice, establish strong eye contact, poise, and articulation, and how to construct effective speeches and presentations with an appropriate introduction, body, and conclusion. This is accomplished through a series of role-playing, story-telling, presenting, and public speaking exercises designed to encourage young speakers to be more poised in holding conversations, speaking in front of a group, and debating in good English. Throughout the programme, participants will learn vital interpersonal skills as they interact with each other.
A Conducive Environment to Thrive
The TEFL/TESL-qualified educators at IGS English are experienced in helping students hone their English public speaking skills. Some of the teachers have also spoken at national education conferences, so they understand what it takes for students to overcome stage fright, and they are also knowledgeable about guiding students in how to express themselves naturally and think on their feet.
Established in 2012, IGS English is extolled for its high-quality English language learning, offering courses in reading, writing, communication, and public speaking to more than two hundred children. The centre's goal is to shape future leaders who are confident communicators by emphasising the use of language and skills in public speaking and presentation, as well as shaping and moulding the students' minds. Recently, IGS English became the gold winner in the BabyTalk MamaPapa Awards 2022 in the Kids' Public Speaking Programme category.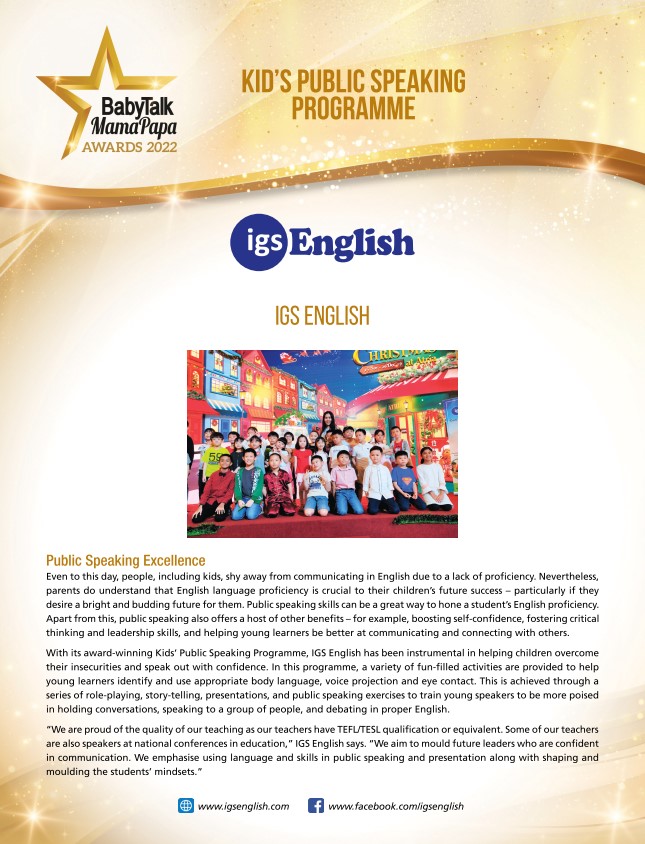 Public speaking is a valuable skill that can be applied to a variety of situations throughout your child's life. Give them an edge by enrolling them in IGS English today. For more information about their Kids' Public Speaking and other programmes, please visit their website and Facebook page.