Eurodrug Laboratories Malaysia Launches 'Take Control' Campaign with CARiNG Pharmacy and the Federation of Reproductive Health Associations Malaysia (FRHAM)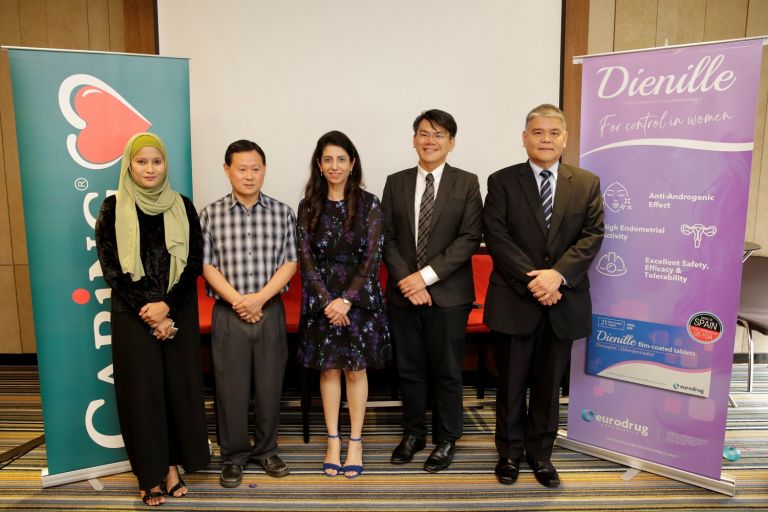 Kuala Lumpur, 2 October 2019 – Eurodrug Laboratories (M) Sdn Bhd launches the 'Take Control' campaign in partnership with CARiNG Pharmacy Group Bhd, the Federation of Reproductive Health Associations Malaysia (FRHAM), and Dr John Teo Beng Ho, an advocate in sexual and reproductive healthcare to empower women to take control of family planning as well as sexual & reproductive health.
The partnership establishes safe, accessible facilities for women to receive consultation from pharmacists at more than 120 CARiNG outlets nationwide. The consultation is further structured and standardised with a 'Take Control' oral contraceptive guidebook, developed by Eurodrug Malaysia and reviewed by key contraceptive educators and FRHAM for the pharmacists.
The 'Take Control' campaign also commemorates the launch of Dienille, a fourth generation combined oral contraceptive that uses two hormones – dienogest (2 mg) and ethinylestradiol (0.03 mg). First launched in Germany in 1995, Dienille offers efficacy, safety, good cycle control, and benefits beyond contraception.
A safe, accessible facility that empowers women to take control
Under the guidance of key contraceptive educators and FRHAM, Eurodrug Malaysia developed the 'Take Control' guidebook with real life scenarios, questions, and recommendations for pharmacists' use when counselling women on oral contraceptive.
The aim of the 'Take Control' guidebook is to standardise and provide validated knowledge that will empower women in making informed decisions for family planning, cycle control, and hormone management. In addition to medical information, the guidebook also reflects cultural and societal relevance on the topic of birth control, aiding the pharmacists to better consult women in their reproductive years.
"The dire statistics of unplanned pregnancies call for greater empowerment to women in the form of counselling, information provision, and access to modern contraceptive methods. Healthcare Professionals especially in the communities must take the lead in these critical service provisions and break the vicious cycle of misinformation and myths surrounding contraception," says Dr John Teo.
"Pharmacists are often the first point of contact for those interested in family planning or contraception. On top of that, retail pharmacies are often strategically located in high traffic areas such as shopping malls and operate 12 hours a day, seven days a week for the convenience of our customers. As the largest pharmacy chain in Malaysia, CARiNG is proud to participate in the 'Take Control' campaign where our pharmacists could use their knowledge to the fullest for the benefit of the community, and complement physicians in enhancing the patient's health care experience," said Chong Yeow Siang, Managing Director of CARiNG Pharmacy Group Bhd.
"Sexual and reproductive healthcare and information preserve women's and girls' health and rights. It also enables them to become educated, employed and empowered. As it stands, Malaysia's contraceptive prevalence rate has not improved over the last 20 years. At FRHAM, we believe that one of the solutions lie in debunking of myths, training and sensitisation of healthcare professionals, as well as improving access to highly effective modern methods of contraception. Ultimately, it is about empowering women to ensure every pregnancy is wanted, every childbirth safe, and every girl's potential fulfilled," says Syirin Junisya, Executive Director of the FRHAM.
Dienille, now available in Malaysia
The 'Take Control' campaign also introduces Dienille, an oral contraceptive containing a combination of two hormones, namely dienogest (it has effects like the natural luteal hormone, progesterone) and ethinylestradiol (it has oestrogen-like effects).
Dienille is now available in Malaysia as a Group C medication that can be dispensed directly by pharmacists. Dienille's high endometrial activity, related to dienogest, assures that ovulation is inhibited effectively thereby1,3 preventing unintended pregnancies.
Studies have also shown that Dienille is a reliable reversible method of contraception if used correctly4. Conception figures after Dienille discontinuation showed similarities compared to women who wanted to get pregnant and of whom more than two thirds had never used an oral contraceptive1,5,6. Furthermore, the duration of usage does not seem have an impact on the time to conception4.
Oral contraceptives are also more than just birth control pills these days. Dienille's anti-androgenic effect is clinically proven to treat mild to moderate acne problems1. Moreover, during a study with over 2,000 women, the incidence of painful periods or menstrual cramps, also known as dysmenorrhea, decreased from around 28.8% before treatment, to levels near zero after the sixth cycle treatment7. The study also showed that women achieved control over their cycle with the number of spotting (any bleeding outside or between the menstrual period), and breakthrough bleedings decreasing to near zero levels over the course of treatment2.
"Empowered to decide if, when, and under what circumstances to get pregnant increases a woman's opportunities to be healthy, and to live the life they want. Modern women are deeply aware of what they consume and will look for contraception that enables them to take control of their menstrual cycle and hormone management," said Kelvin Tong, Country Manager of Eurodrug Malaysia.
References
Bartsch V. Gynaecological uses of dienogest alone and in combination with oestrogens. J Med Drug Rev 2015; 5:1-31
Zimmermann T. Et al. The efficacy and tolerability of Valette: a post marketing surveillance study. Eur J Contracept Reprod Health Care. 1999 Sep;4(3):155-64.
Klipping, C. Et al. Ovulation-inhibiting effects of dienogest in a randomized, dose-controlled pharmacodynamics trial. J Clin Pharmacol. 2012 Nov;52(11):1704-13.
Wiegratz, I. Et al. Fertility after discontinuation of treatment with an oral contraceptive containing 30 µg of ethinyl estradiol and 2 mg dienogest. Fertil Steril 85(6): 1812-1819.
Dunson, D. Et al. Increased infertility with age in men and women. Obstet Gynecol. 2004 Jan;103(1):51-6.
Colombo, B. Et al. Daily fecundability: first results from a new database. Demogr Res. 2000 Sep 6;3:[39]
Moore, C. Clinical findings with the dienogest-containing oral contraceptive Valette. 1999 Drugs today 35(Suppl C):53-68.