Early Intervention Supported by Research and Evidence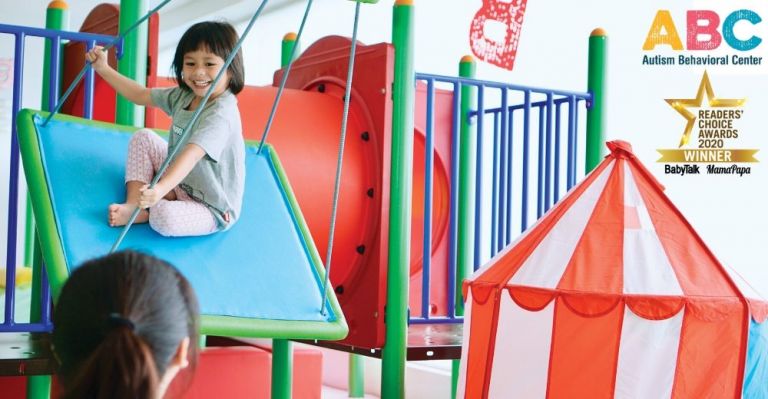 Early intervention offers the best outcomes for a child with special needs. The earlier the child starts, the better it is for their future development. When their needs are met well, through evidence-based intervention, they will have a better chance of thriving.
The primary goal of early intervention is to bridge the gap of skills so that children with developmental delays will be able to assimilate into mainstream schools and society independently and successfully. Below are some of the common milestones achieved in the first 2 years of life:
Ability to point at objects
Verbal communication is present. Able to communicate common wants and favourite items using 1-3 word phrases
Responds to name when called
Able to take and follow simple and common instructions around the home consistently
Able to play appropriately with familiar toys
Intervention hopes to change a child's diagnosis; from severe to mild autism or from mild autism to no longer meeting criteria of the autism diagnosis. The evidence today indicates higher success rates of intervention when:
A child receives early intervention (before the age of 3)
Intensive evidence-based intervention is provided (30-42 hours a week of ABA)
Parents participate in training and follow through at home
A Beacon of Hope
Parents with children with delays in development can seek early intervention from ABC (Autism Behavioral Center). Strategically located in Jalan Maarof, Bangsar, ABC is the largest ABA 1:1 (Applied Behavior Analysis) Center in the country. It boasts of 40 individual therapy rooms and a highly conducive environment for teaching as well as learning, implementing the teaching protocols and procedures of PaTTAN (Pennsylvania Training and Technical Assistance Network) technology.
ABC is a firm believer that evidence-based intervention is crucial for children with autism and developmental delays and thus, practices the science of ABA, which is the gold standard in early intervention.
As a centre that is open for children with difficulties such as autism, speech delays, ADHD (attention deficit hyperactivity disorder), GDD (global developmental delay), social challenges and disruptive behaviour, ABC abides by international standards of intervention and is supervised by Ms. Dita Chapman, a Board Certified Behavior Analyst (BCBA), who has over 15 years of experience in the field.
On top of providing international standards of intervention, ABC is also currently the sole training provider for Malaysia Airports and Sunway Malls, in their effort to be an inclusive environment for families and children with needs. It is no surprise, that ABC is by far, at the top of its class and has garnered the BabyTalk Readers' Choice Awards 2020 for the Best Early Intervention Programme.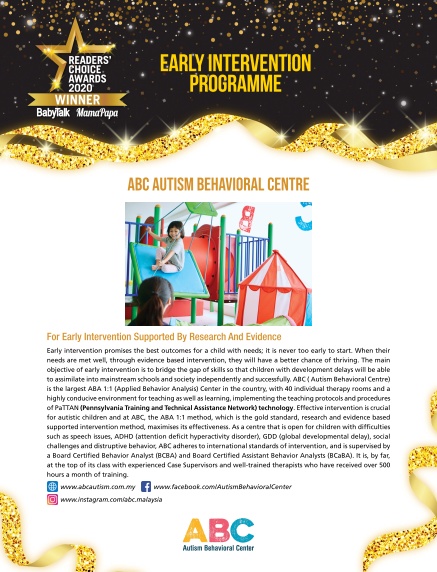 ABC supports families from all over the world. In fact, half of their current clients are expatriates while the other half are local. Parents can be assured that their child is in good hands at ABC.
For more information, visit their website at www.abcautism.com.my, www.facebook.com/AutismBehavioralCenter (Facebook) and www.instagram.com/abc.malaysia (Instagram).