When Comfort Meets Style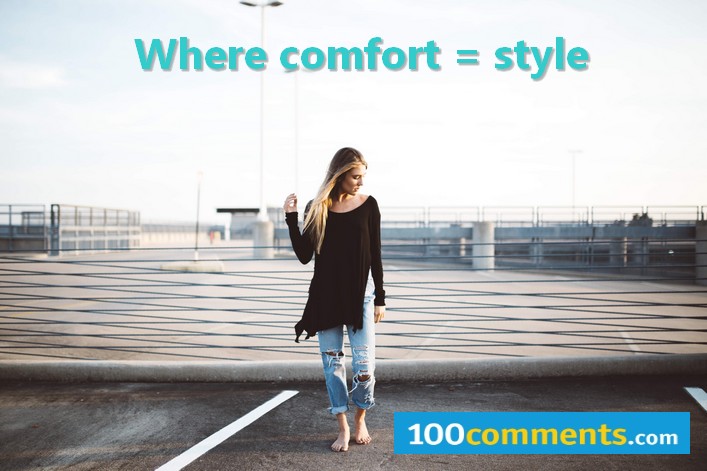 When Comfort Meets Style
Who says being comfortable means looking frumpy? Not us! We all know that heels are not as comfortable as what the lady below is demonstrating!

Being the good and kind people that we are, we'd like to give your feet a break. So, before you venture for a nice day out this weekend, here are some tips for head to toe — with style.
Glowing Skin
Looking naturally beautiful is effortless with CC creams. With Palmers Color Correcting CC Cream, you'll get sun protection, moisturised skin, a concealer and reduces the appearance of visible pores. It's great as a makeup base as well.
Lustrous Locks
The secret to looking like a million bucks is a great hair day. With Loreal's Mythic Oil, you can look like a million bucks every day. Enriched with argan oil and rice bran, your hair will be instantly smooth, shiny and easy to comb. It rapidly dissolves into hair to deeply nourish hair & provide lightweight control.
Say goodbye to frizzy unruly hair and hello to sleek luscious locks!
Soft Hands
Tisserand Lavender Blend Hand & Nail Cream not only makes your hands softer, it smells delicious too!
It combines several nourishing pure essential oils, including: balancing refreshing Geranium, rejuvenating floral Orange Blossom and soothing soft Rose.
Deep hydration is guaranteed with skin-conditioning Jojoba, vitamin-rich Kukui Nut oil and soothing Chamomile extract for dry skin.
Pretty Feet
Want to walk in utter comfort without sacrificing style? You may want to consider the Scholl Italian Bioprint® collection. It keeps the foot in the correct position, thanks to its ergonomically designed footbed with toe crest and shaped heel cup. This helps to stabilise the heel and maintain a natural foot posture for superior comfort and the well-being of your feet at all times. But hurry, it's only available for a limited time.
And… tada!
Now you are ready to go out there and get 'em, Tiger!