Combat Hair Problem With Reformulated Follow Me Green Tea Shampoo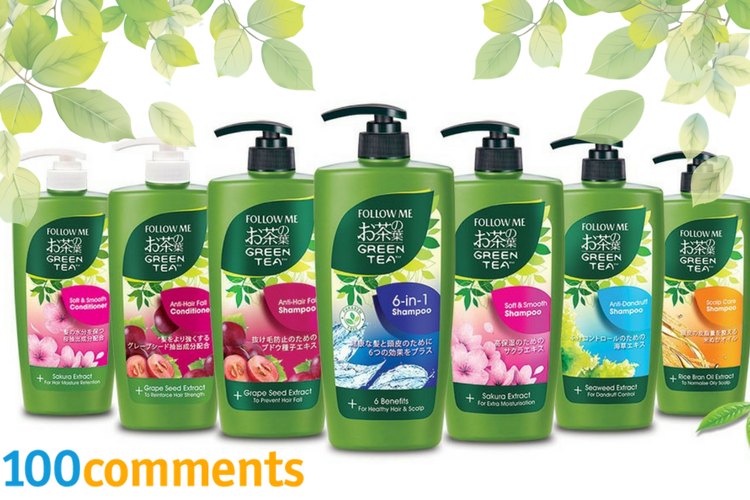 Consumers' demand for natural ingredients-based products is increasing especially for beauty products. They are looking forward to a natural shampoo that works wonders on their hair and economical too. Following the high demand for a natural shampoo, Follow Me; one of the largest homegrown brands in Malaysia recently launched its reformulated Green Tea Shampoo in a brand new outlook which truly stands out from the clutter.
Available in five variants, the latest Follow Me Gree Tea Shampoo is loaded with the excellent quality of various natural elements. Formulated with Green Tea and natural plant extracts, this renewed formulation will combat everyday haircare problems and helps strengthen hair from the roots and leaves hair feeling healthier and more manageable. In addition to the relaunch, the brand also introduced two conditioner variants, namely Anti-Hair Fall and Soft and Smooth conditioner, made with the goodness of Sakura extract and Grape Seed extract.
The essential ingredient
The Green Tea Shampoo is rich in Vitamin C and E to provide complete protection for the hair follicles while at the same time giving you the silkiest hair ever. The property of Polyphenol, a natural compound found in the Green Tea extract helps keep the scalp healthy. Moreover, the combination of various plant extracts together with the adequate antioxidants found in the Green Tea extract protect the hair from free radicals to further strengthen hair roots, promote hair growth and prevent hair thinning.
The hot and humid weather in Malaysia could aggravate and potentially trigger a series of hair issues and can cause breeding of bacteria that subsequently leads to dandruff and hair fall. "Follow Me discovered that the ultimate step to hair care starts from the roots and the new reformulated Green Tea Shampoo, infused with natural plant extracts is the best solution for different hair and scalp conditions," said Jessky Hah, Product Manager of Follow Me.
Reformulated Green Tea Shampoo
The latest Follow Me Green Tea Shampoo includes the 6-in-1, Anti-Dandruff, Scalp Care, Soft & Smooth, as well as Anti-Hair Fall. All of these shampoos promote healthy hair and scalp. Discover the perfect Follow Me Green Tea Shampoo for your hair:
Follow Me Green Tea 6-in-1 Shampoo
Specially designed with Green Tea extract that offers 6 different hair scalp solutions in just 1 bottle. This shampoo helps deodorise scalp, scalp itchiness, reduce dandruff, prevent hair fall, and smoothen hair. Its tingling action leaves the scalp feeling clean and refreshed. Suitable for individuals with combination hair issues.
Follow Me Green Tea Anti-Dandruff Shampoo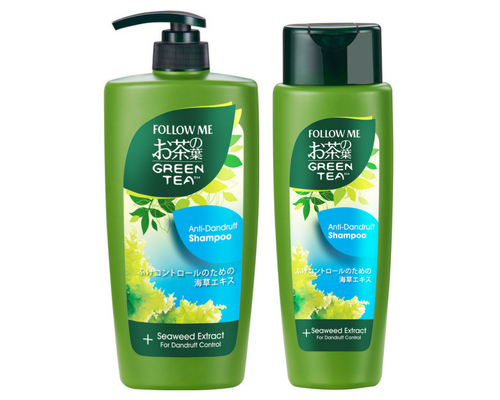 Infused with both Green Tea and Seaweed extract, it is suitable for individuals with dandruff and itchy scalp issue. The property of antioxidant in the Green Tea extract helps protect hair from free radicals while the Seaweed extract formulated alongside Pro-Tec complex helps to remove loose dandruff flakes, eliminate excessive dead cells on the scalp and reduce scalp itchiness.
Follow Me Green Tea Scalp Care Shampoo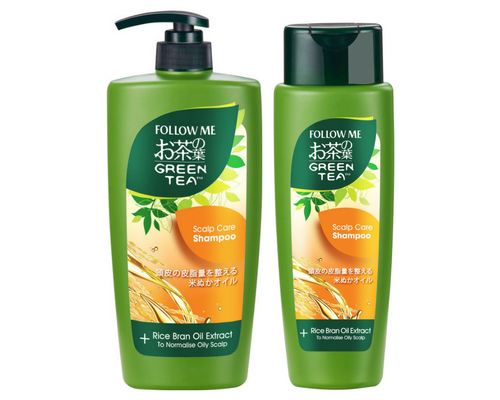 A combination formula of Green Tea and Rice Bran Oil extract helps protect hair from sun damage, normalizes oily scalp, locks in shine and strengthens hair roots for a healthy and more manageable hair. Best for individuals with oily scalp and frequently expose under the sun.
Follow Me Green Tea Soft & Smooth Shampoo + Follow Me Green Tea Soft &Smooth Conditioner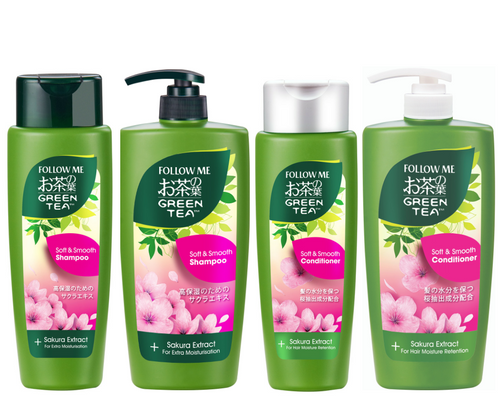 The Sakura extract helps moisturize and hydrate your scalp, keeping your hair silky smooth, shiny and revitalized. Use together with the Soft & Smooth conditioner to obtain the maximum moisturizing effect. Suitable for those who have frizzy, dry hair with split ends.
Follow Me Green Tea Anti-Hair Fall Shampoo +Follow Me Green Tea Anti-Hair Fall Conditioner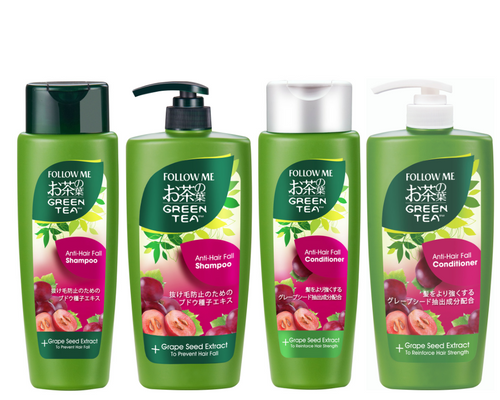 This unique formulation of Grape Seed extract helps reduce hair fall, strengthen and promote hair growth. It works well if you use with the Anti-Hair Fall Conditioner as it further strengthens each strand of hair, leaving a smooth and shiny hair.
These newly upgraded Follow Me Shampoo and hair conditioner retail at RM10.90 and RM18.90 respectively. These haircare ranges are available at all leading hypermarkets, supermarkets and selective pharmacy stores.