CHRISTMAS FUN FACTORY AT SUNWAY MALLS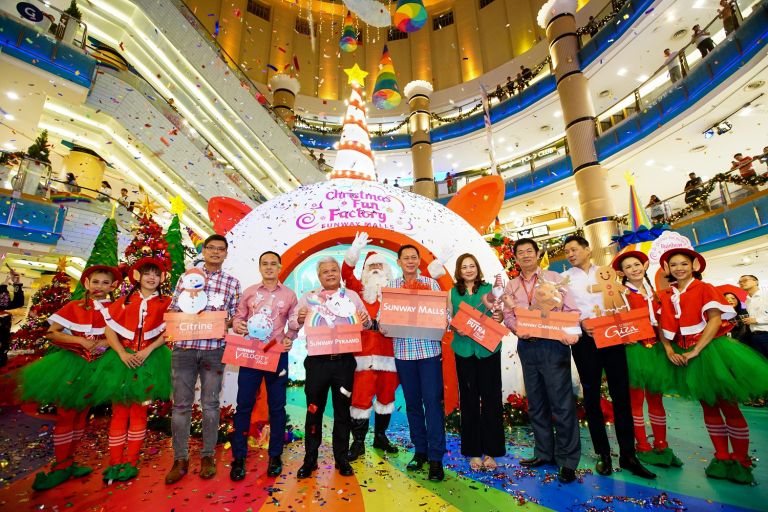 In the spirit of delivering fun, hope and happiness to all, Sunway Malls unveiled its very own Christmas Fun Factory concept, a magical place where fun and experiences are produced through various factory outputs such as colourful rainbows, sweet candy, wooden gnomes, Christmas stockings and reindeer, gingerbread men and more in celebration of the festive season!
The festive celebration began with a jolly, upbeat dance by colourful elves and an appearance by Santa Claus. To mark the official launch, HC Chan, CEO of Sunway Malls & Theme Parks; Kevin Tan, COO of Sunway Malls; Danny Lee, General Manager of Sunway Malls HR and General Manager of Sunway Velocity Mall; Phang Sau Lian, General Manager of Sunway Putra Mall; Chow Heng Wah, General Manager of Sunway Carnival Mall; Albert Cheok, Centre Manager of Sunway Giza and Allan Tay, Assistant General Manager of Sunway Citrine Hub officially launched the campaign with a display of their respective Christmas elements which signifies the distinctive factory outputs at each mall.
To usher in the season of giving and receiving across all malls, Sunway Malls was represented by a Christmas gift, while Sunway Pyramid's 'Jolly Rainbow Christmas Fun Factory' concept was represented by a unicorn and a rainbow, signifying fresh beginnings and happiness. Sunway Velocity Mall's 'A Sweet Escapade Christmas' was represented by a snowman with candy to signify a sweet festive celebration. For Sunway Putra, a wooden gnome was symbolic of their 'Woods of Wonder' décor and a reindeer signified the warmth of Sunway Carnival Mall's 'Season of Joy celebration'. As for Sunway Giza and Sunway Citrine Hub, a gingerbread man and a sparkling snowflake were representative of both malls.
"This year, the Christmas Fun Factory concept is symbolic of our vision as Sunway Malls' to continually create fun, unique and lasting experiences in the hearts of our shoppers through a wide variety of entertainment, leisure and retail experiences that cannot be found elsewhere," said HC Chan, Chief Executive Officer of Sunway Malls & Theme Parks.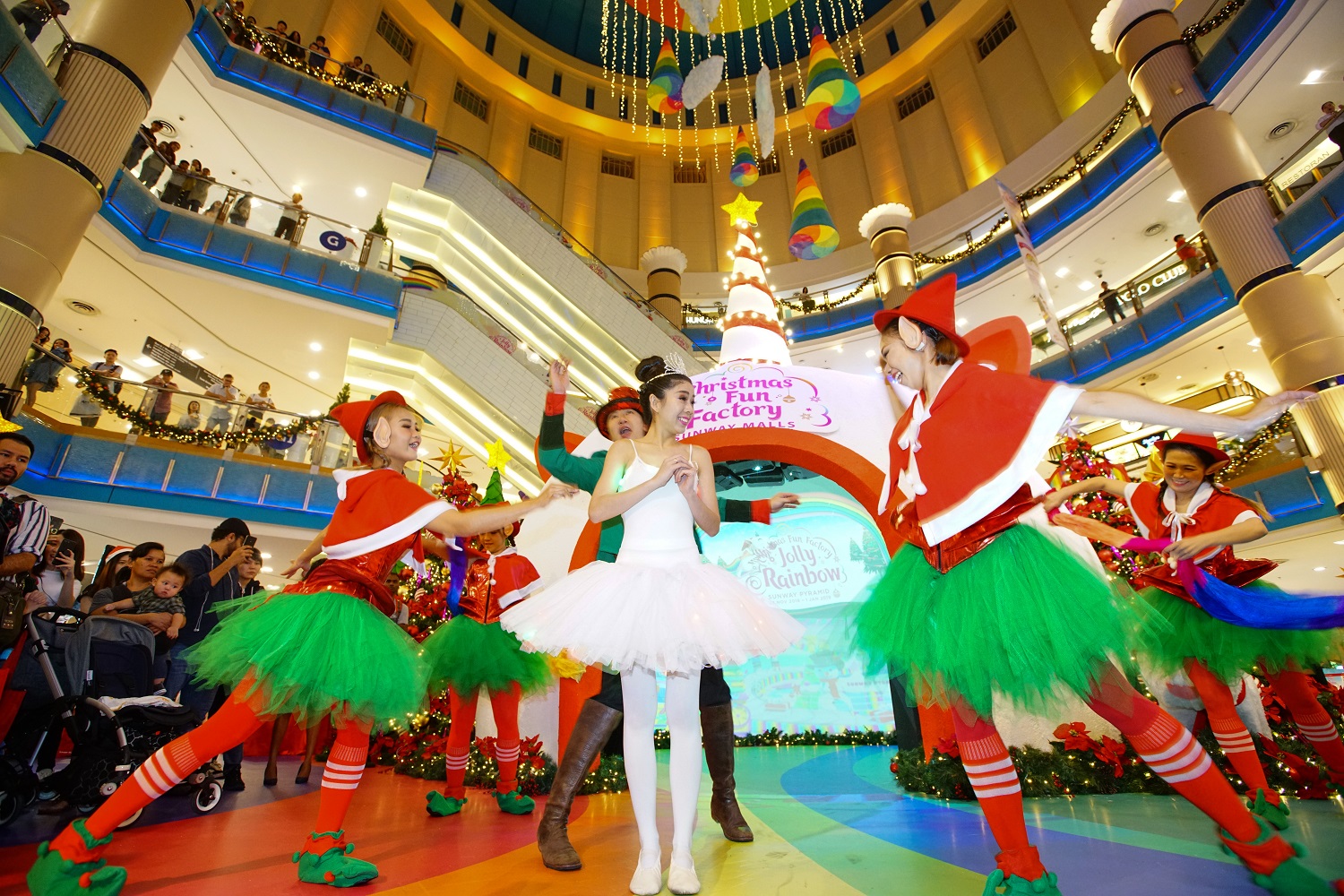 Fun Experiences produced at the Christmas Fun Factory
At Sunway Pyramid, experience heaps of jolly fun manifested through the Jolly Rainbow Christmas Fun Factory from 23 November 2018 till 1 January 2019 at the LG2 Blue Concourse. Themed Jolly Rainbow which signifies fresh beginnings and hope, get ready to embark on a fun, colourful and interactive Christmas journey as you enter the concourse.
First, experience Unicorns Alive! Where shoppers can colour in the Christmas unicorn and characters, enter the dome and watch their characters come alive on the walls! Next, make your way to the Rainbow Slide and slide down to create a colourful rainbow on the interactive rainbow slide! Show off your best insta-pose at the Rainbow Memory Lane photobooth, where you can dress up and accessorise with Christmas and unicorn props for your very own Christmas photo print.
Shoppers can redeem Rainbow Rewards when they have fun in the concourse and complete activities. By completing two concourse activities, shoppers will be rewarded with a colourful Christmas badge, all redeemable at the Rainbow Booth. Those who complete all the activities will be in the running to win attractive weekly prizes worth up to RM12,000 in total, including a Sony PlayStation 4 worth RM1,349!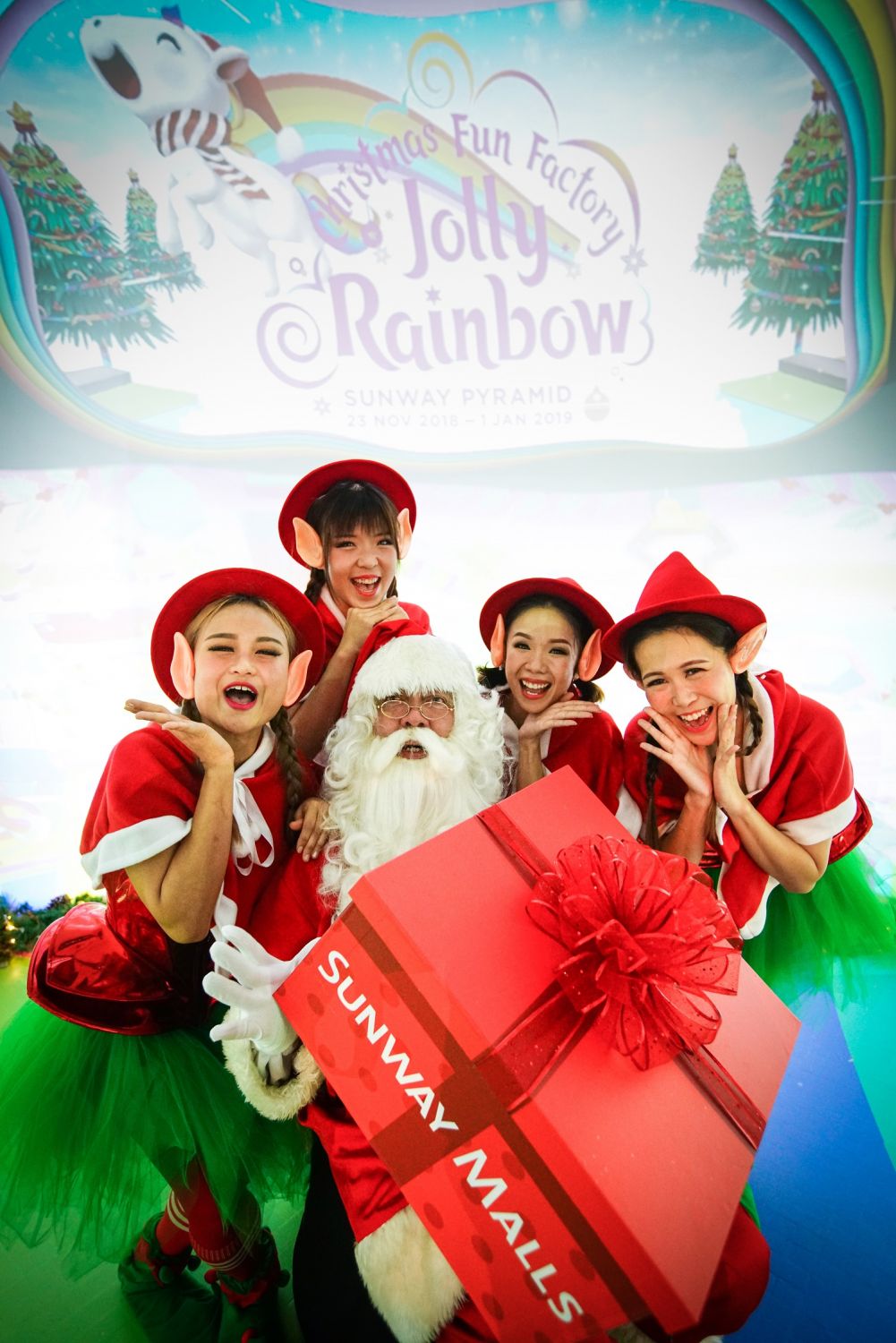 Shoppers will also be rewarded when they spend, dine and shop with their families in the mall this festive season. Upon spending RM800 (RM700 for HSBC Credit Cardholders), shoppers can redeem a Jolly Rainbow Light to light up their homes or offices.
At Sunway Velocity Mall, come enjoy a sugary Christmas in conjunction with the mall's 'A Sweet Escapade Christmas 2018' from 23 November 2018 to 1 January 2019. Over this 40-day period, the mall's Ground Floor Main Atrium will feature a truly vibrant set-up of large-sized desserts, treat-related structures and a yummy-licious 40-foot tree.
Adding further fanfare, a whole mix of Christmas-related entertainment has been lined up including special carolling sessions, dances and even performances by Yamaha. There will also be a wide variety of arts and craft workshops for VeloKiddie members (free membership). Santa Claus will also be visiting the mall and giving out free sweet treats.
Make sure to also catch a ride on the 'Train of Hope' and do your bit for a good cause, where a percentage of proceeds collected from all rides sold (RM5 for normal purchases and RM3 for VeloKiddie members) will be donated to the Persatuan Kanak Kanak Istimewa Hulu Langat. The children will then be treated to a day out at Sunway Velocity Mall on 16 December where they will also be joined by the Miss Tourism International 2018 contestants.
Shoppers will also be rewarded through three different redemption tiers, comprising of a minimum spend of RM200 and above in a maximum of 3 receipts (RM150 for HSBC Credit Cardholders) to redeem an RM20 F&B cash voucher (Tier 1), RM600 and above in a maximum of 4 receipts (RM500 for HSBC Credit Cardholders) for an ice cream tumbler with 3 designs (pink, blue and purple) to be collected (Tier 2) and RM1,500 and above in a maximum of 5 receipts (RM1,400 for HSBC Credit Cardholders) to redeem a 20" Universal Traveller luggage bag (Tier 3).
In case the freebies don't suffice, there will also be a special Spend & Win 2018 Contest. To enter, shoppers simply have to spend a minimum of RM100 in 2 receipts or less, fill in the official form together with relevant receipt(s) and submit at our Ground Floor Concierge. Among the plethora of prizes to be won include an all-inclusive trip to Paris courtesy of Lancaster and Cosas United, an all-inclusive trip to Japan by ITSU, living room make-over from Harvey Norman, kitchen make-over by Home's Harmony and Jewellery worth RM21,000 thanks to Lazo Diamond.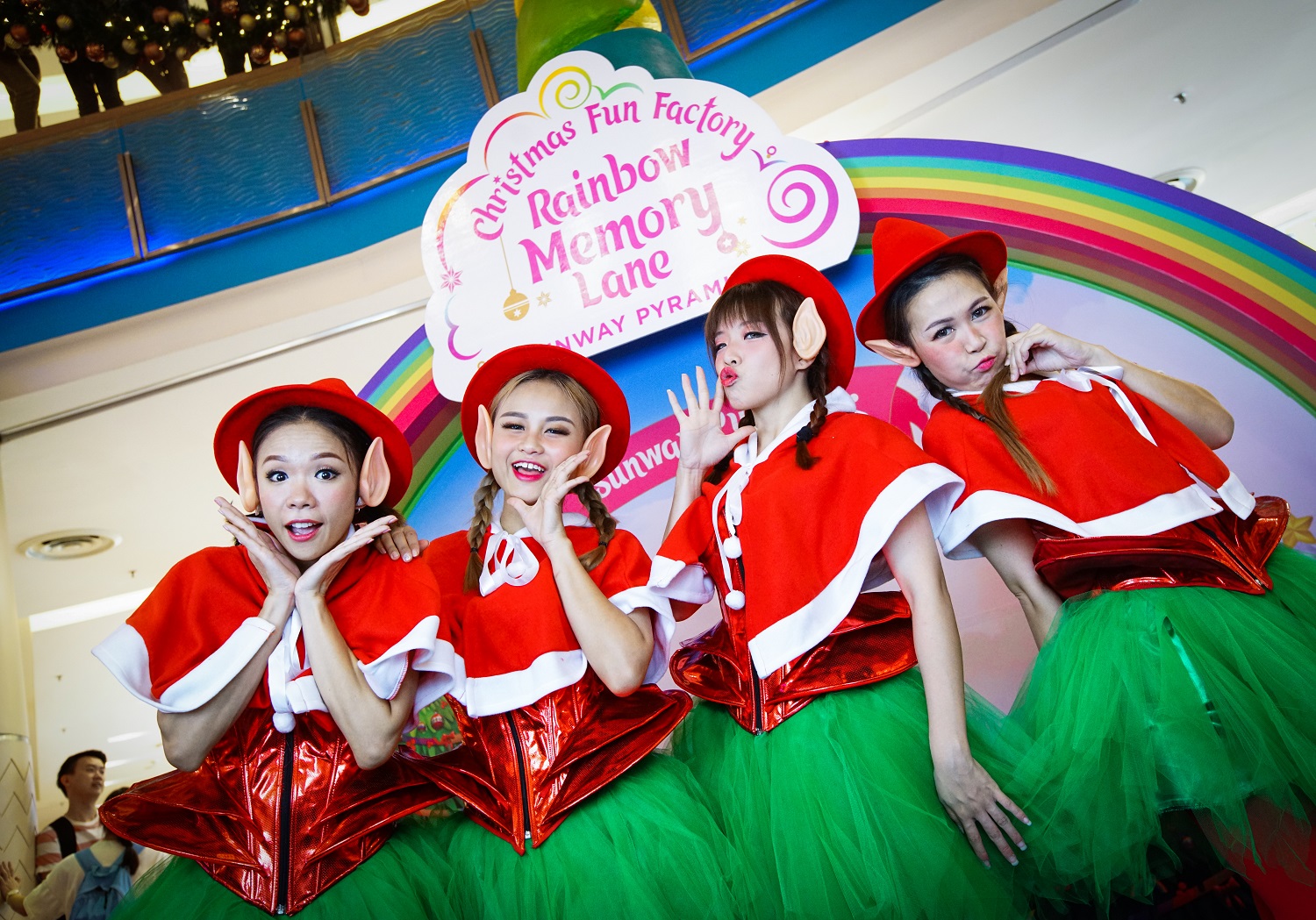 The gnomes are taking over Sunway Putra Mall this Christmas to bring you "In The Woods For Wonder"!  Explore the secret gnomes' village buried deep in the magical forest, bustling away creating Christmas Trees from 23 November 2018 to 1 January 2019. Walk through and be mesmerized by the elaborate Christmas tree homes featuring The Rooms of Wonder that tests our senses of sight, sound and smell!
Discover the wonders of the gnomes' village as you visit the Sight Room; that emanates a magical glow everywhere you turn; guess the unexpected waft of scent that stirs your emotions in the Scent Room; and play with the wind chimes, all decked out in the Sound Room, producing your own soft music to sooth your soul!
To add on to the experience, bring your kids to meet adorable fluffy animals and rare species at the Petting Zoo where they can play, feed and pet animals such as Rabbits, Guinea Pigs and other exotic animals.
Children can also take part in the Joyful Workshop happening every weekend where they get to bake, decorate and even craft their own desserts!
To top it all, weather forecast reports there will be snow at Sunway Putra Mall and you will want to be there! Join in as the snow brings the magic of winter- without the chill to the mall. "It's Snow Time" happens every weekend at 5pm from 24 November till 25 December 2018.
To sweeten the shopping experience, redemptions are in store for all shoppers. From 23 November 2018 to 1 January 2019, shoppers can redeem a Wooden Serving Set or personalize their very own Terrarium when they spend RM400 (RM300 for HSBC Cardholders) in 3 receipts.
Get your Christmas stocking ready at Sunway Carnival Mall's Christmas Fun Factory Season of Joy celebration from 23rd November 2018 until 1st January 2019 at the Upper Ground Concourse, transformed into a Christmas stocking factory to deliver a fun-filled and memorable holiday season for all!
To further enhance the festive mood, the mall will have snowfall sessions that will last for 15 minutes on weekends at 2pm and 8pm starting from 8 December onwards until Christmas Day. Sponsored by Huawei, the "snow" experience will definitely bring joy to everyone this holiday season. Apart from that, there will be a ball pit for kids to pounce and throw the balls around while exploring the sense of touch and sight. What's more, Santa is taking time out of his busy schedule to meet the kids at scheduled times in the mall. So, bring your kids along to meet Santa Claus and don't forget to get some sugary treats from him!
Adding to the festive mood, there will be a Star Light Redemption for shoppers who spend RM400 (RM300 for HSBC Credit Card Holders) in two receipts.
Over at Sunway Giza, don't miss the Christmas and gingerbread man themed weekend bazaar from 23 November 2018 till 1 January 2019 which features a variety of food, toys, accessories, children's fashion and more.
Sunway Giza is proud to be home to over 40 F&B shops including Ichiban Boshi, Tealive, Llao Llao and Family Mart where shoppers can dine with their loved ones.
At Sunway Citrine Hub, join the DreamWorks KouKou characters for a fun time these school holidays from 7 till 25 December 2018! Children can create their very own masterpiece dishes without worrying about sharp knives or hot fire at the KouKou Kitchen. Shoppers can also take home instant memories at the interactive photo booth where you can snap a photo with KouKou characters!
Stay tuned to each Sunway Malls' Facebook pages for updates on Christmas activities, promotions, events and much more!
All of us at Sunway Malls would like to wish you a very Merry Christmas and Happy New Year!
Sunway Malls is gearing to be amongst Malaysia's largest mall owner-operator as existing projects and those in the pipeline now stand at 7.7 million sqft NLA and that figure is planned to be increased to 10.2 million sqft NLA by 2020.
The malls are:-
Sunway Pyramid, Bandar Sunway
Sunway Velocity Mall, Cheras, Kuala Lumpur
Sunway Big Box Village, Johor Bahru (opening 2019)
Sunway Putra Mall, Kuala Lumpur
Sunway Carnival Mall, Penang
Sunway Citrine Hub, Johor Bahru
Sunway Giza, Kota Damansara