Bunny's Day Out at 1 Mont Kiara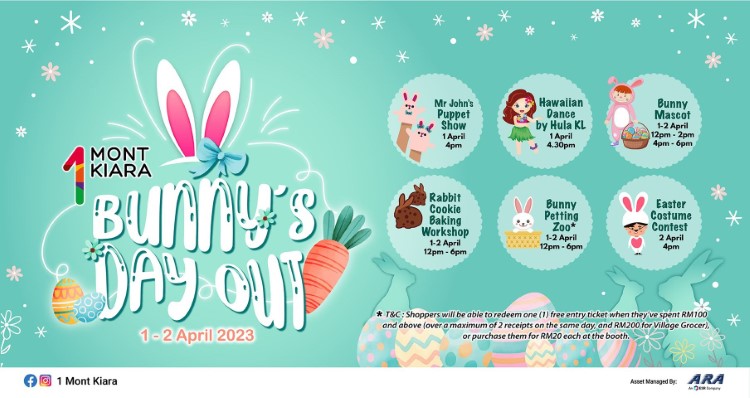 Hop on to 1 Mont Kiara for a fun-filled Easter weekend!
It's going to be an eggs-traordinary Easter at 1 Mont Kiara's Bunny's Day Out on 1-2 April 2023! Shoppers will be in for an amazing weekend packed with enjoyable activities suitable for the whole family to enjoy from a puppet show, cookie baking workshop, an adorable bunny petting zoo, and a Hawaiian dance performance. Our cute bunny mascot will also be making its rounds during the weekend.
Young fashionistas should not miss out on the fantastic 1 Mont Kiara Easter Costume Contest, where they can win exciting prizes! Parents can join in the fun by dressing up their kids in their best Easter-themed costumes. Participants can register at https://forms.gle/ZESU9mb4LbMN3Qys5.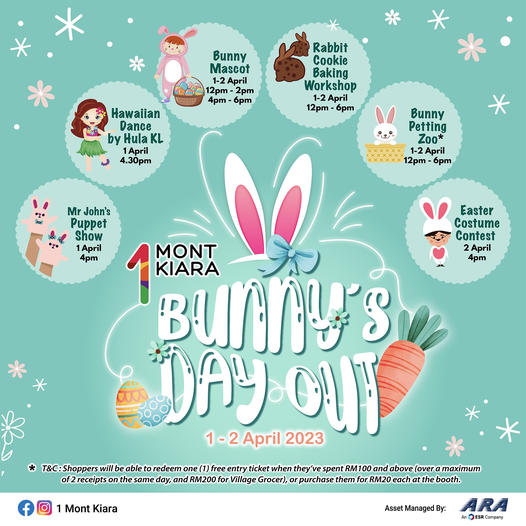 Event listing:
1 April 2023
4:00PM Mr John's Puppet Show
4:30PM Hawaiian Dance by Hula KL
1-2 April 2023
12:00PM – 2:00PM, 4:00PM – 6:00PM Bunny Mascot
12:00PM – 6:00PM:
Rabbit Cookie Baking Workshop
Bunny Petting Zoo
2 Apr 2023
4:00PM Easter Costume Contest