Best Dishwashing Liquids of 2020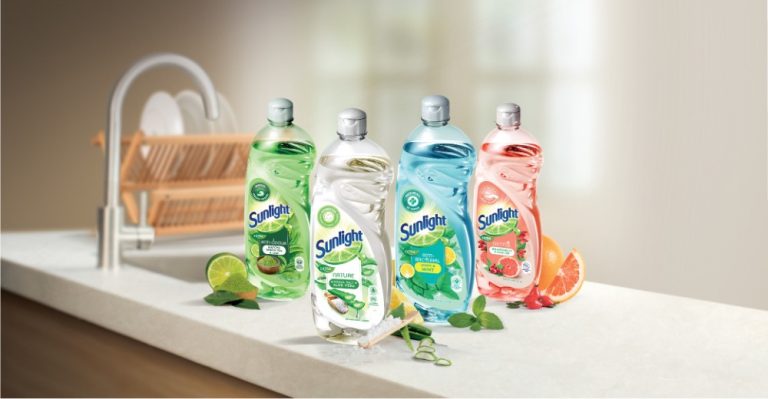 Let's be honest, not many of us like washing dishes. The faster we can complete this chore, the better. Thus, it is important to choose the best dishwashing liquids with the right formulas to make your job more efficient. Here are the best dishwashing liquids to get your hands on in 2020.
Sunlight Nature Dishwashing Liquid
For Baby Bottles
When it comes to cleaning baby bottles, one should not take any risks. Thanks to Sunlight Nature Dishwashing Liquid, you no longer need a separate dishwashing liquid for your baby bottles and utensils to keep them from any harmful chemicals! Sunlight Nature contains no dyes, parabens and phosphates, making it ultimately safe for your children. Also, you can use it to wash fruits and vegetables before consuming or cooking them. Sunlight Nature is tough on grease stains, effectively removing grease and odours from everything it cleans. Enjoy the wonderful aroma and degreasing properties of Sunlight Extra made from Natural Salts & Aloe Vera.
Only a little squirt is sufficient to do a clean job – saving you time, energy, and expenses! Experience the wonders in your daily dishwashing with the multi-functional Sunlight Natural – cleaning kitchen dishes and baby bottles are no longer a tedious tasks!
Sunlight Gentle
Gentle on Hands, Tough on Grease
Sunlight Gentle is specially formulated with grapefruit and essential rose hip oil, and is also dermatologically tested with a hypoallergenic formula that is suitable for sensitive skin. Not only does this combination help our hands retain moisture, it is also easy on delicate skin and effective in combating stubborn grease.
Sunshine Gentle is packed in 100% recycled plastic bottles. Most importantly, its formulation from natural ingredients help ensure that the skin won't be stripped after every wash. The pleasant fragrance will make washing dishes a delightful experience.
Sunlight Anti-Bacterial Dishwashing Liquid
Wash Dishes with The Anti-Bacterial Advantage
Did you know that bacteria could still be present yet remain invisible on your sponge? Germs could endanger your family if you do not wash your plates and cutleries properly. Sunlight Anti-Bacterial Dishwashing Liquid is formulated to eliminate bacteria growth.
It contains anti-bacterial agent to kill up to 99% of germs on your plates and also the sponge. Coupled with natural ingredients like Lemon and Mint, the formulation efficiently cleans tough grease stains from your dishes and keeps them sparkling and shiny, free from residue. This dishwashing detergent is affordable, and highly effective. You can clean a sponge by lathering it with a few drops of dishwashing liquid mixed with water.
Use this dishwashing liquid regularly for sparkling clean dishes while keeping your sponge and loved ones safe from harmful germs and bacteria.
Sunlight Anti-Odor
For Stubborn Smells
Sunlight Anti-Odor helps to eliminate stubborn smells from your kitchen ware and utensils. Made with Matcha Green Tea and Lime, it is effective in removing odours from all food preparations and dishes that are left overnight.
Matcha tea is known to be a natural odour buster and is a great helper in making your kitchen smell fresh. Lime is great in weakening the sticky nature of grease stains, making them easier to remove. The odour-busting power of Sunlight Anti-Odour is bolstered by the combination of green tea and zesty lime scent.
This is a great way to keep bad smells at bay as well as make your plates and cutleries smell great again.
Sunlight Nature has recently won several BabyTalk Readers' Choice Awards 2020 for the following categories: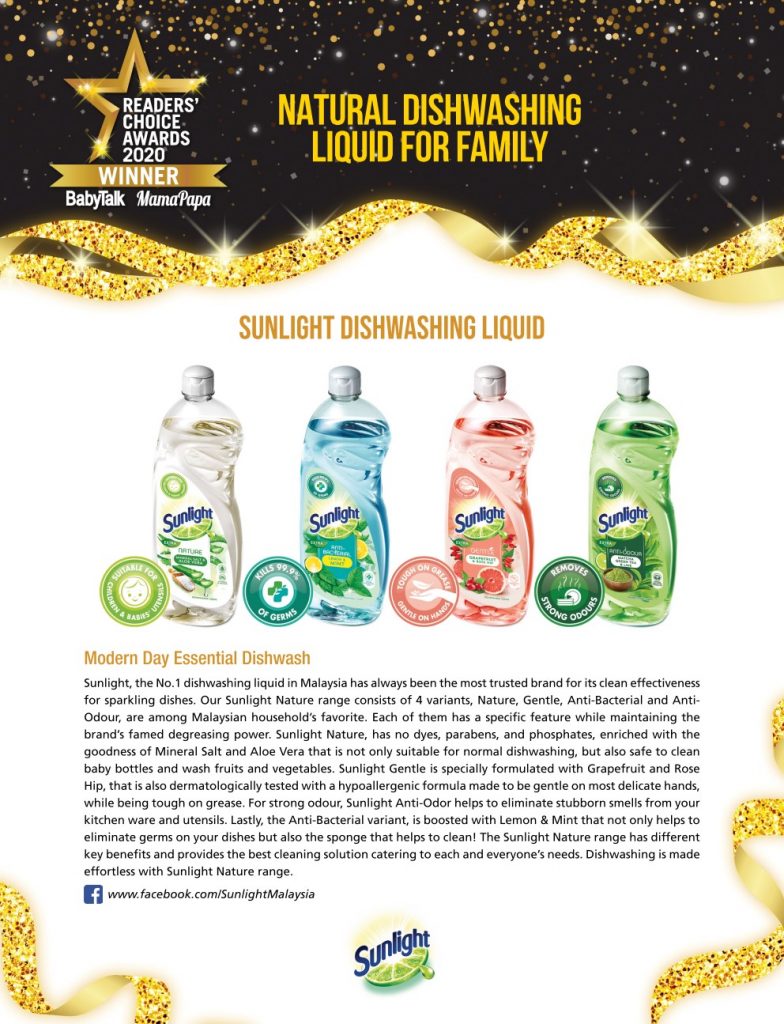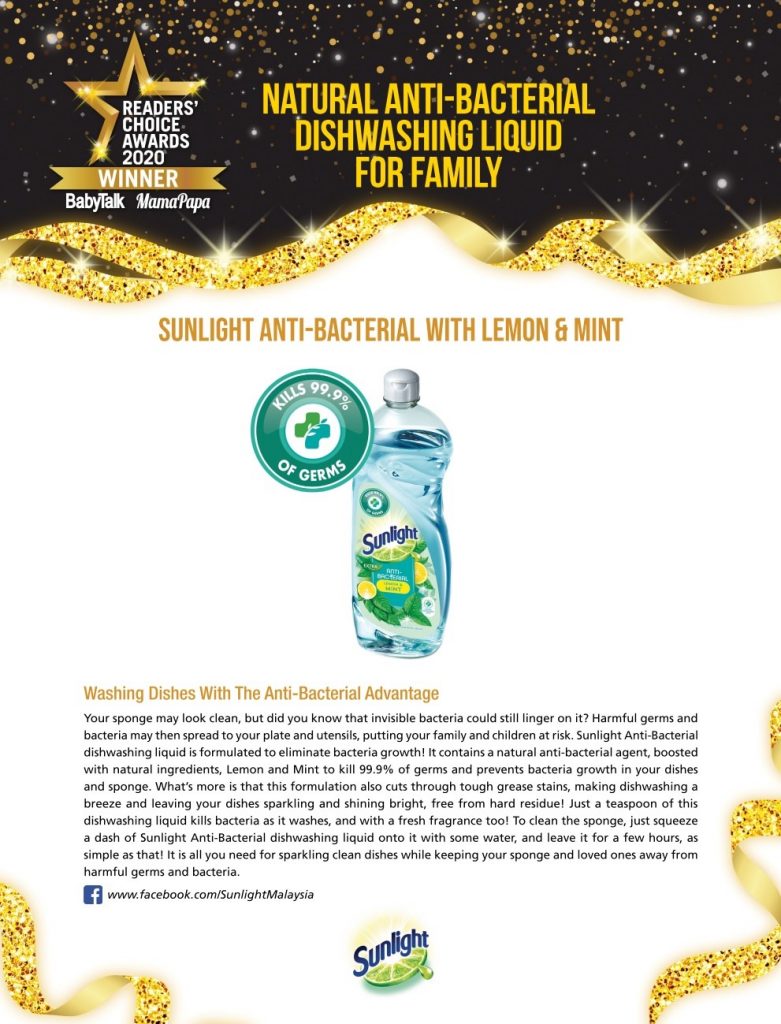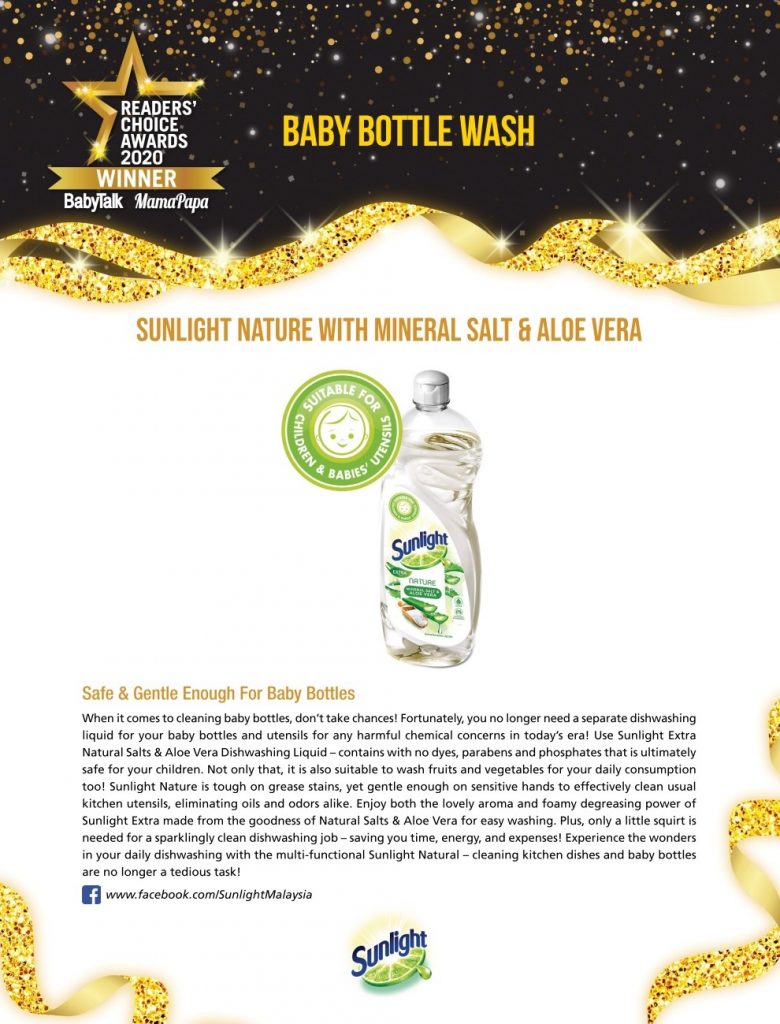 Indeed, Sunlight, the No.1 dishwashing liquid in Malaysia has always been the most trusted brand for its clean effectiveness for sparkling dishes. Its Nature range has no dyes, parabens, and phosphates, offering different key benefits and provides the best cleaning solution catering to each and everyone's needs. Get the complete Sunlight range today!