AMBOI AMBROSIA – NEW ZEALAND LUV'YA AMBROSIA APPLES TAKE ON A UNIQUE MALAYSIAN TWIST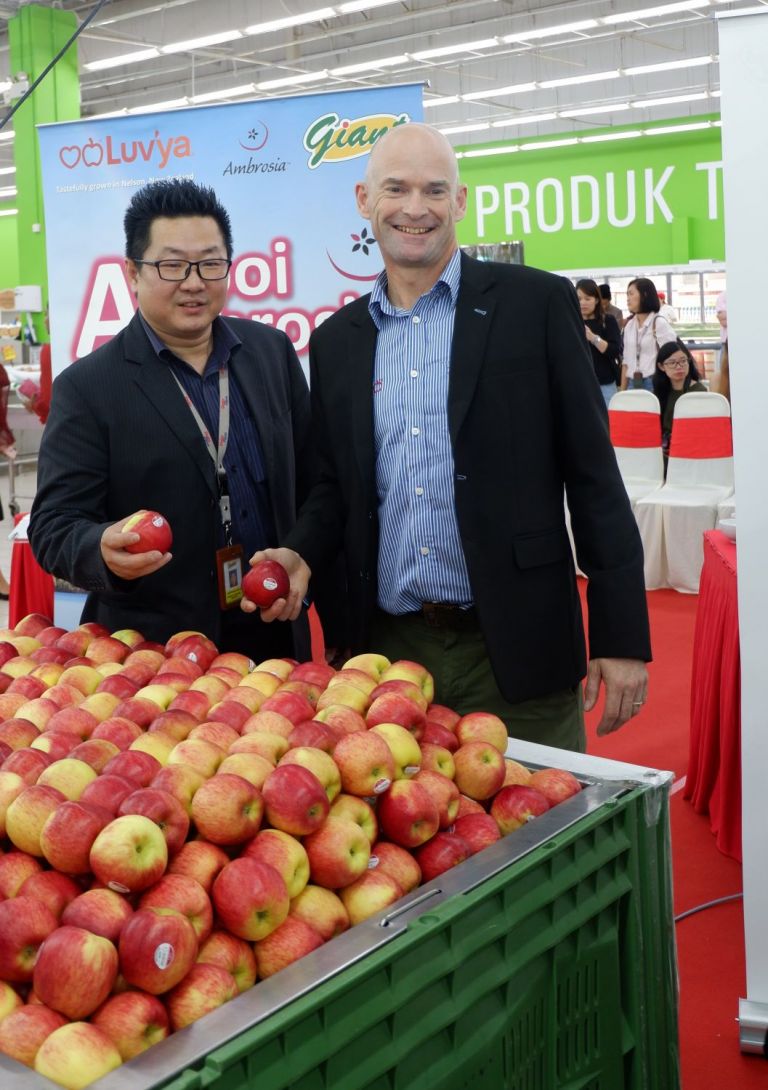 14 June, Kuala Lumpur – International flavours are combining with classic Malaysian dishes in a celebration of all things bold and delicious in conjunction with the latest season of the Heartland Group's signature Ambrosia Apples.
This Raya festive season, Heartland Group is putting a uniquely Malaysian twist on their much-loved apples with their 'Amboi Ambrosia" campaign. The campaign invites consumers to broaden their culinary horizons by showcasing the many interesting and delicious ways that Ambrosia Apples can be incorporated into classic Malaysian dishes
Commenting on the campaign, Brendon Osborn, General Manger of Heartland Fruit said, "We are excited to kick-off Amboi Ambrosia together with our partners from GCH Retail Malaysia. Malaysia is one of our biggest markets and we believe we can bring even more great flavour to our customers here by showcasing the many dynamic ways that our luscious Ambrosia Apples can be integrated to give favourite local dishes that extra zing!"
To launch Amboi Ambrosia in true Malaysian fashion, iconic and world-renowned Malaysian culinary master, Chef Wan was on hand to showcase three mouth-watering traditional Malaysian dishes with an AmbrosiaTM twist.
Showcasing the versatility of the fruit, Chef Wan prepared three exquisite dishes inspired by Malaysia's treasured culinary history Ambrosia Grilled Calamari Salad, Tom Yum Pumpkin Soup with Ambrosia Apples, Ambrosia Apple Chutney, all enhanced with the flavoursome tastes of Ambrosia Apples.
Speaking about using the apples in his dishes, Chef Wan said, "I've always enjoyed the succulent taste of Ambrosia Apples and I was excited at this opportunity to try my hand at infusing some of our nation's signature dishes with these scrumptious apples. I am glad to say that it worked a treat! The dishes turned out amazingly and were further heightened by the apples. It certainly got me saying – Amboi!"
Discovered in British Columbia, Canada and now cultivated in New Zealand, Ambrosia apples are renowned for its sweet honeyed flavour, fine crisp texture and juicy tender flesh. It can be recognised by its trademark smooth skin with its bright iridescent pink blush tone and pleasing aroma.
"The divine Ambrosia Apples are the results of the magical work of bees as they go by in spring pollinating apple blooms and therefore it is a natural cross of two unknown varieties. We like to think of them as a gift from the heavens, as the word "Ambrosia" itself means 'food & drinks of the Gods' in Greek," Brendon said.
These delectable apples are grown in the idyllic New Zealand's South Island city of Nelson, along the eastern shores of Tasman Bay. Nelson has been the centre for apple growing in New Zealand since 1913 with over 40% of all New Zealand apples being grown in the area.
"Nelson is truly the perfect place for growing the finest, juiciest and most flavoursome apples. It has a beautiful climate that is perpetually bathed in sunshine – over 2,000 hours of sunshine to be precise. This combined with the mild rainfall and low night time temperatures, thanks to the brisk sea breeze, creates the ideal environment for fresh, delicious, beautiful and healthy apples," Brendon added.
Ambrosia Apples are the product of Heartland Group's patented method, ApplecraftTM that guides the management of every step of an apple's life through rigorous integrated quality processes. This is at the core of the company's ability to deliver some of the world's best apples to customers, every time.
The Heartland Group made up of passionate pomologists (apple growers) based in Nelson, New Zealand. Together they produce a range of apples called Luv'ya™ apples through their unique vertically integrated structure that includes their own orchards, pack houses and marketing company allowing the company to have full control over every part of the apple's journey.
The other apples in the Luv'ya range include old favourites such as Royal Gala, Fuji and Braeburn. They also grow proprietary varieties such as the sweet, tart and popular Pink Lady™, sweet and tangy bright red Eve™, and the juicy and firm Smitten™ amongst other varieties.
Ambrosia Apples and the other delicious apples in the Luv'ya™ range can be found at GCH Retail Malaysia outlets including Giant Hypermarkets, Cold Storage and Jason's Food Hall as well as other major retailers.