AcePremier.com Launches eCommerce Playbook Featuring 15 Homegrown eCommerce Entrepreneurs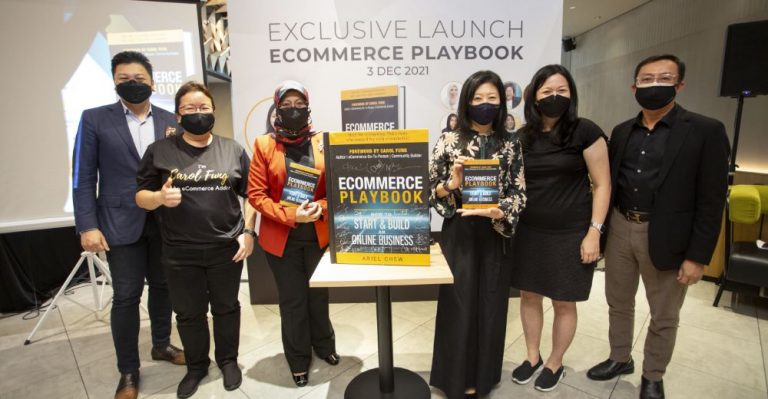 Local publisher AcePremier.com, on 3 December 2021, launched their latest book, eCommerce Playbook – How to Start & Build an Online Business, at Luna Luna, Setia City Mall, Shah Alam. Gracing the event were Datuk Hafsah Hashim, former Chief Executive Officer, SME Corp. Malaysia; Dato' Ng Wan Peng, former Chief Operating Officer, Malaysia Digital Economy Corporation (MDEC); as well as close to 70 attendees that mainly comprise eCommerce industry players.
Written by seasoned business writer, Ariel Chew, and endorsed by Carol Fung, a prominent eCommerce community builder and Senior Manager | Enabler Engagement, Malaysia Digital Economy Corporation (MDEC), eCommerce Playbook features the success stories of 15 eCommerce business owners who give an insider's perspective of what truly makes a well-run eCommerce business that thrives. The businesses include JOCOM.my, Shashinki.com, Kait Lifestyle, Craftiviti and Econat Resources, to name a few.
The launch of the eCommerce Playbook comes at a time when the pandemic has shattered the careers and businesses of many Malaysians, who are now seeking a viable source of income that they can start with minimal capital even from their homes. 
"Starting an eCommerce venture now makes a lot of sense especially with the unprecedented boom in this sector caused by the pandemic," said Chew. "Hence John Lim, the founder of AcePremier.com, Fung and I collaborated to publish a book to inspire and guide Malaysians to establish their eCommerce startups amid these unprecedented, pandemic-ridden times."
Fung stated, "Indeed, the eCommerce Playbook is a passion project initiated by a team of individuals who believe that anyone can be a successful entrepreneur, regardless of who they are and where they come from. This book also serves as a playbook exploring the various options available to those wanting to start their own eCommerce business."
Chew added, "Readers will learn from those who have started with minimal capital and learned how to do nearly everything right through trial and error. Each one offers unique perspectives and tips that will fan the flames of any ambition for your online business, whether you're just starting out or already an established businessperson."
Leong Wei Yein, the founder of Craftiviti, a one-stop centre for DIY personal care materials and therapeutic crafts, said, "I am honoured to be one of the eCommerce entrepreneurs featured in the book. There is no better time to launch an eCommerce business than now. Though there is a lot to learn and plenty of hard work involved, the rewards make it worth the while. We shared the painful lessons learned in our entrepreneurial journey in the book so that you don't have to make the same mistakes."
From cameras, coffee beans to charcoal-based tooth polish, grocery shopping platform and shoes and more, these home-grown success stories will surely inspire readers.
The book can be purchased online at Shopee at a retail price of RM35. Readers are encouraged to take advantage of the current 12-12 Shopee sale where the book retails at RM30.80.