5 Reasons Why Nutritional Yeast Is Good For You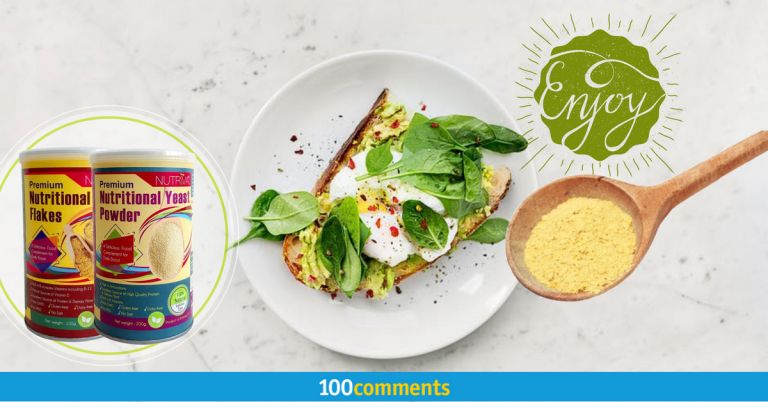 There are so many benefits to nutritional yeast that we barely know where to start. Here are the top five benefits that will help you see why it is vital to add this nutritional powerhouse as part of your daily diet.
NUTRIVA Nutritional Yeast
from
videoz4u
on
Vimeo
.
1. Dairy-free Cheese Substitute
If you are vegan or trying to incorporate more plant-based options in your daily meals, you may be lamenting the fact that you'll have to say goodbye to cheese.
However, all hope is not lost. Nutritional yeast emits a savoury flavour that when combined with cashew in a simple recipe, it will result in something called vegan cheese. While it is not a 100% equivalent to dairy cheese, vegan cheese enthusiasts have claimed it to be quite close to the real thing. So you can still have your cheese, albeit vegan, without the guilt!
Here's a vegan cheese recipe you can try at home:
2. Rich in B-12
Most people with vitamin B12 deficiency are unaware of their state because the symptoms can take a long time to appear and may be mistaken for a folate deficiency as the lack of B12 lowers folate levels. B12 deficiency symptoms include fatigue, blurred vision, pale skin, mobility issues, mood changes and mouth ulcers.
B12 is an essential nutrient found naturally only in animal products such as meat, poultry and dairy products. As such, vegans and vegetarians are at risk of B12 deficiency. The elderly and those taking long-term antacid drugs for heartburn also face the same risk.
Taking just 10 grams of nutritional yeast will give you the recommended daily dose of vitamin B12 plus a host of other vitamins and minerals like vitamins B6, D, thiamin, riboflavin, pantothenic acid, folic acid, niacin and zinc to keep you hale and hearty.
3. Adds umami to your dishes
To some folks, nutritional yeast smells and even looks like fish food. But once you realise how it can transform your dishes, you'll want it as your must-have pantry staple. This umami-rich flavour enhancer can be added to any dish that is meant to be savoury and creamy. From salad dressing, French toast batter, creamy mushroom soups and even curry laksa, nutritional yeast will make them taste so rich and tangy.
Other ideas include sprinkling nutritional yeast on your roasted vegetables, popcorn and fries. The possibilities are endless!
4. Good source of fibre
Nutritional yeast is low in calories, which is excellent news to those watching their weight. Plus, it is practically filled with fibre. Double thumbs up! Just two tablespoons (21 grams) of nutritional yeast can supply about 5 grams of dietary fibre. This is about 20% of the daily recommended intake. So if you are worried about your fibre intake, this is a great way to supplement your daily dose!
5. A healthy appetiser for picky eaters
Want to make your kids and even pets who are fussy finish their food? Try sprinkling nutritional yeast on their menu to make it appealing.
Relieved parents have reported that picky eaters in their household can be encouraged to lick their platter clean without realising that the nutritional yeast was causing their dishes to taste oh, so good!
NUTRIVA Premium Nutritional Yeast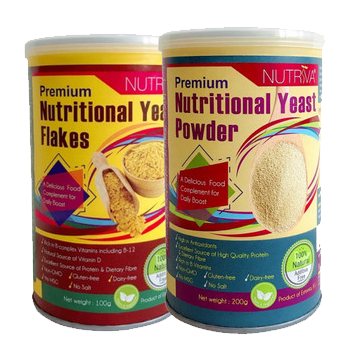 NUTRIVA Premium Nutritional Yeast Flakes and NUTRIVA Premium Nutritional Yeast Powder are the best food supplements for your daily needs.
Nutritional yeast is derived from a specially selected strain of Saccharomyces cerevisiae and deactivated by heat and roller dried to obtain powders or flakes. It is a popular vegetarian / vegan ingredient that adds a tangy, tasty flavour to a variety of dishes. Nutritional yeasts are naturally rich in proteins and dietary fibres and contain a large number of vitamins and minerals.
The Engevita ® GSH in both the flakes and powder form naturally contains a high amount of glutathione (2.5-3.0 per cent), a material with significant antioxidant properties. It is also rich in B-vitamins, high-quality proteins and dietary fibres.
Click to read glowing reviews of NUTRIVA Premium Nutritional Yeast Flakes and NUTRIVA Premium Nutritional Yeast Powder. For more info, go to www.nutriva2u.com.