The 10 Best Toys to Make Sure Your Little One is Entertained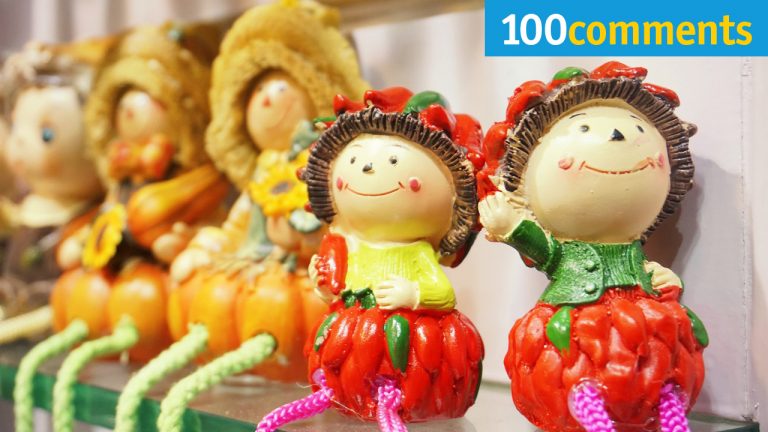 Finding the right toys for a young baby can be a bit of a challenge. Newborn babies prefer simple and bright toys that can catch their attention, while those who're closer to six months old may prefer something a little more interactive so that their minds can be stimulated.
Once they're around a year old, most babies should be starting to move around a bit more, so parents might like toys which can keep them occupied or help them master their new motor skills. And as they get older, your child will become interested in more elaborate and stimulating toys that can harness their imagination and learning abilities.
Whether you're looking for an appropriate gift for a newborn baby or a toy to keep a toddler happy, here are a list of the top ten best toys to make sure that your little one is entertained.
Percy Pup Activity Spiral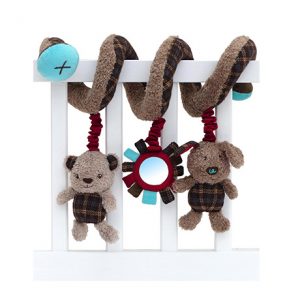 A toy suitable for newborns, the Percy Pup Activity Spiral easily wraps around car seats, strollers, playmats and cribs, allowing you to bring it wherever you need. With its jingles, rattles, mirrors and crinkles, this soft, multi-textured toy is bound to engage and delight your baby.
Click here to find out more about the Percy Pup Activity Spiral.
Munchkin Safety Bath Ducky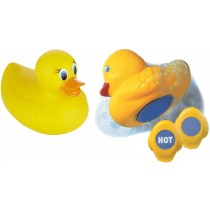 Munchkin, Inc. develops clever, innovative products that excite and delight parents, children and even pets. The company was founded in 1991 on the premise that it could anticipate and serve parents' needs by developing uncomplicated baby products that make parenting, and life in general easier and more enjoyable. The products produced by Munchkin is guaranteed to be safe for your small children and of very high quality.
The Munchkin Safety Bath Ducky is no different. This product is A Bath Ducky with a safety indicator on the bottom – if the water gets too hot for your baby, the safety disc changes color to warn you about the danger. It's the perfect toy to keep young babies occupied while they're enjoying their bath.
Click here to find out more about the Munchkin Safety Bath Ducky.
Playgro Fairy Gym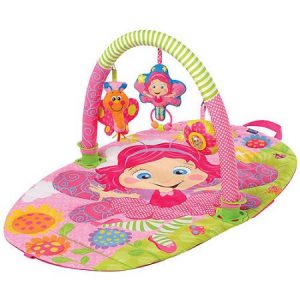 (Video from: https://www.youtube.com/watch?v=5uz6Rb4Y4qo)
The perfect toy for your young baby, the Playgro Gym comes in both Fairy and Dino versions. They include cute detachable character toys that is perfect for playtime on-the-go. With bright colours and crinkle textures, this gym is designed to stimulate all five senses with detachable toys, crinkle fabrics for auditory & tactile stimulation and even a detachable arm for easy storage. The mat can also be folded up with a carry on handle for fun on the go!
Click here to find out more about the Playgro Fairy Gym.
LEAPFROG Shapes & Sharing Picnic Basket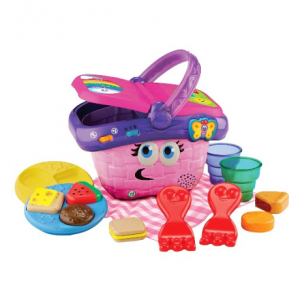 A great gift for children aged 6 months and above, the Leapfrog Shapes and Sharing Picnic Basket consists of a 14 piece talking picnic set designed to help kids explore concepts like shapes, colors, manners and more. The bright and cheerful picnic basket is programmed with more than 30 audio responses to encourage children as they play while also serving as the perfect storage container for all the shapes and pieces. In addition, the Leapfrog Shapes and Sharing Picnic Basket helps to develop the child's motor skills as they sort, match, stack, empty, and fill.
Click here to find out more about the Leapfrog Shapes and Sharing Picnic Basket.
Fisher-Price Laugh & Learn Learning Phone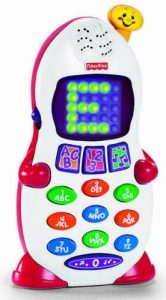 (Video from: https://www.youtube.com/watch?v=SvKOfwIbEr8)
A great toy for children between 6 to 36 months old, the Fisher-Price Laugh & Learn Learning Phone combines early academics and everyday experiences to encourage kids to learn about alphabet, numbers, colors, shapes, words, opposites, actions, textures, and manners.
The phone contains 12 cell phone tunes, fun sounds and light shows to delight and entertain your baby using rich music, sing-along songs, and lots of activities. The Fisher-Price Laugh & Learn Learning Phone is part of the Laugh & Learn Collection for young children.
For more information about the Fisher-Price Laugh & Learn Learning Phone, click here.
O'ball Rattle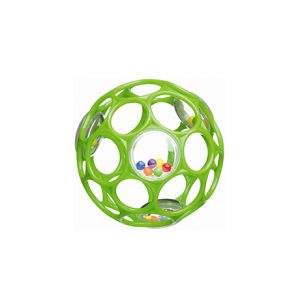 Shake it and it rattles with its built-in rattles. It is just as easy to clutch and roll as the original Oball. Babies will be fascinated by its bright colors and fun rattling beads as they explore its springy surfaces. Oball rollie rattles get the fun rolling. These clever toys are designed to be easy for even the littlest hands to grasp. The clear rattle ball rolls and rattles when baby pushes it across the floor. And these colorful, charming characters add a little something extra. Styles may vary. Assortment of 2, sold separately.
Click here to find out more about the O'ball Rattle.
Edu-Color Blocks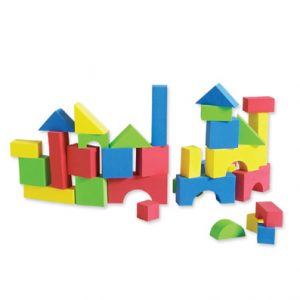 Established in 1983, Edushape Ltd., is a leading manufacturer of Educational toys and games for toddlers to second graders. During 1999, Edushape entered into a new phase of developing unique and exciting new products for infants and toddlers under the age of 3 years. As always, these products have been carefully developed, manufactured and selected by a team of professional educators and marketers.
Edushape's products are pleasant to touch, colourful, colour-fast, non-toxic and eye-catching. Over the years, Edushape remains committed to producing high quality toys. Their toys and games meet all international safety requirements (CE, ASTM standards) mandatory for toys. Edushape is continually looking for and selecting toys that offer the greatest opportunity for creative play and learning.
These soft blocks are made of super high density kid-safe foam with precise edges for easy building and stacking. They are safe, durable and even float and stick together when wet.
Click here to find out more about Edu-Color Blocks.
Hape Toys Pancakes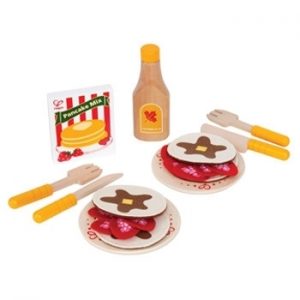 Becoming a parent is easy, but parenting on the other hand is definitely a great challenge. Finding the right instruments to nurture a child in a fun manner does not come with ease. As parents, of course you want the best of the best for your precious one. So now Hape proudly introduces you the Hape Pancakes, a playing tool ideal for kids ages 3 years old and above.
Made of wood, water based paint and felt, your child can have his or her own little breakfast club with his or her friends, be it real or imaginary. Allow your child to dive into their own realm of fun and imagination of delicious pancakes, maple syrup and sliced strawberries!
Not only is the Hape Pancakes fun for your little one, it helps increase their social skills by promoting communication, cooperation, and collaboration; encourages trust, friendship, and language development. In other words, your child will enhance their interpersonal and interactive abilities. It also nurtures their mind to be imaginative and creative through imitative and imaginary play as well as promoting fantasy, role playing, and storytelling.
Click here to find out more about Hape Toys Pancakes.
Playgro High Chair Spinning Toys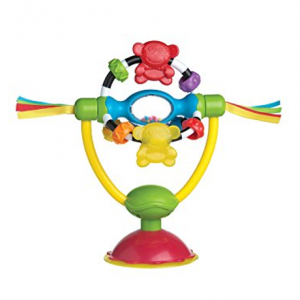 Ideal for young babies, the Playgro High Chair Spinning Toy offers two fantastic toys in one! The suction base easily attaches to any surface, great for entertaining baby whilst dining in or out. The detachable rattle is the ideal shape for baby to spin and swing encouraging gross motor skills, while the click-clack beads and silky ribbons can be used for fine motor skill development.
Click here to find out more about the Playgro High Chair Spinning Toy.
Nuby Chewbies Silicone Teether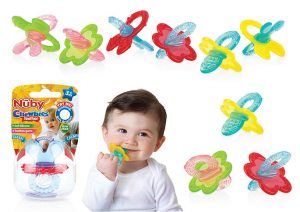 The Nuby Chewbies Silicone Teether is ideal for teething babies. The unique textured design provides comfort to baby's delicate gums while the 100% soft silicone helps to clean and massage baby's gums. This toy is designed to provide stimulus to your baby's lips and tongue to promote the transition from nursing to chewing. In addition, it comes in a variety of colors: you can choose from Pink with Green, Blue with Red, or Blue with Yellow.
Click here to find out more about the Nuby Chewbies Silicone Teether.