10 Best Pressure & Multifunction Cookers That Can Cook Amazing Meals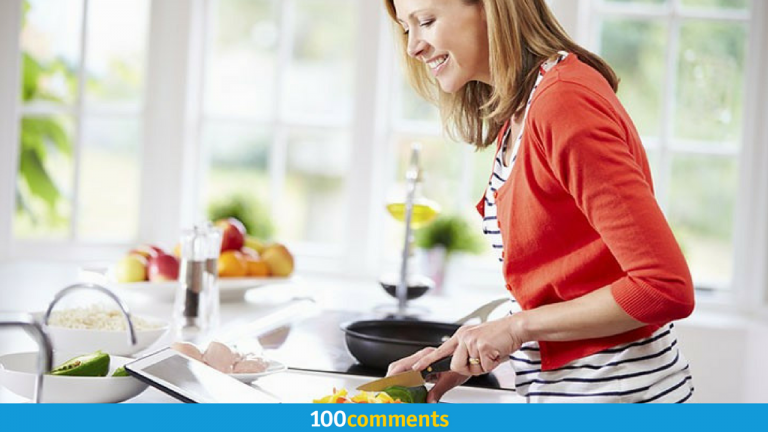 Pressure cookers and multifunction cookers are also known as the do-it-all machine can cut hours off the cooking time. These kitchen equipment are energy efficient and can save your money. Not only this equipment let you adjust cooking duration based on your needs, they are self-regulated, to ensure that food is never overcooked.
Pressure cooker and multicooker are a great investment and you won't regret it. From healthy soup to braised meats, vegetables like squash, potatoes, artichokes, healthy cooking couldn't be easier and the results will blow your mind! Keep reading to discover 10 best pressure cooker and multifunction cooker that are perfect for you.
1. Philips All-in-One Pressure Cooker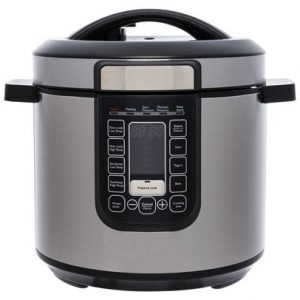 The Philips New Generation All-in-One Pressure Cooker offers a fully customisable cooking experience that gives you the option to slow cook or pressure cook using just one appliance. Other fantastic functions include saute, bake, reheat and warm up, giving you the ability to prepare a huge variety of meals using just one pot. Its pressure cook function comes with various menu buttons for cooking and steaming a variety of dishes ranging from soup, risotto and rice to meat and poultry and making cakes. It allows you to cook eight times faster saving time and energy in the kitchen. Just dump in all your ingredients into the pot and let it cook your meal to perfection. Read reviews about Philips All-in-One Pressure Cooker here.
2. Midea Pressure Cooker MY-12LS605A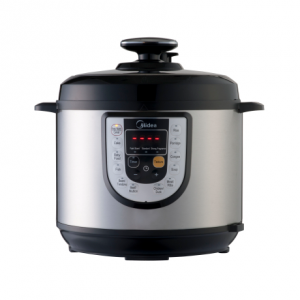 Pressure cooking is not an ideal way of cooking for a lot of kitchen lovers due to the fact that it needs more dedication. Midea pressure cooker will save you from that dilemma. Some cooking utensils with the same purpose come with difficult features that users can hate. This Midea pressure cooker brings nothing, but easy and fast cooking. It comes with multi-functional with 11 menu presents. The screen shows the pressure indicator to inform you the pressure level. Easy to use and to clean. For more reviews click here.
3. Elba Pressure Cooker EPC-6000SS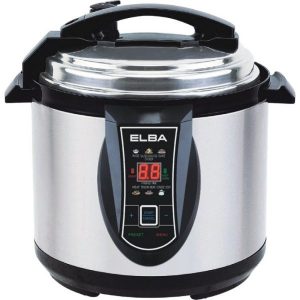 Applying microcomputer auto control technology, the ELBA Pressure Cooker EPC-6000SS has several amazing functions. It presents automatic cooking temperature, pressure and time settings that vary according to the different kinds of food cooked in it. Cooking food at the right temperature and duration will enhance flavours and retain nutrition. The ELBA Pressure Cooker EPC-6000SS is capable of cooking rice, congee, soup and braised food. With its thermal efficiency, this cooker can save up to 60% electricity and up to 40% cooking time. When the appliance reaches the maximum temperature, the circuit will be cut off for safer and reliable use. Click here for more reviews.
4. Milux MPC-1000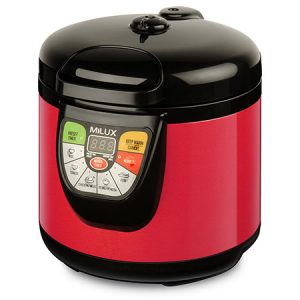 This pressure cooker comes with digital control panel with LED display. Besides, it has eight safety protection and five present functions which are rice, congee, chicken/meat, bean/tendon, fish and manual cook. Comes with 9 hours present timer with 99 minutes cooking time. The lid cover can be detachable. save energy and time up to 30-60%. Try new recipes with this Milux Pressure Cooker now. Have you tried this product before? Share your reviews here.
5. Noxxa Electric Multifunction Pressure Cooker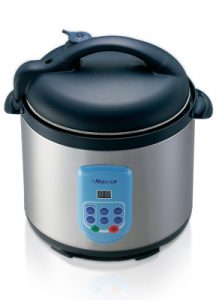 A great help in the kitchen, prepare quick, convenient, nutritious meals with the Noxxa Electric Multifunction Pressure Cooker. This multifunction cooker comes with high and low-pressure cooking, slow-cooking, steam, stir-fry, keep warm and reheat. The large pot capacity lets you cook for the big size portion. Want to start cooking once you reach home from work? Noxxa Electric Multifunction Pressure Cooker has delay timer up to 8 hours. Save time using the pressure cooking functions, enabling you to prepare homecooked, fuss-free nutritious meals quickly.CLick here for more reviews.
6. Philips Avance Collection 6L Electric Pressure Cooker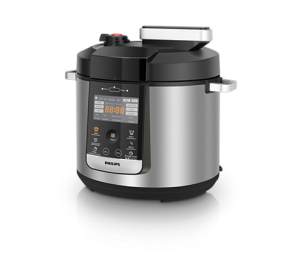 The Philips Avance Collection 6L Electric Pressure Cooker is the perfect addition to your kitchen for meals that are absolutely bursting with vitamins and flavour. It comes with present timer for 24 hours. It lets you keep rice warm and fresh for up to 12 hours. A great addition to your kitchen as it is safe to use. The child lock enhances safe operation that can lock the control panel by pressing down the 'child lock' button for three seconds. No need to release the pressure manually. Auto pressure release function for shorter period that is controlled by micro-chip as the pressure regulator valve is automatically turned on to release the pressure right after cooking. Click here for more reviews.
7. Tefal Minut'cook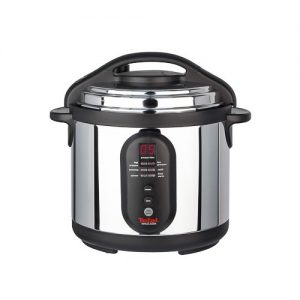 Under pressure to get dinner on the table in 15 minutes? Tefal Minut'cook with automatic programs lets you cook all types of dishes quickly. This pressure cooker is extremely easy to use. Just put all your ingredients in the pot, select the cooking mode, set the timer then lock the lid! No need to keep your eye on it. You can go and enjoy the company of your friends and family or continue doing other housechores while waiting for your meals. It will keep your meal warm until it's time to eat. Read more reaviews here.
8. Cuckoo Multi Cooker Black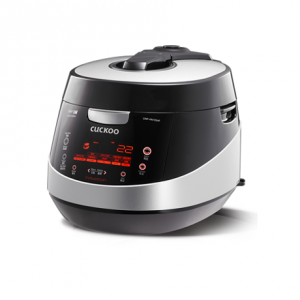 You can't say no to this cute yet stylist Cuckoo Multicooker! This product comes with various functions such as rice, mixed rice, quick cook, sushi rice, porridge, soup, cake, roast, steam, fry, stew, and bake. Induction heating technology heats food with radio frequency electricity emitted from the induction heating zone underneath the pot. The entire pot acts as the heating element so that food is cooked more evenly. This innovative feature is capable of heating food up to 20% quicker. The inner pot is coated with CUCKOO's proprietary SK-FLON coating, which keeps food from being contaminated by harmful substances like aluminium and prevents rice from sticking onto the walls of the pot. Click here to read reviews.
9. Milux Digital Multi Cooker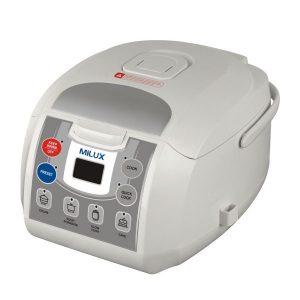 Smart and modern rice cooker with 6 pre-set menu. This is not a normal rice cooker, it is a multifunction cooker where you can cook any dishes. It comes with various accessories and digital panel for multi-cooking method. The special designed pot and inner lid will gives a better rice texture. Featuring 5L working capacity where you can cook rice or any dishes up to 4-6 serving. Make your cooking process easier with the assistance of 24 hours preset timer. You can put in ingredients into the cooker in advance and enjoy tasty and warm food with less hassle anytime you want. You can cook, quick cook, steam, soup/porridge, slow cook and bake cake too. Leave or read review here.
10. Khind MC50D Multi-Cooker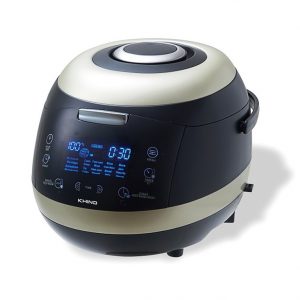 Multiple menus, easy to use. KHIND Multi Cooker comes with ceramic coated inner pot to let you cook without any hassle. The stylish design with innovative scren is really stylish and modern. With 5L capacity, you can cook anything for your family and friends. Comes with soup scoop, rice ladle, measuring cup, steam tray, fry basket & yogurt tray. KHIND Multi Cooker not only cooks perfectly-fluffy rice but also a diverse range of dishes such as porridge, soup, bean, jam, yoghurt, jelly, cake and bread. It is easier than ever for you to cook anything. It has a touch sensor control panel with a digital display. Love this product? Leave review here.