10 Best Cat Vitamins & Supplements for Optimal Feline Health In Malaysia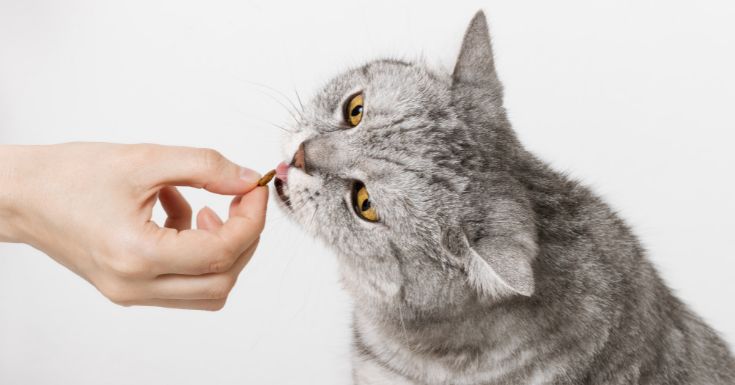 In our busy hectic life, our feline companions give us immense joy, especially when they thrive in the comfort of our homes. As devoted pet parents, we constantly seek ways to enhance their well-being and ensure they lead a life brimming with vitality. Just like us, cats require a balanced diet and additional nutritional support to maintain optimal health. In this article, we delve into the 10 best cat vitamins and supplements available in Malaysia, meticulously selected to bolster your cat's health and happiness.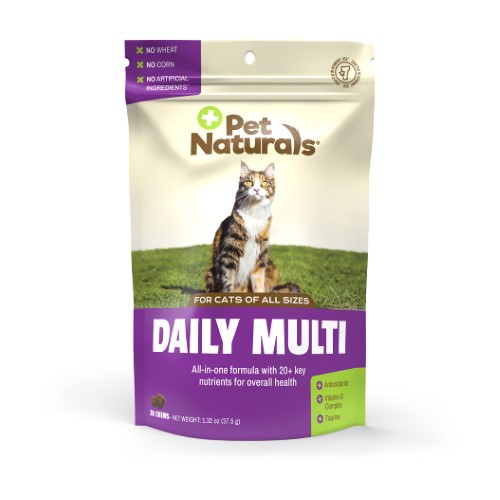 Pet Naturals of Vermont's Daily Multi ensures your feline friend receives all the essential nutrients for a thriving and prolonged life. Tailored to cater to cats' unique vitamin and nutrient needs, this formula bridges the gap that may exist in commercial or homemade pet diets. It incorporates taurine, a crucial amino acid that cats must obtain from their diet, alongside antioxidants and a vitamin B complex to support nerve health and boost energy levels. Convenient to administer and often perceived as a treat by cats, Daily Multi delivers beneficial nutrients in a tasty, bite-sized chew that your cat will love.
Daily Multi is especially beneficial for cats who are on homemade diets or who have any dietary restrictions. It can also help to fill nutritional gaps in commercial cat foods.
Type: Soft chews
Suitable for: Cats of all ages, breeds, and sizes
Nutritional Content: Taurine, antioxidants, vitamin b complex, vital minerals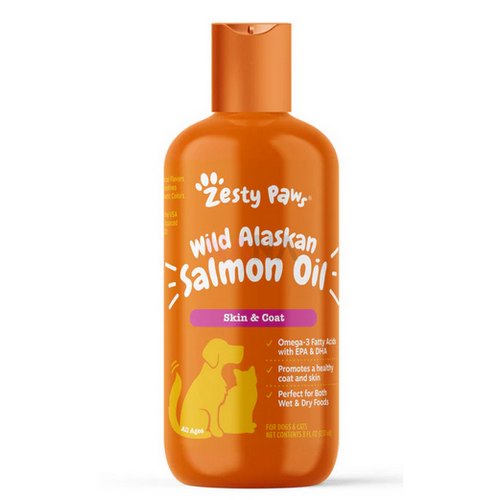 This supplement promotes a lustrous coat for your felines. It is comprised of wild Alaskan salmon, which packs a punch with powerful Omega-3 and Omega-6 fatty acids. The EPA and DHA sourced from the Omega-3 helps to support skin health. Give 1 teaspoon (2 pumps) per 9kg of body weight per day.
Type: Oil
Suitable for: Cats of all ages, breeds, and sizes
Nutritional Content: Omega-3 fatty acids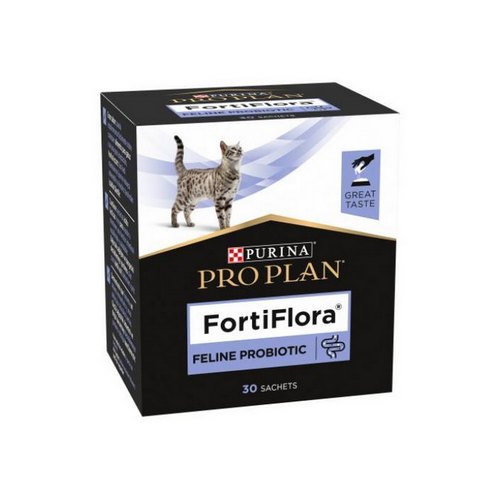 Purina Pro Plan Veterinary Supplements FortiFlora Feline Probiotic Supplement is the first and most authentic source of Enterococcus faecium, a probiotic strain that has shown immense benefits for our furry friends. This supplement plays a pivotal role in enhancing gastrointestinal and immune system health.
The supplement is presented in a freeze-dried powder form, ensuring the viability of the live cultures of the E. faecium strain, ready to propagate in your pet's gastrointestinal tract.
Administering FortiFlora is a breeze. Simply sprinkle the contents of the sachet onto your pet's meal. The liver-flavoured powder is so palatable that many pets are happy to consume it directly, making it a hassle-free addition to their diet.
Type: Liver-flavoured powder
Suitable for: Cats of all ages and breeds, especially those with digestive problems
Nutritional Content: The first and most proven source of Enterococcus faecium, the probiotic strain most beneficial to pets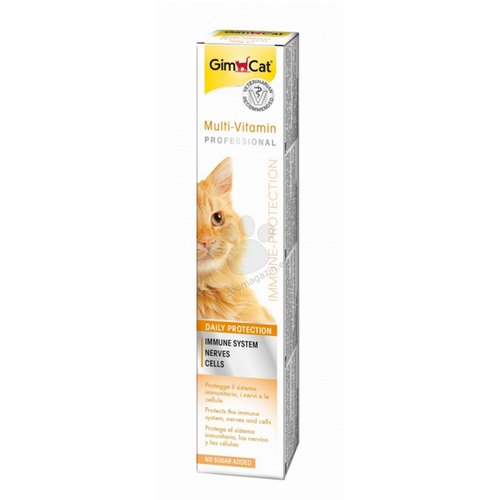 The GimCat Multi-Vitamin Professional Paste is a premium supplement designed to enhance the overall health and vitality of your feline companion, particularly focusing on bolstering the immune system, supporting nerve tissues, and promoting cellular health. This product becomes crucial, especially in situations where cats require an additional intake of vitamins and minerals that their regular diet might not suffice. The unique immune protection formula of this paste ensures that your cat receives a comprehensive blend of 12 essential vitamins, high-quality linseed oil rich in linolenic acid, and beta-glucan, all working synergistically to fortify your pet's health.
The linseed oil in the GimCat Multi-Vitamin Professional Paste is a source of omega-3 fatty acids DHA and EPA, which are vital for cell production and maintaining healthy nerve tissues. The inclusion of beta-glucan further strengthens the immune system, providing a robust defence against external stressors. Regular use of this paste ensures that your cat is not only protected but also thriving, displaying increased resilience and vitality.
Type: Paste
Suitable for: Cats of all ages, breeds, and sizes
Nutritional Content: A special immune protection formula: 12 essential vitamins, high-quality linseed oil and beta-glucan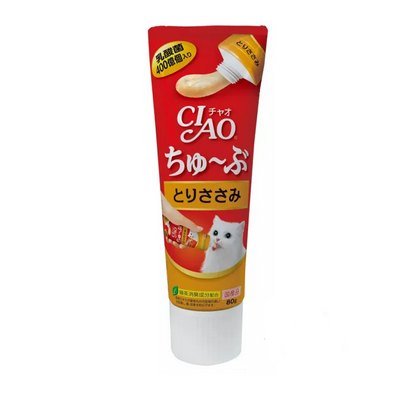 Ciao Churu Probiotics Cat Tube, Japan's top-selling cat treat, is now in a convenient tube format for easy serving and maximum feline enjoyment. This famous lickable treat from Ciao has won the hearts of cats with its irresistibly creamy texture and rich, savoury flavours. Packed with 40,000 million Lactic Acid Bacteria, as well as beneficial Vitamin E and Green Tea, it's a treat that not only tastes great but also supports your cat's health. Free from added grains, artificial colours, and preservatives, you can feel good about indulging your furry friend.
Whether used as a special treat, a reward, a kibble topper, or mixed with regular food to enhance appetite, Ciao Churu Cat Tube offers versatility and enjoyment in every squeeze. It's also an excellent companion for administering medications, making it a practical and pleasurable choice for pet parents and cats alike. Treat your cat to the best with Ciao Churu Cat Tube – where convenience meets delicious indulgence. It comes in three delicious flavours – chicken, tuna and tuna hairball.
Type: Paste
Suitable for: Cats of all ages, breeds, and sizes
Nutritional Content: Probiotics, Vitamin E and Green Tea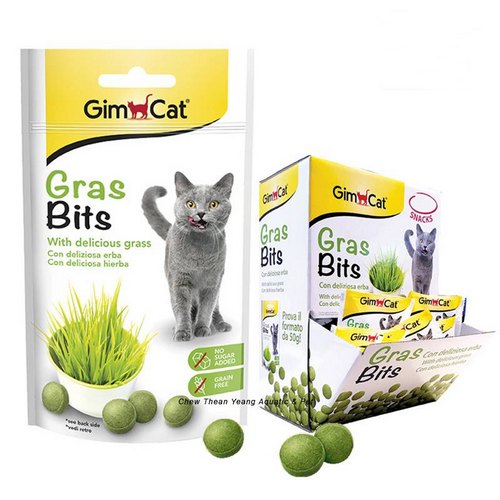 GimCat Gras Bits tablets is the perfect solution for indoor cats to fulfill their natural instinct to consume grass, a practice well-known and often observed by cat breeders. Cats instinctively eat grass to cleanse their stomach, as well as to absorb essential nutrients and active compounds. While free-roaming cats can satisfy this need outdoors, indoor cats can now enjoy the benefits of grass with GimCat Gras Bits, enriched with high-quality cat grass.
These tablets are not just a source of grass; they also provide vital minerals, trace elements, and vitamins, ensuring your cat receives a well-rounded boost to their nutrition. The special aromatic blend makes this grass irresistibly appealing to cats, making GimCat Gras Bits a hit among our feline friends. In addition to being a source of natural vitamins from grass, these tablets support the stomach and digestive system, contributing to your cat's overall well-being.
GimCat Gras Bits tablets are convenient and easy to serve, free from artificial dyes, ensuring your cat enjoys a healthy and natural treat. This product is a delightful delicacy, packed with the goodness of grass, designed to cater to your cat's unique nutritional needs. Cats love it!
Type: Tablets
Suitable for: Cats of all ages, breeds, and sizes
Nutritional Content: Grass, vital minerals, trace elements and vitamins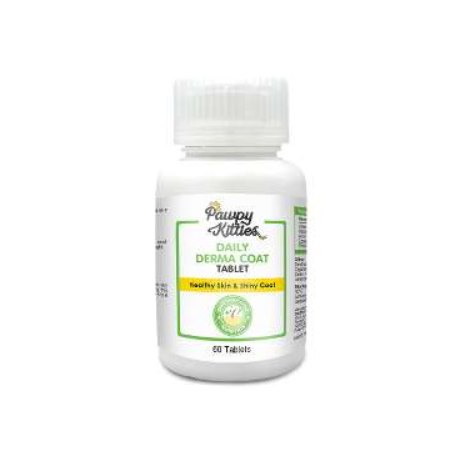 Discover the secret to a healthier, shinier coat and vibrant skin with Pawpy Kitties Daily Derma Coat's premium skin and fur supplement, expertly crafted to provide all the essential nutrients your pet needs for optimal skin health and a luxurious coat. This potent formula is designed to encourage robust fur growth, maintain skin vitality, ensure a softer, more radiant coat, and support collagen production for skin elasticity.
Skin and coat issues often stem from nutritional deficiencies, which can occur with homemade diets or low-quality commercial foods. This supplement is the perfect addition to a balanced diet, providing essential nutrients, amino acids, and fatty acids to enhance skin and coat health, minimise shedding, expedite healing, and prevent common skin issues.
Type: Tablets
Suitable for: Cats of all ages, breeds, and sizes
Nutritional Content: All the skin and fur enriching nutrients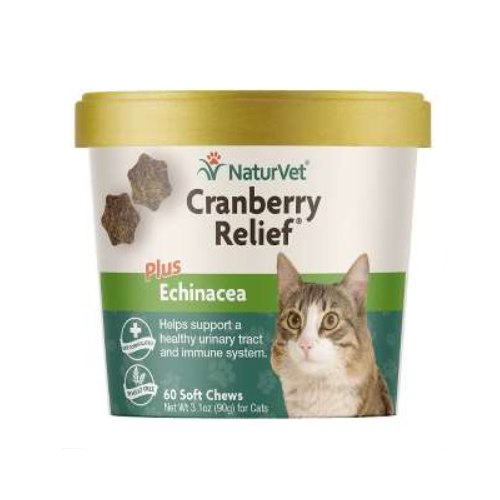 NaturVet Cranberry Relief is a specially formulated supplement designed to support the urinary tract and immune system of cats aged 12 weeks and older. This veterinarian-formulated and recommended product is a wheat-free solution, ensuring it is suitable for cats with specific dietary needs.
The active ingredients in NaturVet Cranberry Relief include 236 mg of Cranberry Extract, 118 mg of Echinacea, 79 mg of Calcium Ascorbate (Vitamin C), 52 mg of Astragalus Root, 39 mg of Oregon Grape Root, and 23 mg of Marshmallow Root per two soft chews. These ingredients work synergistically to promote a healthy urinary tract and bolster the immune system, providing your feline friend with the support they need.
Type: Soft chews
Suitable for: For cats over the age of 12 weeks
Nutritional Content: Cranberry extract, echinacea, calcium ascorbate (vitamin c), astragalus root, oregon grape root, and marshmallow root.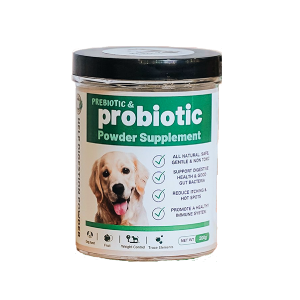 Max & Paw All Natural Probiotic Powder stands out in the market with its unique 5-strain blend of active probiotics and prebiotics, specifically designed to enhance the digestive health of both cats and dogs. This powerful formula works diligently to bolster the 'good bacteria' in your feline friend's digestive tract, simultaneously eliminating harmful bacteria and fortifying their body against potential bacterial attacks.
By establishing a balanced microbiome within the digestive system, this probiotic powder gradually alleviates common issues such as stomach allergies, skin sensitivities, and appetite irregularities in cats. Trust in Max & Paw to provide a comprehensive solution for your cat's digestive health, ensuring they lead a comfortable and happy life.
Type: Powder
Suitable for: Cats of all ages, breeds, and sizes
Nutritional Content: Fructooligosaccharides, MS-99, probiotic & prebiotics, pumpkin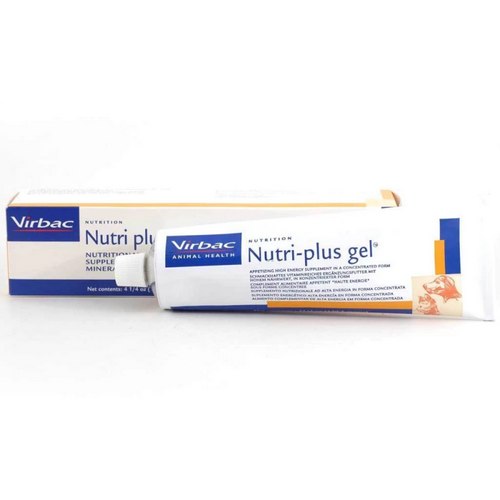 This gel is a great all-around supplement for dogs of all ages. It contains a variety of vitamins, minerals, and amino acids that are essential for good health. It can also help to improve digestion, boost the immune system, and promote healthy skin and coat.
Type: Gel
Suitable for: Pregnant and lactating dogs, hunting dogs, working dogs, and animals recovering from illness or surgery
Nutritional content: Vitamin A, Vitamin D, Vitamin E, Thiamine HCI (B1), Riboflavin (B2), Pyridoxine HCL (B6), Cyanocobalamin (B12), Nicotinamide, Calcium Pantothenate, Folic Acid, Iron, Iodine, Manganese, Magnesium
By incorporating these supplements into your cat's diet, you are taking a proactive step towards fortifying their health and ensuring they lead a joyful, energetic life in the heart of Malaysia. Remember to consult with your veterinarian before introducing any new supplements to your cat's regimen to ensure they are tailored to your cat's specific needs.