10 Best Cat Food Brands in Malaysia (Dry, Wet & Premium)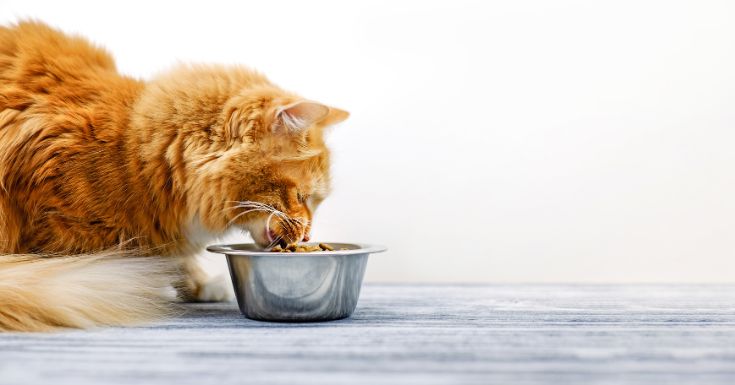 As a cat owner, you understand the importance of providing your feline friend with the highest quality nutrition. With an array of options available in the Malaysian market, choosing the right cat food can be tricky. This listicle is meticulously curated to help you navigate through the best choices, whether you're looking for dry, wet, or premium cat food. We have taken into consideration nutritional value, ingredient quality, and cat preferences to ensure that you find the perfect match for your beloved pet.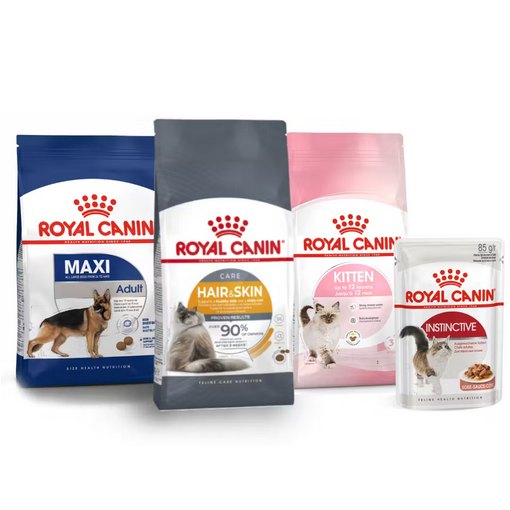 Royal Canin Cat Food stands out in the pet nutrition industry for its tailored approach to feline health and well-being. It is committed to providing precise nutritional solutions tailored to the specific needs of cats, based on factors like age, breed, lifestyle, and specific health requirements. Royal Canin's range includes breed-specific formulas, such as those for Siamese, Persian, and Maine Coon cats, which are designed to address the unique characteristics and health predispositions of these breeds. Additionally, the brand offers products targeting specific health issues, including digestive health, urinary tract health, and weight management, all formulated with a deep understanding of the nutritional needs of cats. The use of high-quality ingredients ensures a balanced diet, rich in essential nutrients, and the brand's focus on scientific research underpins its commitment to feline health.
Suitable for: Cats with specific dietary needs and different breeds.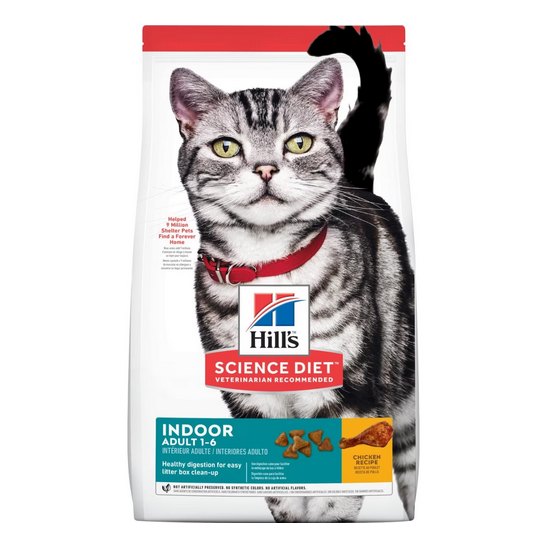 Hill's Science Diet Cat Food is renowned for its scientifically formulated nutrition, offering a range of products that cater to the specific health needs of cats at various life stages. The brand's commitment to research-driven nutrition is evident in each product, designed to support overall health and well-being. Hill's Science Diet provides solutions for a variety of health concerns, including weight management, digestive health, skin and coat health, and urinary health. Each formula is crafted with high-quality ingredients, ensuring a balanced diet rich in essential nutrients like proteins, vitamins, and minerals. This focus on comprehensive nutrition makes Hill's Science Diet a trusted choice for cat owners who prioritise their pet's health and dietary needs.
Suitable for: Cats at different life stages and with various health requirements.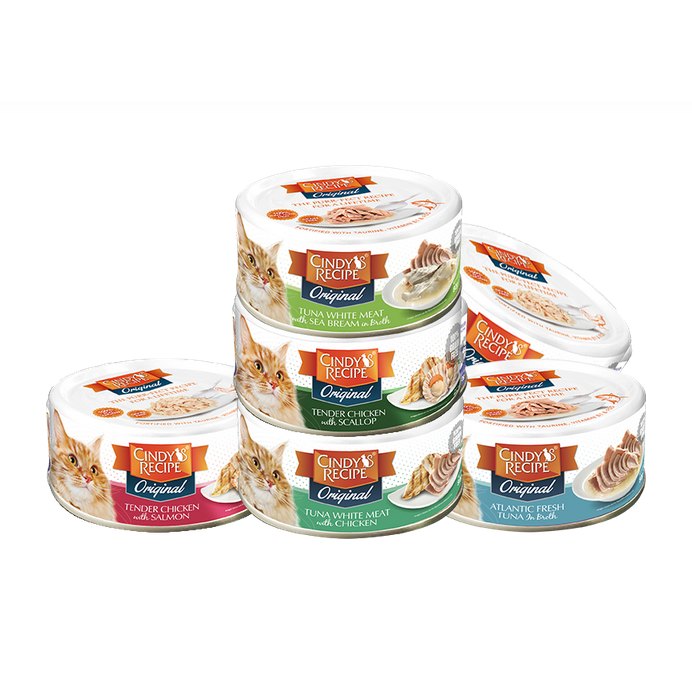 Cindy's Recipe Original series truly stands out in the realm of wet cat food, setting a new standard of excellence. Crafted exclusively with 100% human-grade white meat tuna or fresh chicken, it boasts a higher meat content, perfectly aligning with the innate dietary needs of our feline friends. The Original line offers an impressive array of 18 delectable choices, thoughtfully divided into tuna-based and chicken-based recipes. Among these, two exceptional recipes are crafted into a sumptuous, silky mousse, luxuriously enriched with goat's milk. This special formulation is particularly beneficial for kittens, senior cats, and those with special dietary needs. With such a diverse and tantalising range, Cindy's Recipe Original series is sure to bring a new level of excitement to your cats' daily dining experience.
Suitable for: Cats of all ages, including kittens and senior cats.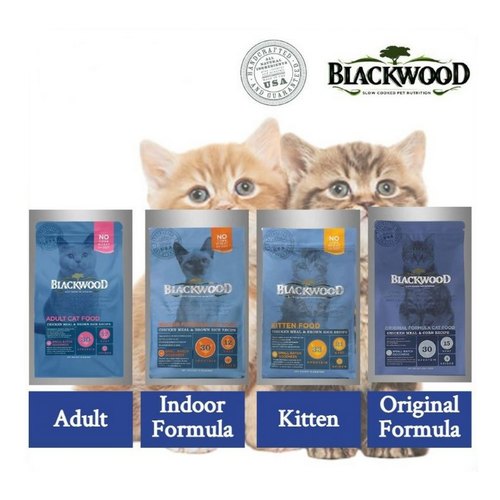 Blackwood Cat Food stands out in the pet food market for its commitment to natural, high-quality ingredients, catering to the nutritional needs of cats at all life stages. The brand is known for its super-premium products, which are free from artificial colors, flavours, and preservatives, making it an ideal choice for pet owners seeking an organic diet for their feline companions. Each formula is carefully balanced, rich in essential nutrients, and includes high-quality protein sources like chicken, fish, and lamb, essential for muscle development and overall health. Additionally, Blackwood offers specialised formulas designed for specific needs such as weight management, hairball control, and sensitive stomachs, ensuring that cats with particular dietary requirements are well accommodated.
One of the unique selling points of Blackwood Cat Food is its slow-cooking process, which not only preserves the nutritional value of the ingredients but also enhances their natural flavours, making the food highly palatable to cats. This approach, combined with the production of food in small batches, allows for stringent quality control and ensures that each batch meets the brand's high standards. While Blackwood is suitable for cats of various ages and breeds, it is especially beneficial for those requiring a natural, balanced diet.
Suitable for: Adult cats and kittens, especially those requiring a natural diet.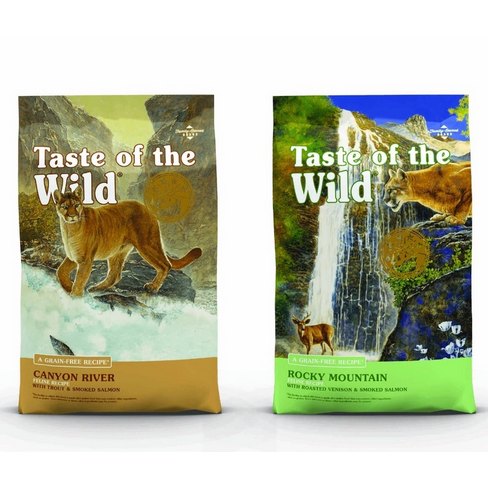 This brand of grain-free cat food focuses on high-quality, natural ingredients. Taste of the Wild and Taste of the Wild PREY cat foods are committed to quality and affordability, while closely mirroring the natural diet of felines. Each of their formulas is crafted with real meat, fish, or fowl as the primary ingredient, ensuring that cats receive high-quality protein sources essential for their health and vitality. The brand distinguishes itself by incorporating unique protein options such as wild boar, bison, smoke-flavored salmon, roasted duck, venison, and Angus beef. These novel proteins not only provide exceptional nutritional value but also enhance the flavor, making Taste of the Wild cat foods highly palatable and desirable to cats.
Taste of the Wild cat food is designed to cater to the instinctual dietary preferences of cats, making it an excellent choice for pet owners seeking a diet that aligns with their cat's natural predilections. The variety of protein sources also makes it a suitable option for cats with specific dietary needs or those who might benefit from a more diverse protein intake. Additionally, the focus on taste ensures that even the most discerning feline palates are satisfied, encouraging healthy eating habits.
Suitable for: Cats requiring grain-free diets, including those with sensitivities.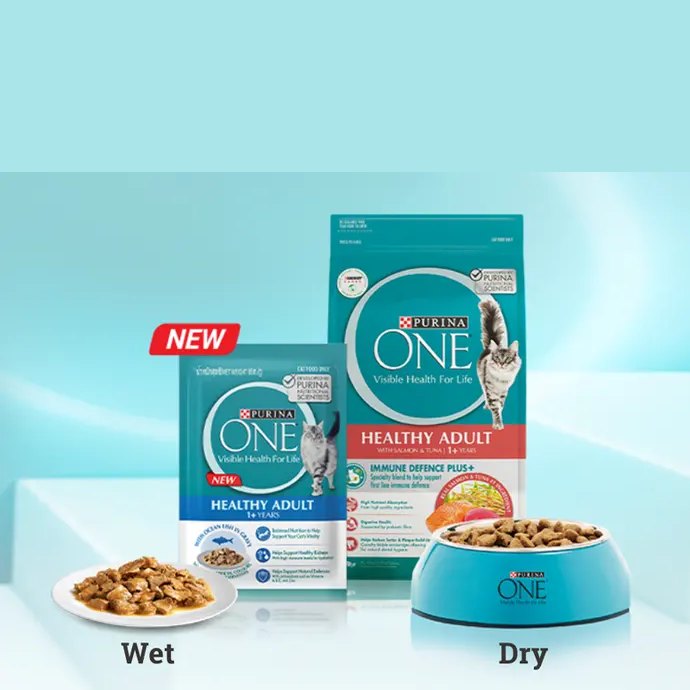 Crafted to deliver a wholly nutritious and balanced diet, the latest PURINA ONE wet food range is meticulously designed to encompass all essential ingredients, ensuring a comprehensive and beneficial feeding experience for your cat. This range, available in four distinct variants, not only meets your cat's nutritional needs but also appeals to their palate. Each variant is a testament to our commitment to 100% Complete & Balanced nutrition, offering your feline companion visibly improved health throughout their life.
Suitable for: Cats of various life stages and health needs.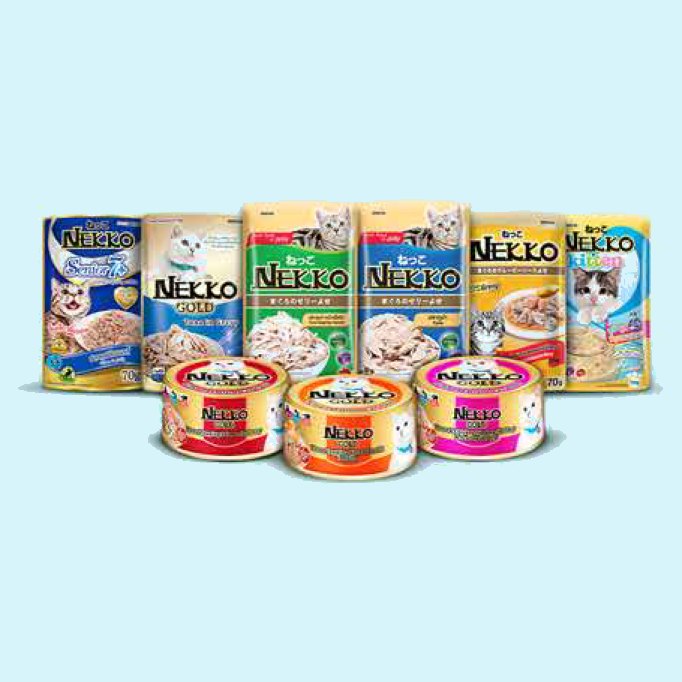 Produced in Thailand, Nekko provides tailored nutrition for cats of different ages and lifestyles. Some additives in cat food can be detrimental to our feline friends. However, with Nekko, you can have peace of mind knowing that it's free from any substances that could harm your kitten's health. Nekko guarantees no use of waste materials, no artificial colours, grain-free ingredients and no added salt.
Nekko cat food is designed to cater to cats of all life stages, from kittens to seniors. The brand offers specific formulas to address different dietary needs and preferences, including grain-free options and recipes for sensitive stomachs. The texture and consistency of their products are also tailored to suit feline preferences, making them a hit even with picky eaters. Nekko's commitment to quality and natural nutrition ensures that cats are not only enjoying their meals but also receiving the necessary nutrients for their health and well-being.
Suitable for: Cats of all ages; highly ideal for cats that likes wet food, especially for kittens, senior cats, and cats that require more liquid intake.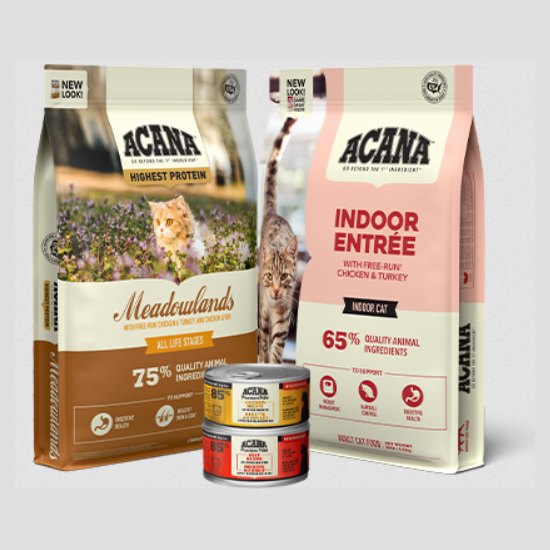 A high-protein, limited ingredient cat food, ACANA™ pet food epitomises the fusion of quality and careful ingredient selection in their meticulously crafted dog and cat food recipes. Committed to excellence, ACANA™ utilises only the finest ingredients globally, ensuring their pet foods meet the highest standards. Their recipes are a harmonious blend of fresh or raw animal ingredients, complemented by a selection of whole fruits and vegetables. The freshness of their ingredients is paramount, with refrigeration used exclusively for preservation, and raw ingredients are frozen at the peak of their freshness.
ACANA™'s premium cat food range offers an array of recipes, each enriched with abundant animal proteins and essential nutrients, catering to the comprehensive dietary needs of cats. These recipes are tailored to support the health and vitality of cats at every life stage, from energetic kittens to mature adults and senior cats. The brand name "Acana" draws inspiration from the fertile farmlands of Alberta, Canada, a symbol of their commitment to quality. Today, ACANA™ continues to uphold these values, crafting their pet foods in world-class facilities located in Edmonton, Alberta, and Auburn, Kentucky, ensuring every product reflects their legacy of quality.
Suitable for: Cats of all life stages, particularly those requiring high protein diets.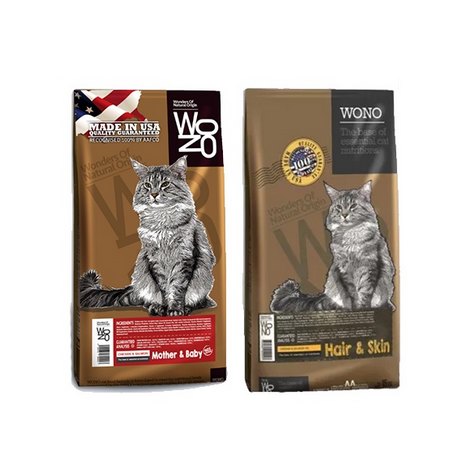 Discover the exceptional blend of quality and affordability with WONO cat food, which comes in two variants: Mother & Baby and Hair & Skin. The premium cat food brand is crafted in the USA, designed to cater to the specific needs of your cat's mother and kitten needs, as well as their hair and skin health. Their commitment to superior quality ingredients ensures that your cat receives the optimal balance of nutrients, promoting health support, growth and development, as well as a lustrous coat and healthy skin.
WONO stands out in the market not just for its premium formulation but also for its accessibility. They believe that top-tier nutrition should be available to all, and their pricing reflects this philosophy. This product is a perfect choice for cat owners who seek the best for their pets without compromising on affordability.
Suitable for: Cats of all ages and stages in life.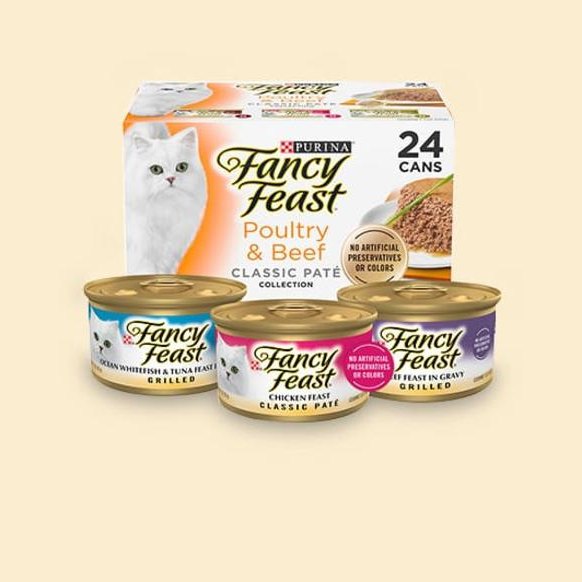 Fancy Feast cat food elegantly bridges the gap between everyday feeding and a gourmet dining experience for your feline companion. Each recipe is a symphony of high-quality ingredients, meticulously crafted to not only nourish but also to strengthen the bond between you and your cat. With Fancy Feast, every meal transcends the ordinary, transforming into a delightful experience.
Envision the finest patés, the most luxurious broths, and culinary creations inspired by expert chefs – this is the essence of Fancy Feast. It's a culinary journey of exquisite flavors, meticulously designed to satisfy even the most discerning of feline palates. Whether your cat craves the simplicity of savory delights or the sophistication of gourmet meals, Fancy Feast offers an array of choices that elevate every feeding into a memorable and indulgent event.
Suitable for: Cats that prefer wet food, including picky eaters.
We hope you have found valuable insights to make an informed decision for your cat's dietary needs. Remember, the best choice is one that combines nutritional value, quality ingredients, and your cat's personal taste. Here's to the health and happiness of your furry friend!