Product Details
In a world of complicated and high-maintenance technology, MedKlinn Asens+ is a breath of fresh air.
Designed to clean more than just the air, Asens+ requires minimal maintenance and is a cost-efficient way to create a safer environment for you and your family.
Asens+ is designed to run continuously, 24 hours a day, to efficiently eliminate both airborne and surface-bound pollutants such as bacteria, mould, dust mite allergens and toxic substances.
Driven by the latest patented Cerafusion™ Technology, the MedKlinn Air Sterilizer is specially designed for minimal maintenance throughout the day with no air filter to clean or replace. MedKlinn Air Sterilizer is the best value, most cost effective and incredible air cleaner available in the market.
Take protection into your own hands by taking control of your environment today, and breathe the very best air MedKlinn's innovative technology can provide. There are three Asens models:
MedKlinn Asens Product Specifications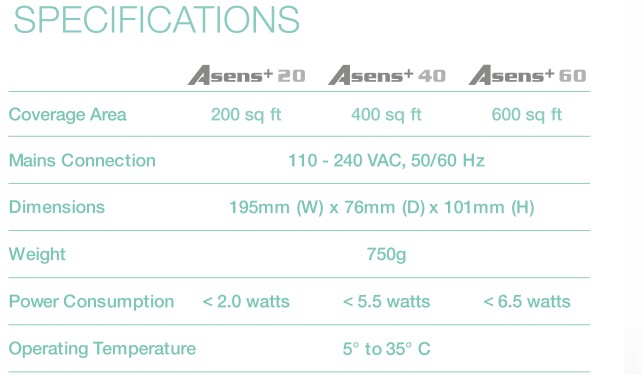 Negative ion emission rate: On average 3 million per cm³ per second.
Ozone at ambient level is below 0.05ppm.
About MedKilinn
The MedKlinn Group of companies is focused on developing and marketing healthcare products worldwide, including air cleaning and sterilizing devices, using the latest leading-edge CerafusionTM Technology.
The homegrown company is committed to marketing products that are of the highest quality and durability. And more importantly, they are dedicated to ensuring that their customers worldwide are fully satisfied with their products. It is their hope that more people will discover the immense benefits of their technology as a chemical-free and drug-free way to protect and improve their health.
MedKlinn products are currently distributed and sold in various countries, including Singapore, Malaysia, Indonesia, Thailand and Philippines. They have plans to expand the distribution network to more countries.
They are focused on providing cost-effective solution for consumers so that they may enjoy a healthier, longer and happier life.
You may also like...
Sorry, no similiar product found.