Watsons Hair Temptations Fair – A Fantasy Come True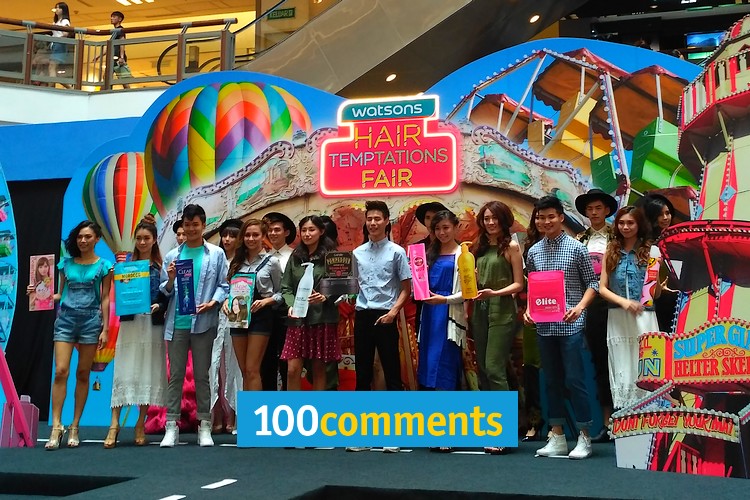 Watsons Hair Temptations Fair, which started on 29 August to 3 September 2017 at the Lower Ground Concourse of One Utama, was officially launched with great aplomb befitting its fantasy fun fair theme. A bevy of models from Amber Chia Academy graced the catwalk, bringing the spellbound audience to flights of fancy with their outrageously colourful, vivid costumes that defy the imagination. The show was the brainchild of A Cut Above, helmed by Datin Winnie Loo, who graced the event with Amber Chia.
The impressive show reminds us that when it comes to hair and beauty, a little imagination goes a long way. It also reminds us that a healthy and well-maintained head of hair can truly unleash the beauty within each one of us.
"We often view our hair as a reflection of our identity because it is both and public," said Caryn Loh, General Manager, Country Head of Watsons Malaysia. "Many women feel that a bad hair day equals a bad day. The key tip is to practice good hair care habits to have perfect hair. Every woman can have strong, shiny and healthy hair if they use the right products and practice a proper hair care routine."
Watsons Hair Temptations Fair serves as the perfect place to discover practical tips about hair care, finding out different types of hair treatments and styling tips from the professionals. Caryn added, "At Watsons, we always want to offer the best beauty care products from head to toe, which is why we partner with only the best brands in helping each our valued customers 'Look Good, Feel Good', which is our motto."
The hair care category available in Watsons offers some of the recognisable leading hair care brands such as Alpecin, Bad Lab, GVC, Nunature, Bigen, Beauty Labo, Mandom, Pantene, Head & Shoulders, Clairol Herbal Essences, Ubermen, Dr. For Hair, Dove, Lux Luminique, Clera, Marc Anthony, Moist Dianne, L'oreal, Pure beauty, Sunsilk and Naturals by Watsons which are all readily available at any Watsons store in Malaysia, one-stop shop to find all your hair care solutions.
Shoppers can enjoy special discounts, a promotional deal for purchases during Watsons Hair Temptations Fair. While Bad Lab will offer a complimentary express hair cut with any purchase of Bad Lab products. Watsons VIP members can take advantages of the fair's special gift-with-purchase offer, with a free mug (with a minimum of RM70), a free Watsons Malaysia exclusive recycle bag (with minimum purchase of RM100) and a free hair dryer (with minimum purchase of RM200). While ONECARD members will get additional face mask (with a minimum purchase of RM70). Find out more regarding Watsons Malaysia promotion and update at https://web.facebook.com/watsonsmalaysia/